A Halong Bay overnight cruise captivates people in Vietnam and tourists worldwide because it is like a 3-star Michelin. 
People always want to spend a special trip to enjoy its excellent cave, karsts, quiet beaches & breathtaking views. Things get even more enchanting if you spend a night on the cruise!
In the article, you can explore the reason for its uniqueness, what you can expect, recommended time to have the fullest trip, and more tips. 
Let's delve into it now!
Why choose an overnight cruise on Halong Bay? 
Because Halong Bay junk boat overnight allows travelers to fully immerse themselves in the beauty and tranquility of Halong Bay, celebrating the glory of sunrises and embracing the serenity of the bay at night.
 Also, it is a great chance to make unforgettable memories in your soul and family. Here are the details:
A must-do in Vietnam 
Traveling to Vietnam, you can not miss Halong Bay, the most famous destination in Vietnam, the World Heritage Site. Joining an overnight cruise on Halong Bay is an unforgettable experience.  During the day, you can enjoy the sparkling blue water, take in the magnificent islets meticulously crafted by nature, and visit jaw-dropping caves as if they come straight out of a fairy tale story. 
And the magic continues when the night wears on! You can sleep on the boat and wake up in the morning to admire a stunning sunrise over the water.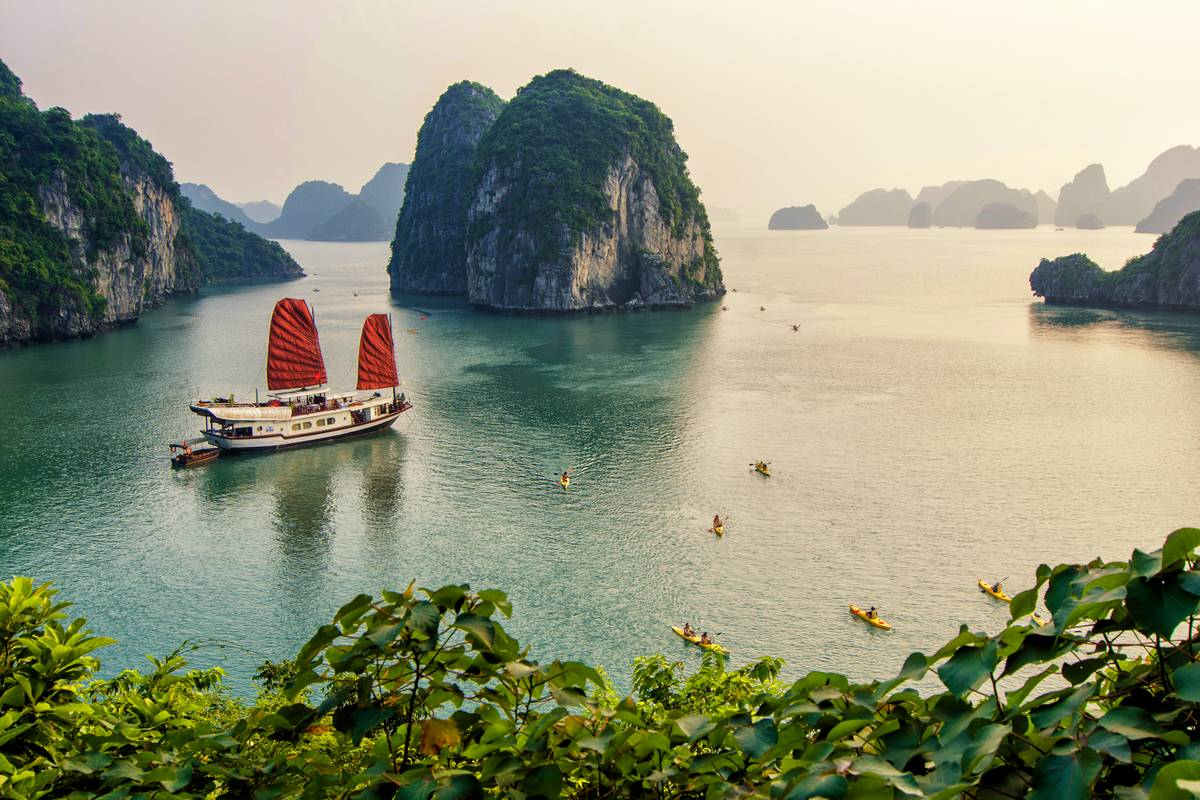 A luxurious travel escape
Imagine being surrounded by the peaceful sounds of water and feeling the gentle rocking of the boat that sings you to sleep. It's a treat as you are in a safe little cradle away from everyday life's noise and chaos. You can take a deep breath, relax, and let your worries float away.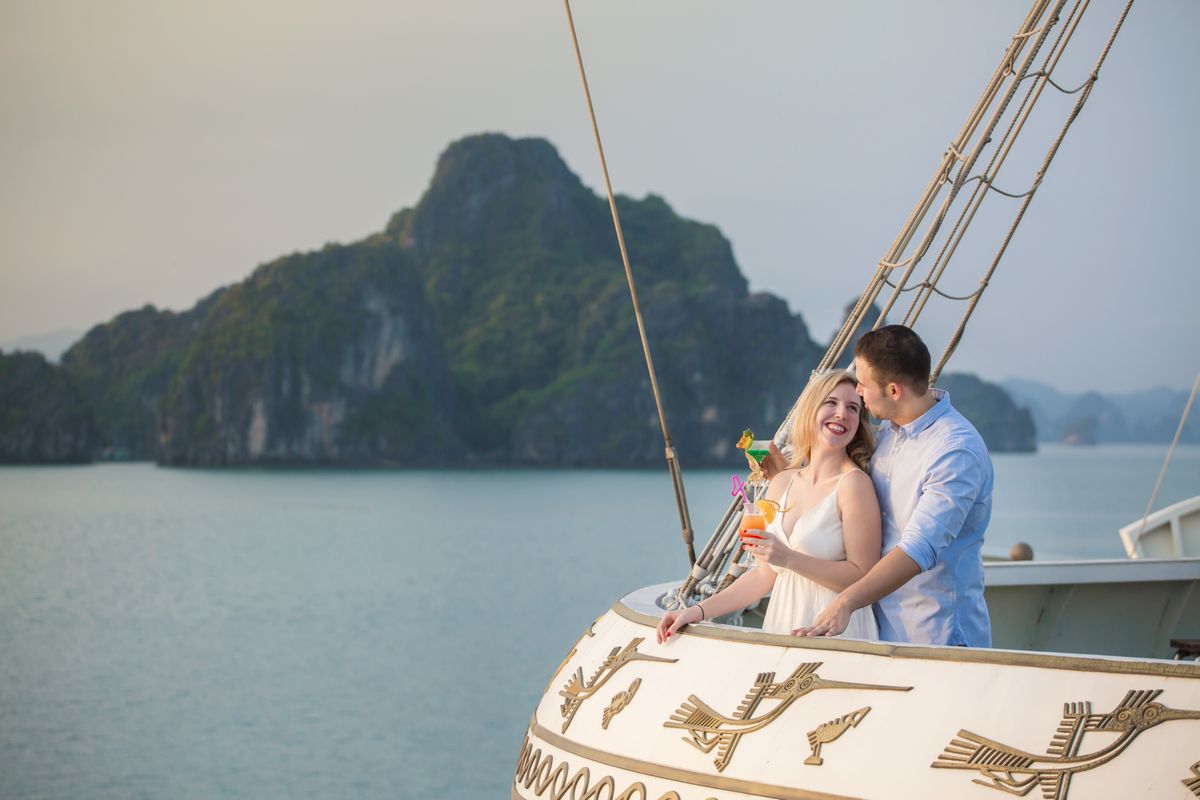 An occasion with your loved ones
You can have fun with your family or friends, play games, savor delicious food, and laugh. It's a special time when you can bond with your loved ones and create memories that you'll remember for years to come.
The ocean and the sky will be the witnesses of your committed affection!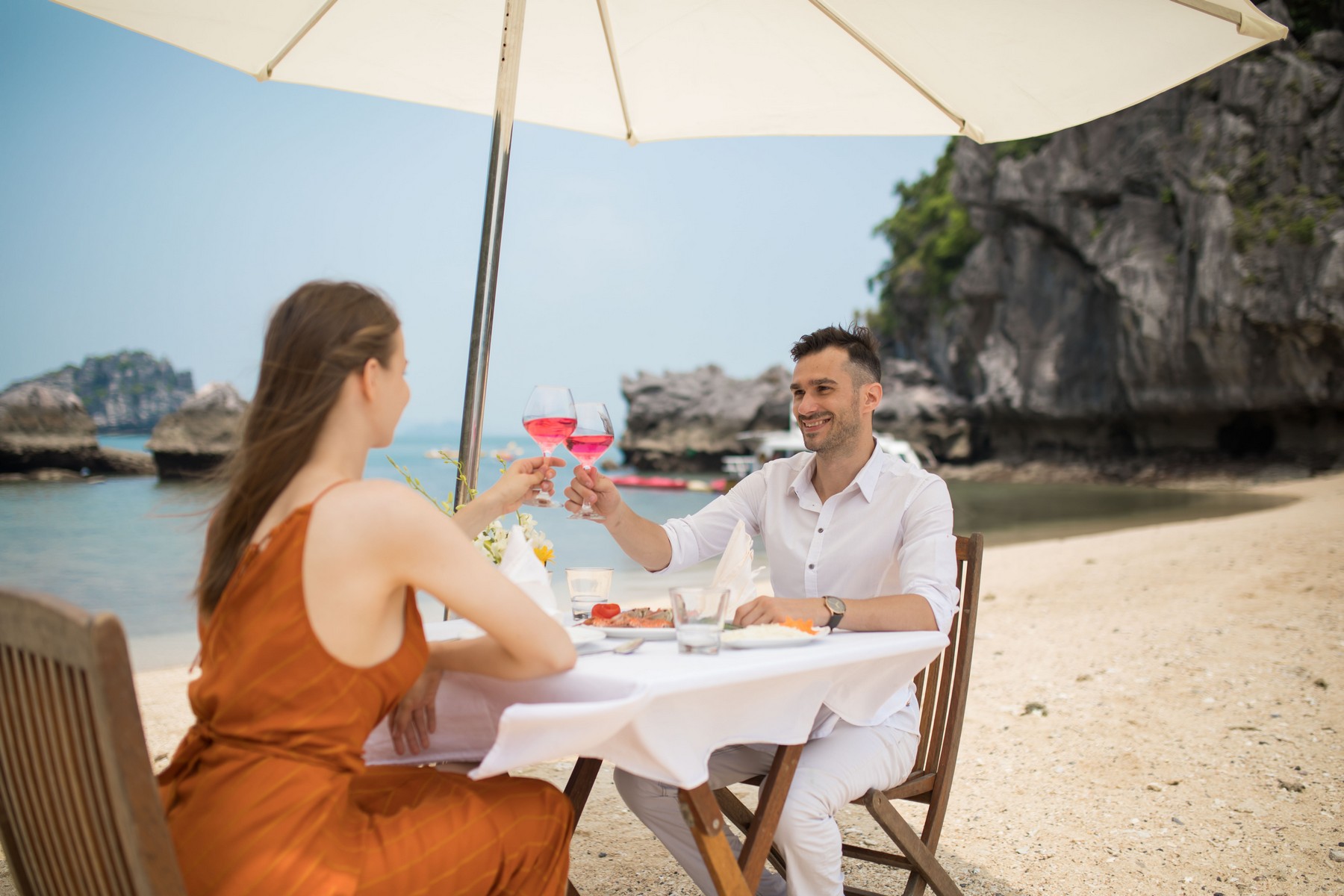 What to expect on an overnight cruise of Halong Bay? 
Stunning scenery
The UNESCO World Heritage Site is home to numerous limestone karsts. Coming here on the cruise, you can see them rising from the water like giant green teeth. 
Prepare to be awestruck by the breathtaking scenes from your cruise ship, where you might even have the chance to see mischievous monkeys, catch a glimpse of playful dolphins doing their underwater dance, and witness turtles gracefully swimming like they're auditioning for a synchronized swimming competition.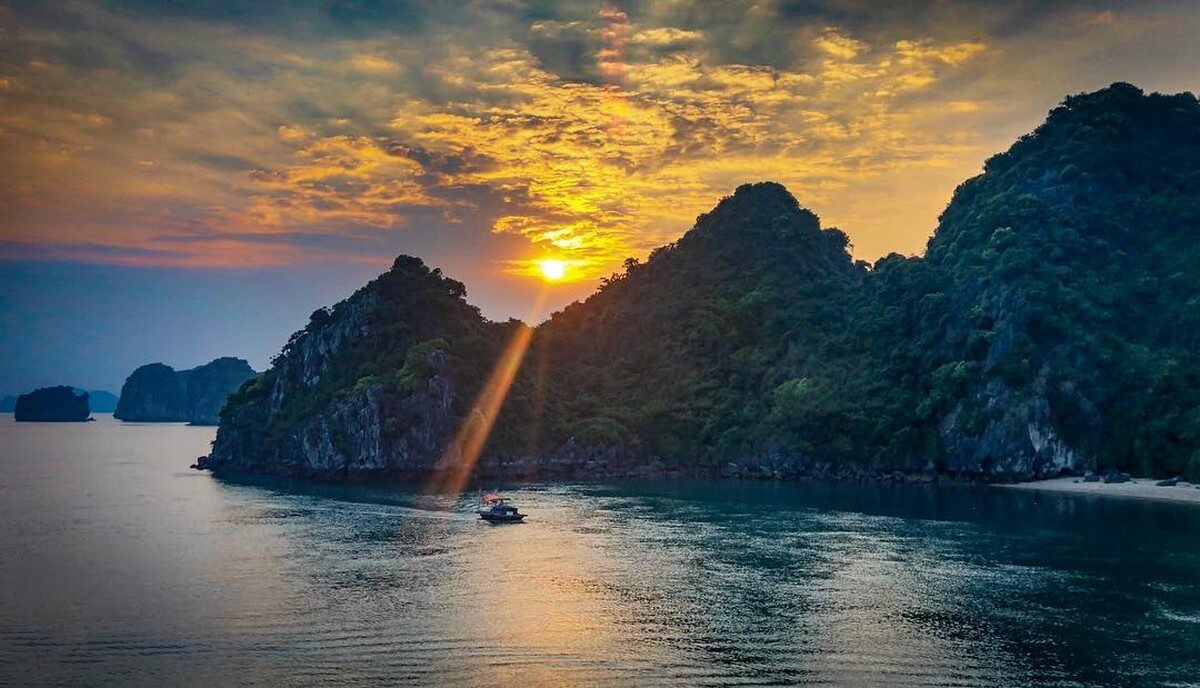 Comfortable stay
On the overnight cruise, you will find many cool things to make your stay comfortable and enjoyable. 
The boat will have cozy cabins where you can sleep, relax, and have some quiet time. Each room has a private bathroom and a window to get closer to nature outside.
You can also hang out and get acquainted with new friends in common areas. These areas have comfy chairs and tables where you can play games, read books, or enjoy the beautiful views of the bay. Some boats even have a sundeck where you can soak up the sunshine and feel the breeze on your face.
When it's time to eat, scrumptious meals are ready for you! The cruise will serve you lots of different dishes to try. From tasty seafood to fresh fruits, there is something for everyone. 
Exciting outdoor activities
You can go kayaking. Let's picture the scene where you can paddle a small boat all by yourself. Be your captain and explore the calm waters of Halong Bay. The crew will help you, keep you safe, and support you to get the most out of the trip, even if you have no experience with this activity.
Another exciting activity is visiting hidden caves. Inside, you'll find incredible rock formations that people often call a magical world. If lucky, some friendly bats will come and greet you (don't be startled!). 
If you love swimming, you're in for a treat. You can jump into the crystal-clear water and splash around. You might even spot some colorful fish swimming beneath you.
The crew might organize a special show with music, dancing, or even traditional performances in the evening. You can enjoy a little Vietnam there with the talents of the performers.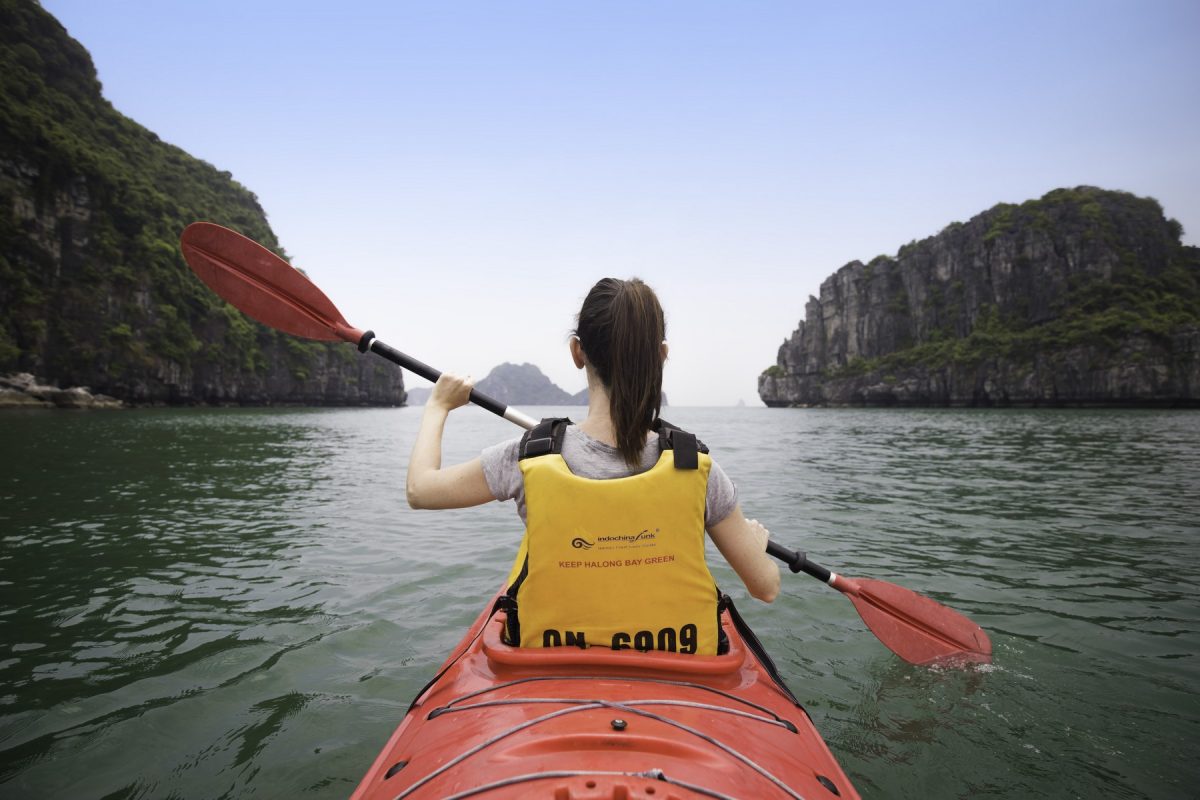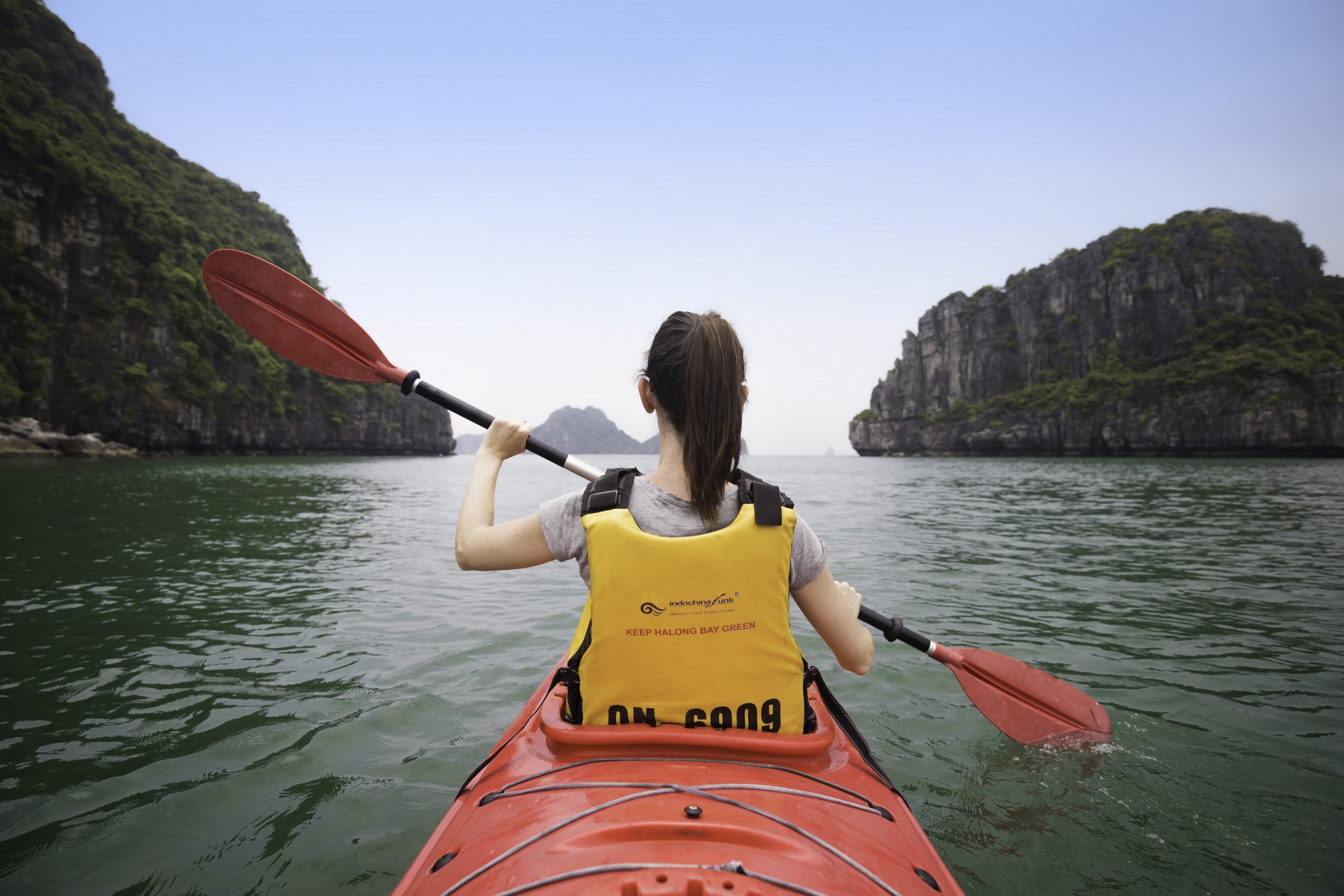 What is the best time to visit Halong Bay for an overnight cruise? 
The best time to visit Halong Bay is: Fall (September – November) or spring (March-April) because the weather during this period is most pleasant and comfortable, it is not too hot but the weather is sunny & dry in overall. The average temperatures are 20 to 25 degrees Celsius. Therefore, it is perfect for swimming, hiking, or kayaking.
You can take in the warm sunshine without it being too hot. Rain is less likely to happen, so all water adventures are on good terms.
Besides, during these months, the sky is also clearer, reflecting under the immaculate sea with sparkling sunlight. Is that where Earth and Heaven unite? Come and see!
Choose the cruise for 1 night or 2 nights?  
Depending on your travel plan, you can choose to join 1 night or 2 night cruise. While the 1 night cruise is the most popular cruise option for visitors to Halong Bay, the 2 night cruise is the choice for adventure lovers and promises to bring you the best vacation during your time in Vietnam.
Option
Pros
Cons
1-night cruise

More affordable

Shorter travel time

Still a great way to see Halong Bay

Less time to relax and enjoy the scenery

Not all activities are available

2-night cruise

Longer travel time

No rush. More time to relax and enjoy the scenery.

More activities available

Change to get to unexplored areas…

More expensive, and n

ot as affordable for everyone.
Options available
If you pick the Halong Bay one night cruise, you will get on the boat in the afternoon and spend the night there. You'll have a chance to explore the beautiful bay, go inside cool caves, paddle a kayak, and witness how the sun sends its last fiery kiss to the night. 
The next day, after a mouth-watering breakfast on the boat, you will return to where you started in the morning.
On the other hand, if you go for the Halong Bay two night cruise, you will have more time to enjoy Halong Bay. You will get an extra day to explore more places and do more fun things, go further to an untouched part of Halong Bay, like Bai Tu Long Bay 
You can take your time to see the amazing islands, swim, and visit a fishing village.
The differences 
The advantage of the one-night cruise is that it's cheaper. It is an optimum choice if you want a quick adventure without breaking the bank. You can still see many beautiful things and have fun, but you won't be away from home for too long.
On the other hand, the two-night cruise gives you more time to enjoy Halong Bay. You can relax and have more fun without rushing. You will have the chance to see more places and do more activities. 
Price of Halong Bay overnight cruise? 
Between $100 and $500+/person. However, the Halong Bay overnight cruise price depends on the cruise type, the time you choose to visit, and the number of people in your party.
Cruise type
| | | |
| --- | --- | --- |
| Feature | Budget-friendly cruises | Luxury cruises |
| Price | $100 – $120 per person | $150+ per person |
| Accommodation | Private cabin | Private cabins (larger size, more comfortable)  |
| Food | Set menu | Gourmet meals prepared by a chef, Set menu & Buffet meals  |
| Activities | Limited activities, such as kayaking, swimming, and visiting floating villages | Wide variety of activities, such as hiking, diving, and cooking classes |
| Service | Smaller crew | Larger crew |
There are budget-friendly options (from $100 to $120 per person to luxury cruises (up to $150+ per person). The type of cruise is a decisive factor impacting the price.
Holiday time / Season 
During busy times, like holidays or when many people want to visit, the price might be higher because of high demand, while it'll be more affordable on normal days. 
Off-season traveling is even cheaper, but you can't contemplate its charm to the fullest. The weather might not be favorable, as well.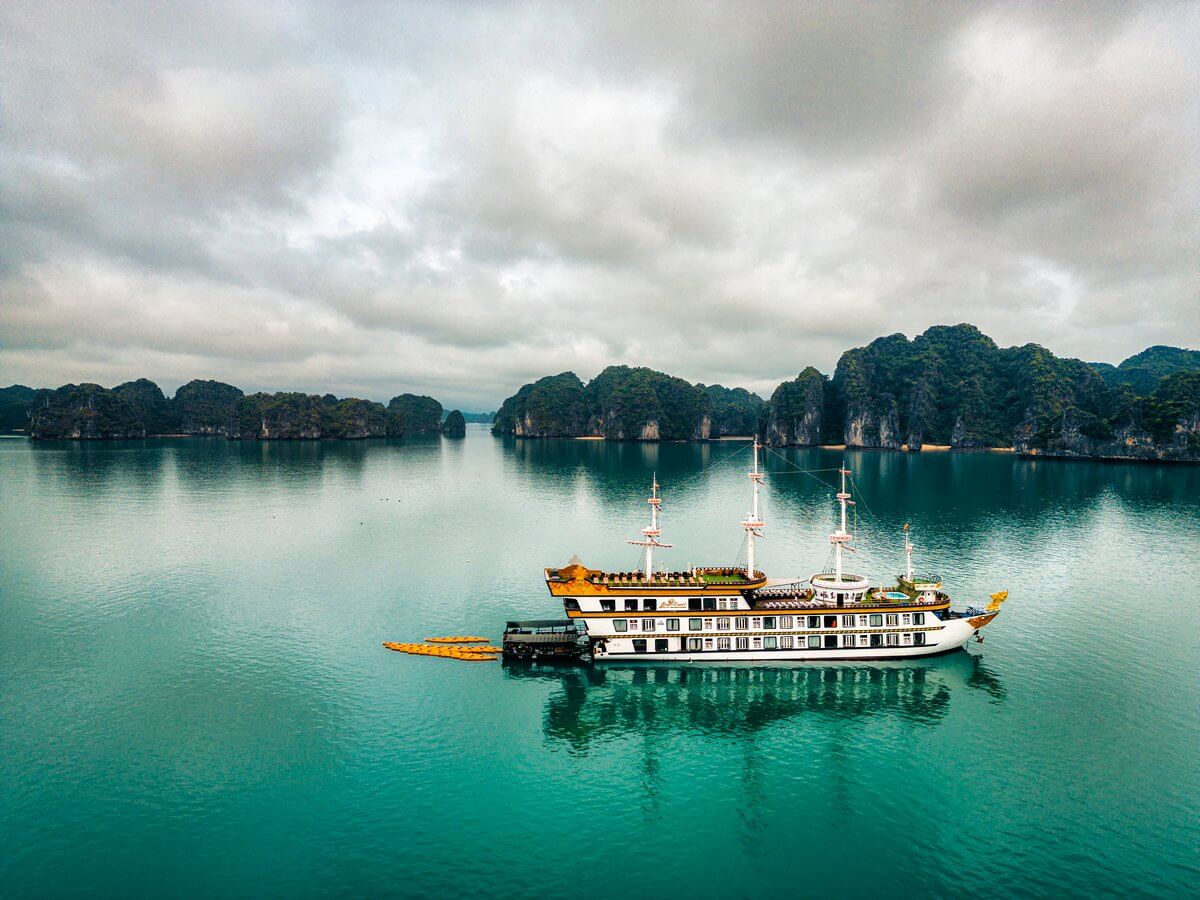 Indochina Junk, the best overnight cruise operator in Halong Bay & Bai Tu Long Bay 
You'll regret it if you haven't experienced Indochina Junk – the best cruise operator in Halong Bay. 
Indochina Junk offers you not only a fantastic cruise experience but also an unique exclusive cruise to Bai Tu Long Bay, the less visited part of Halong Bay
Indochina Junk offers a variety of cruise packages, including 2 Day 1 Night Cruise, 3 Day 2 Night Cruise, 4 Day 3 Night Cruise, or even 1 Day Cruise. 
Moreover, the crew of Indochina Junk is super friendly and helpful. They treat you like family and ensure you're having a fantastic time.
Better yet, the food on the cruises is amazing (which is praised by many visitors). They serve delicious local cuisines that will satiate your hunger and cravings. You'll get to try new and delectable recipes every day!
Aside from the excellent boat quality and service, Indochina Junk practices sustainable tourism and respects the local culture and traditions. 
Last but not least, there is also a perfect itinerary for people who want to discover more about other famous and breathtaking places in Vietnam, which are Bai Tu Long Bay – Yen Duc village, Bai Tu Long Bay – Sapa, or Bai Tu Long Bay – Ninh Binh. 
This is one of the perfect stops to detour to another destination with convenience.
Many people leave good reviews about Indochina Junk, from superb food that lives up to visitors' expectations to the stellar service from friendly staff and marvelous atmosphere and safety. It is all listed on Tripadvisor.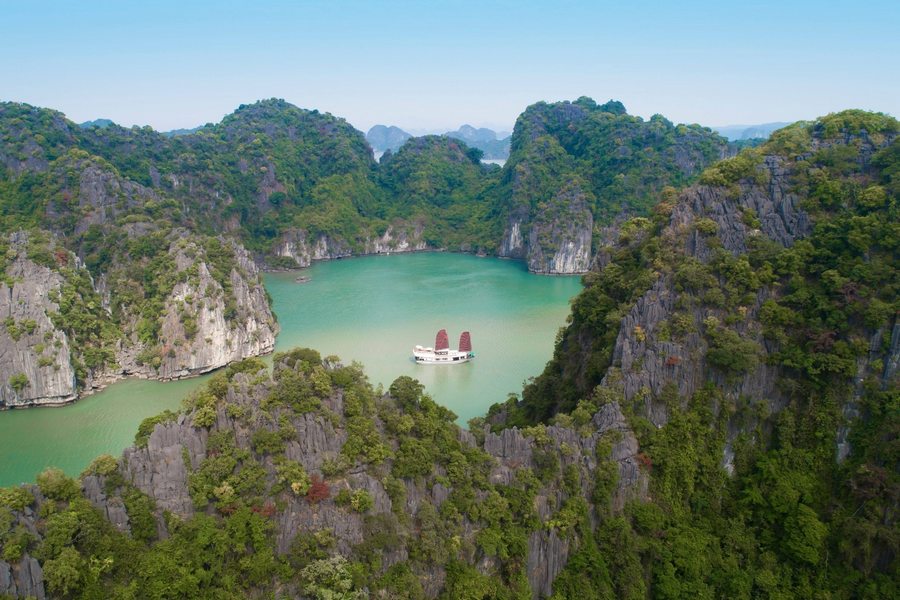 Conclusion 
The Halong Bay overnight cruise offers an incredible adventure that will leave you in awe. 
No matter how chaotic life may seem, the cruise provides a refreshing escape where you can find tranquility and peace amidst the beauty of nature. It's a perfect blend of unforgettable experiences, serenity, and a journey of discovery, all just a click away. 
So why wait? Book a trip and indulge yourself in one of the most astonishing places on Earth, where you can live life to the fullest.
Indochina Junk is waiting to serve you! Choose your overnight cruise and get a fantastic experience now!