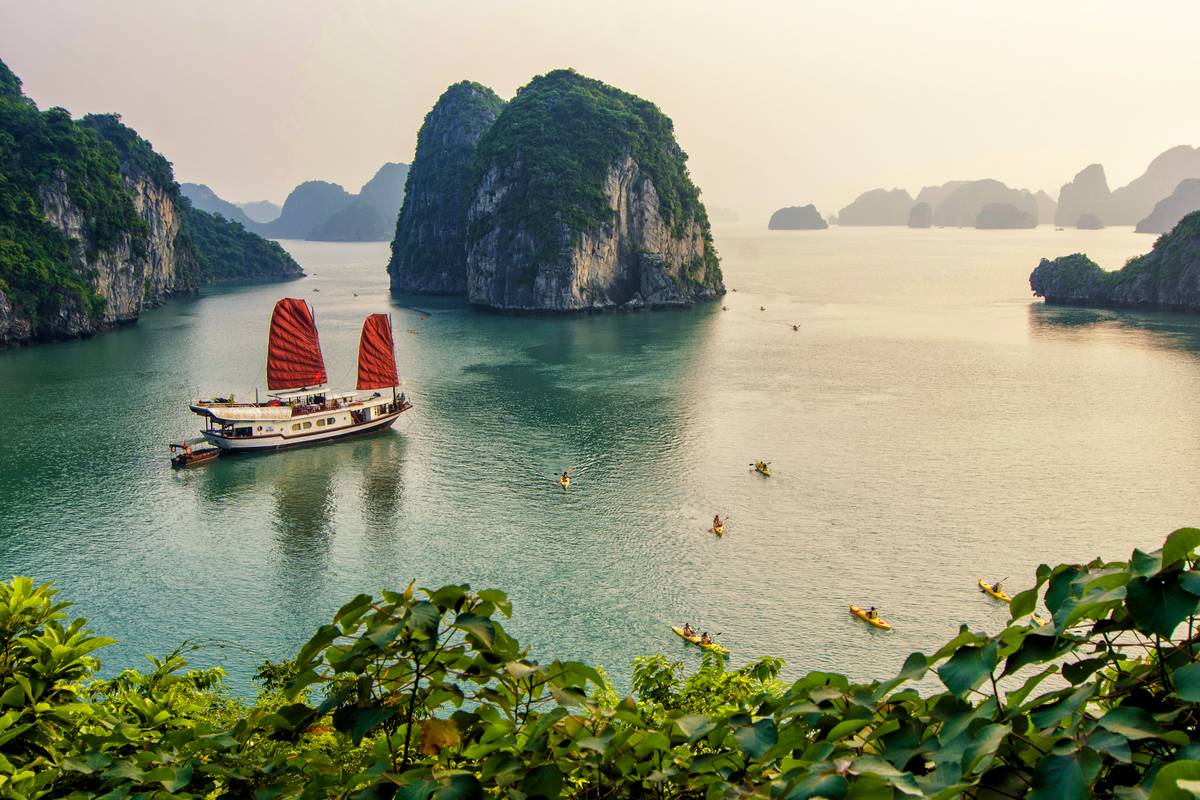 Prince Junk



4 Cabins Family Adventure
The Prince Junk was designed after the traditional fishing boats of Halong Bay, only on a slightly smaller scale with 4 cabins.
Like all of our boats, Prince Junk is designed with sophistication and a meticulous attention to detail for our guests' enjoyment. It features 2 decks with dining areas inside and outside, and traditionally decorated cabins with a sea view window, where you can relax and admire the marvelous view. Our crew, with their warmest hospitality, enhances your cruise.
From the time you step aboard, to the time you check into your cabin, or when you are relaxing on the sun desk, you are surrounded by teak and oak paneling and furniture, all constructed by our skilled craftsmen. This makes the Prince, together with our L'Amour Junk, the outstanding members of our Royal family.
The Prince Junk is the perfect choice for families, couples or small groups.
Cabin & Facilities
4 Deluxe Cabins
Upper Luxury Dinning Areas: Inside and Outdoor
Spacious Sundeck and Relaxation Area
Staff Section
Kitchen
Customer Reviews about Prince Junk
Excellent two day cruise on the Prince Junk.
We booked the smaller Prince junk with 4 cabins, it was honestly the best. A very comfortable and spacious boat. We occupied 3 cabins (we were 5) and were joined by another lovely couple. Our tour guide Kenny G was very funny, and a great guide.
Not the cheapest option, but certainly the best for seeing Halong and Bai tu long bays.
Prince Junk 2 night/3 Day Cruise- Magnificent
We stayed for 2 nights on the Prince Junk. The experience was magnificent from start to finish. Seamless pick up and drop off to our hotel, and checking into our boat was highly efficient, we didn't even have to load our own bags (and we had a lot of them)
But the best part was the boat and experience. The boat was perfect for 5 adults and 2 kids, was spotlessly clean and catered for all our needs. We stepped into complete luxury. The cabins were spacious with some seriously beautiful bathrooms. And we had the whole boat to ourselves.
I think Indochina Junk has exclusive rights to certain parts of the Bay so they were able to take us away from most of the other tourist boats. This created such a sense of peacefulness and let us enjoy the full beauty and experience that is Ha Long Bay,
A truly wonderful experience, that I'm so glad we did. Definitely recommend booking if you are considering taking a boat.
Trip of a lifetime
If you are looking for an exclusive private luxury cruise with affordable prices over Bai Tu Long Bay, look no further. You won't be disappointed by Indochina Junk.
We were 8 of us (4 couples) on a 4 cabin private PRINCE JUNK for 3 day 2 nights cruise.
Ms. Vuong Thuy was our point of contact from start to end. She was very helpful and patiently answered all my questions. She even arranged for a chocolate cake free of cost (as requested)on a cruise for a couple who were celebrating their wedding anniversary. She even cross checked for any dietary restrictions.
On cruise, our tour guide Kenny G was very welcoming and friendly. The entire boat staff was very helpful. We were served delectable 7 course meals for lunch and dinner.
All the activities were perfectly planned and executed.
Thoroughly enjoyed our cruise with Indochina Junk, and I couldn't recommend more.
Read more on TripAdvisor
SEND YOUR ENQUIRY NOW