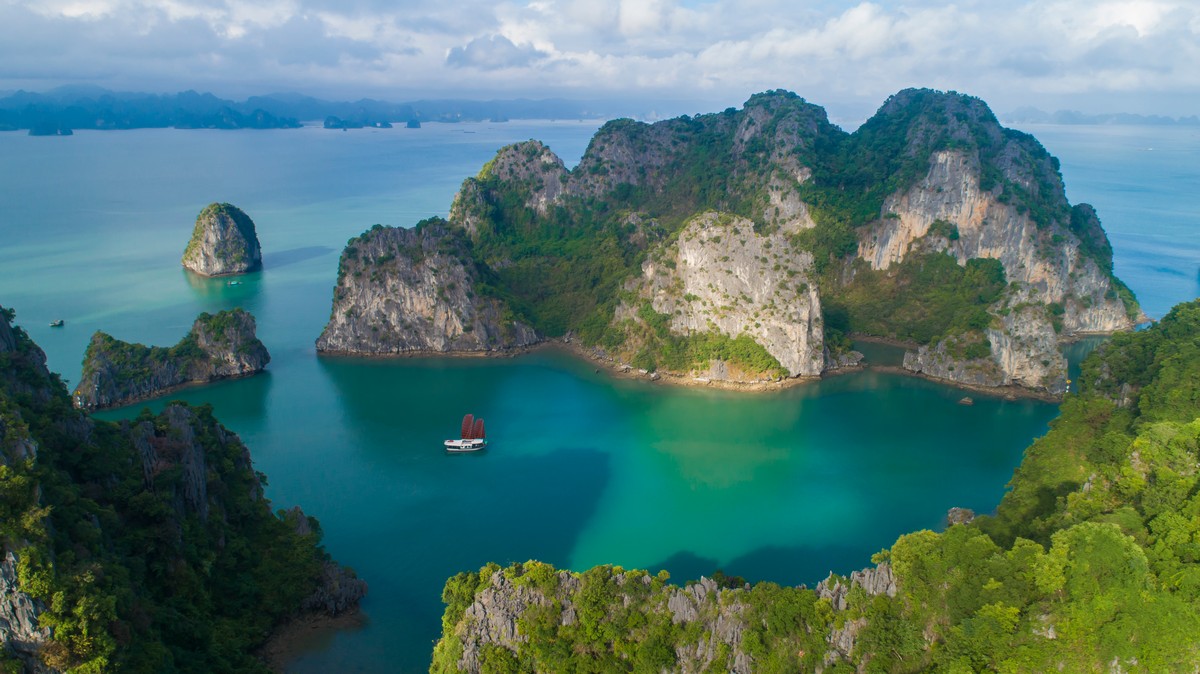 3 Days 2 Nights



Halong Bay and Bai Tu Long Bay Cruise
A three-day two-night cruise at a relaxed pace with more time to get "off the beaten track" and discover the secrets of Halong Bay and Bai Tu Long Bay, visit fishing villages, explore by kayak and experience unforgettable dining. This worthwhile three-day trip on one of our boutique traditional junks offers the highest quality luxury and comfort as you enjoy wonderful Halong Bay. Especially, we do not change boats or use any other day trip boat to transfer you during your stay. There is only one boat and one crew, and the entire group stays together. Cruise with us and have a once in a lifetime experience.
Best comfort, no switch boat or day boat transfer during 3-day cruise
Off the beaten track cruise in Bai Tu Long Bay
Traditional wooden boats and authentic experience
Oriental-designed cabin with large windows and en-suite bathroom
Explore Halong Bay by kayak, visit the cave and a bamboo boat trip to floating village
Authentic Vietnamese cuisines onboard and amazing BBQ lunch on a private beach
Which boats for this itinerary? 
This 3 day 2 night boutique cruise itinerary is for wooden traditional boats, to offer you the unique authentice cruise experience in Bai Tu Long Bay during 2 nights, enjoy the path less travelled in small group.  
Cruise Itinerary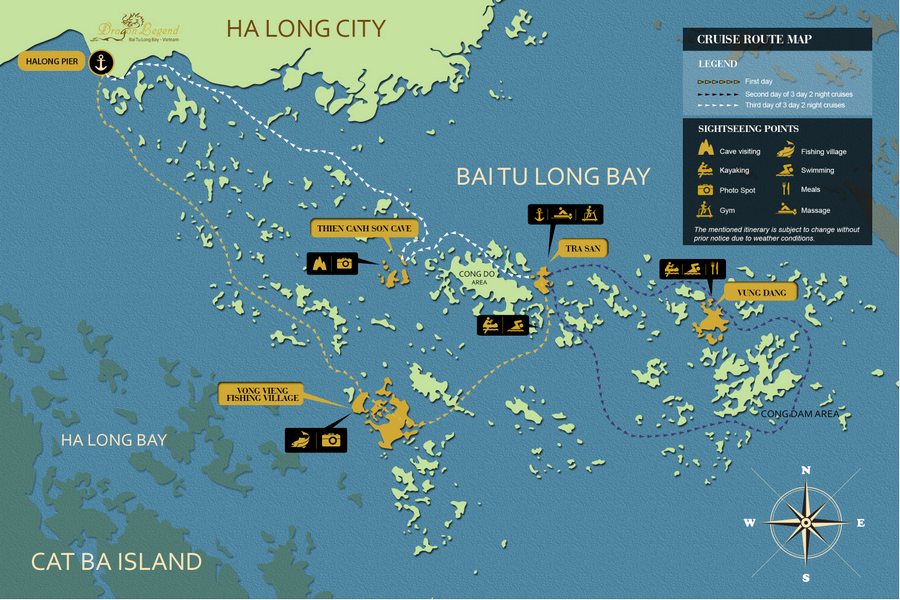 Itinerary
DAY 1: HA LONG INTERNATIONAL HARBOR – BAI TU LONG BAY – VUNG VIENG – CAP LA
08:20 – 08:45: Pick up at your hotel in Hanoi Old Quarter 
11:30: Arrive at Indochina Junk Office, take a rest at the Waiting Lounge before transferring to Cruise.
11:50 – 12:15: Go to the port by an Electric Cart, where the crew and staff will welcome you and assist with the check-in process onto the cruise ship.
12:30 – 13:00: After boarding the cruise ship, you will enjoy welcome tea and listen to an introduction about the itinerary and safety information for the journey, as well as check-in to your cabin.
13:15: Have lunch at the onboard restaurant, featuring seafood dishes from Quang Ninh. The cruise ship will start its journey to explore Bai Tu Long Bay, passing through limestone islands and beautiful scenery along the bay.
14:30 – 15:00: The first destination is Vung Vieng fishing village, a secluded fishing village with pristine and beautiful scenery. Here, local fishermen and their bamboo boats will take you to explore their way of life, promising a unique experience during the trip.
16:00: Back to the cruise ship and enjoy a sunset cruise on Bai Tu Long Bay.
19:00: Rest and have dinner in a quiet and romantic atmosphere on the bay.
20:30: Free time to relax and you can also join the experience of squid fishing. Spend the night on Bai Tu Long Bay.
DAY 2: CAP LA – VUNG DANG – CONG DAM
08:00: Have breakfast onboard.
08:45 – 10:15: Explore Cap La. Enjoy kayaking to discover majestic rock islands and pristine nature (under favorable weather conditions: no fog, no significant waves or strong winds, etc.).
10:30: Back to the cruise. Cruise to Cong Dam area to explore the natural beach, take a stroll, relax, and unwind.
12:30: Enjoy a unique BBQ lunch on the picturesque beach, prepared by the chefs directly on the beach. After the meal, guests can engage in some beach activities.
14:30: Back to the cruise for relaxation and leisure.
17:15: Join a Vietnamese cuisine cooking class.
19:00: Take a rest and enjoy dinner in a peaceful and romantic atmosphere on the bay.
20:30 – 23:30: Leisure time, guests can experience squid fishing, and have a good night on board.
DAY 3: CONG DO – THIEN CANH SON CAVE – HA LONG INTERNATIONAL HARBOR
07:00 – 07:15: Morning view of Bay's landscape with a cup of tea or coffee. Have breakfast in the fresh air.
07:45 – 08:45: Visit Thien Canh Son Cave, the most beautiful natural cave in Bai Tu Long Bay, where guests will be amazed by the mesmerizing stalactites and stalagmites formed over thousands of years.
09:00: Back to the cruise.
09:45 – 10:00: Check-out procedures.
10:15: Enjoy an A la carte lunch while the cruise slowly returns to the port.
11:30: The cruise arrives at the port. Drive to Yen Duc village in Dong Trieu province for a short break in this typical Vietnamese agricultural village which is rich in culture and traditions.
13:00 – 13:45: Enjoy a water puppet show performed by local artists.
16:00: Arrive in Hanoi. Trip ends.
NOTES
On the return, you will have a short break at Yen Duc Village – a typical Vietnamese agricultural village which is rich in culture and traditions. This is a great chance to visit the charming fields while wandering narrow alleyways in the odorous fresh air and enjoying the WATER PUPPET SHOW there.
This itinerary might be subject to change due to the weather or tide conditions without prior notice. 
INCLUSIVE
All land transportation Hanoi – Halong – Hanoi.
Welcoming drink.
Luxury, en-suite cabin with A/C, hot water.
All meals on boat.
Tea & coffee free on breakfast.
Guide on board.
Kayaking.
Water puppet show.
EXCLUSIVE
Personal expenses.
Extra drinks.
Bank charge (for payment by credit cards).
VISITIORS ARE NOT RECOMMENDED ON BOARD (FOR SAFETY REASON)
Person with disability: physical or sensory
Person who has symptoms of hallucinations, sleepwalking, fear of being enclosed, epilepsy…
Person who is older than 80
WHAT'S TO BRING?
Sunglasses
Sun Block
Wide Brim Hat
Insect Repellents
Swimming Suits
Warm Clothes (in winter from November to April)
Original Passport
Customer Reviews
Fantastic Choice
We did the 3 day 2 night cruise on the Dragons Pearl and it felt like a holiday within a holiday. Thoroughly enjoyed our trip and the pick up and drop off in Hanoi on comfortable private minibuses made it stress free.
Our guide Coco spoke English to a good level (& some French for other guests on board) and it was always clear what we were doing for the day and the times of meals etc. The whole crew were very helpful.
The food throughout the trip was incredible, with many dishes served each meal. We were able to try things like jelly fish, flake and oysters among others. They catered well to dietary requirements. The beach BBQ was a particular highlight, having spent some time kayaking around to other beaches and through caves. At this point we were the only boat around as well.
Overall would 100% recommend doing the 2 nights as it gives you time to fully appreciate the area and see more.
Outstanding, Simply Outstanding
There are many cruises to HaLong Bay to choose from, and selecting one can be a challenge. This was a great choice for a few reasons. 1. The staff, led by Bay, was outstanding. They all went "above & beyond." And he was extremely knowledgeable about the area. 2. We wanted a two-night trip, to be able to travel further. I will go so far as to say: TAKE ONLY A TWO-NIGHT TRIP. Give up something else on your itinerary. If you go only one night, you will see only the crowded Ha Long Bay. We immediately sailed out in a direction less-frequented, and for the next 2 days hardly saw another boat. I can just say Bai Tu Long Bay was incredible. 3. 
When I return with my family, this will be the company & itinerary I'll choose!
L'Armour 3 2 Day, 1 Night Cruise – Top Shelf!
We always planned to book a cruise while in Halong Bay however I was planning a secret proposal to my girlfriend, now fiance! Indochina Junk have private boat cruises which seemed like the perfect setting for my plan. My experience from the very start, emailing Indochina Junk staff, was very positive and reassuring.
The L'amour 3 is a superb looking traditional junk boat with a fine interior. Our guide, Mr T was very friendly and accommodating. He also provided a lot of information whilst touring a cave and fishing village.
The entire crew did a fantastic job with the surprise proposal on the upper deck. They went to great lengths to ensure it was the perfect setting. It all went very smoothly!
Overall we were thoroughly impressed with everything and we highly recommend this cruise. The proposal had to be perfect and it was with the help of the crew. We are extremely gratefuland it will be a memory that lasts a lifetime, thank you.