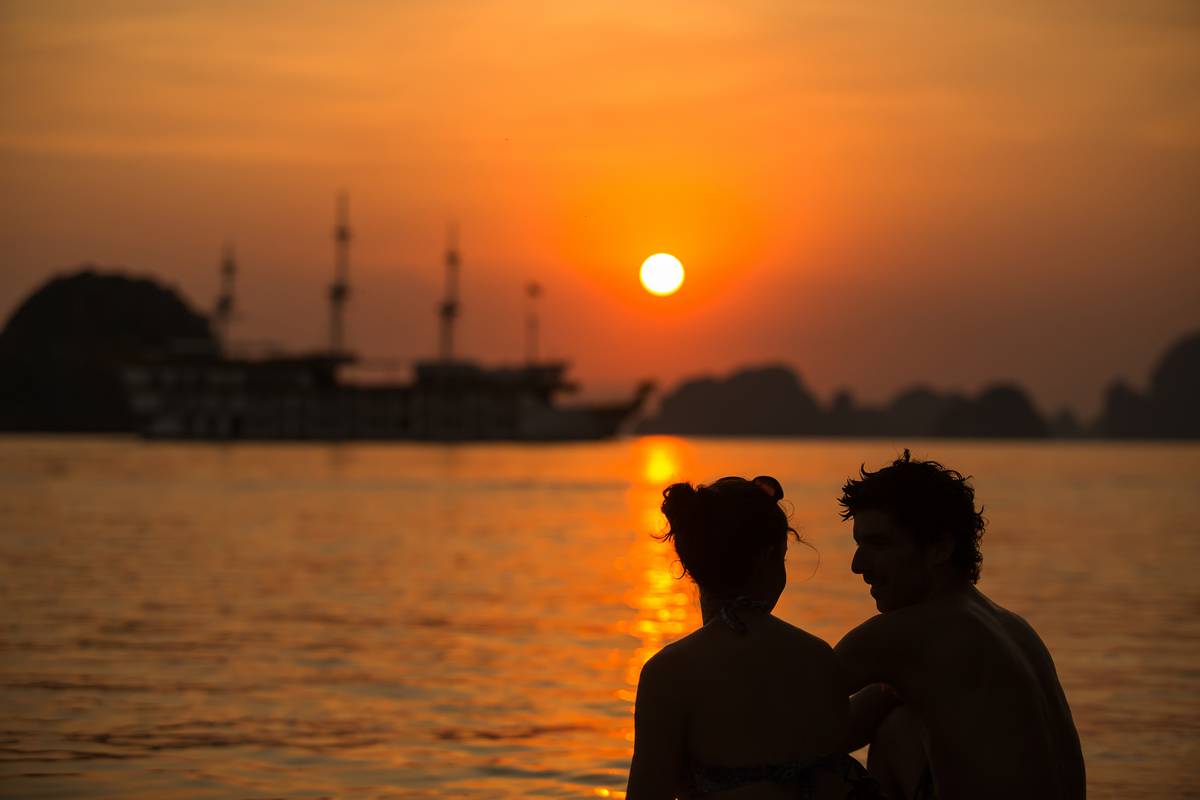 Halong Bay, Bai Tu Long Bay, Lan Ha Bay

The three beautiful bays in Halong
Praised as a UNESCO World Heritage Site since 1994, Halong Bay attracted million tourists every year with magnificent nature landscapes. Despite the evergreen charm that Halong Bay inherits, the area is becoming more and more overcrowded. Therefore, nowadays, a great number of tourists are seeking "off-the-beaten-track" journeys of discovering hidden gems in the Halong Bay area. The whole bay area consists of central Halong Bay, western Bai Tu Long Bay and Lan Ha Bay near Cat Ba Island. Perhaps you are wondering which to choose to spend your vacation? This article will list out the highlights of each bay to provide useful information and help you to have the unforgettable adventure in the Gulf of Tonkin in the northwest corner of Vietnam.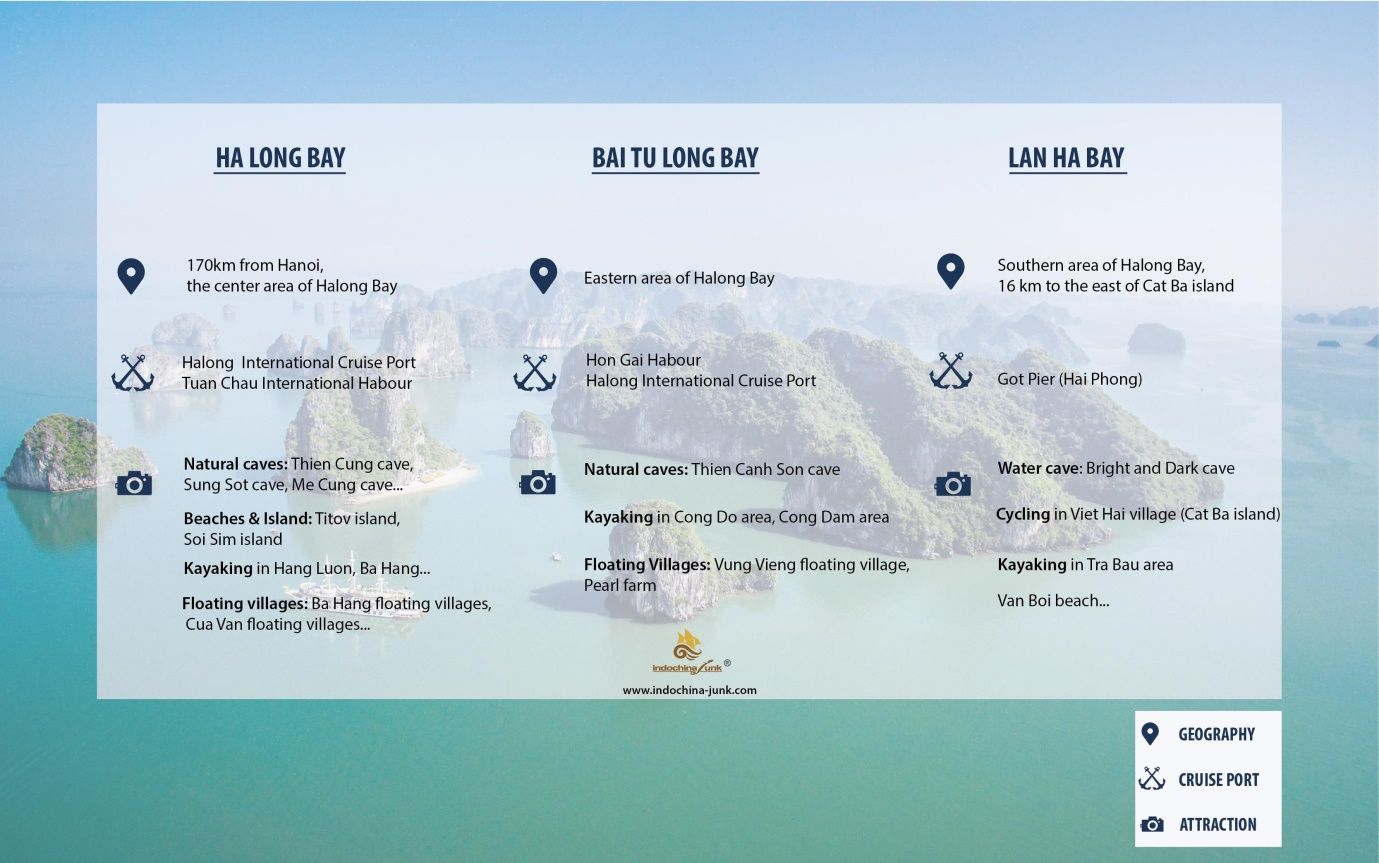 How to get there
The distance between Hanoi and Halong Bay is about 170 km and passengers will arrive at different harbours to visit Halong Bay center, Bai Tu Long Bay or Lan Ha Bay. Most of tour operators include transportation service in the package tour offered. The most common means of transport is by shuttle bus and limousine van.
Halong Bay cruises departs at Tuan Chau Marina, 160 km from Hanoi and takes about 3.5 hour to get to the harbour. Beside shuttle bus and limousine van options, you can travel by seaplane from Noi Bai Airport to Tuan Chau Marina and gateway to Halong Bay day and overnight cruises. The aerial view over the Red River Delta will definitely leave you in awe while embracing the natural beauty of Vietnam from above. Despite expensive fee, seaplane travelling only takes 45 minute, this is a perfect solution for a quick, comfortable, fun-filled and luxury trip.
Lan Ha Bay cruises depart at Got Ferry in Hai Phong and thank to the new Hai Phong Expressway, it only takes 2.5 hours to travel from Hanoi to Hai Phong. Even though it may cost you a little extra to go on this route, this would be a great choice when you want to skip the journey from Hanoi to Halong and directly head for the legendary bay
Bai Tu Long Bay is 160km far from Hanoi and you will go to Hon Gai Harbour to embark. Also, inland marina, Halong International Cruise Port has been recently built just to the left of the Hon Gai – Cai Lan fairway in Bai Chay Ward, easily accommodating tourist boats, high speed boats and yachts to visit Bai Tu Long Bay.
Everyday, passengers will be picked up at their hotels in Hanoi at around 7.30 am or at 9-10 am (if taking the highway). There are breaks on the half way so that passengers will not be exhausted from travelling. Shuttle buses/ Limousine vans arrive at the harbour at 12pm and passenger are taken on board to start this amazing journey.
Attraction
HALONG BAY is among the world's most beautiful bays with almost 2,000 islands and islets creating a spectacular landscape of limestone pillar. The green vegetation covering the islets has made the area a picturesque tropical forest. There's no doubt tourists will be captivated in the mysterious scenery of Halong Bay inviting adventurous exploration. The center of the bay is also where most beautiful sights situate.
Sung Sot cave
Thien Cung cave
Ba Hang fishing village
Cua Van fishing village
Titop island
Soi Sim island
Tuan Chau island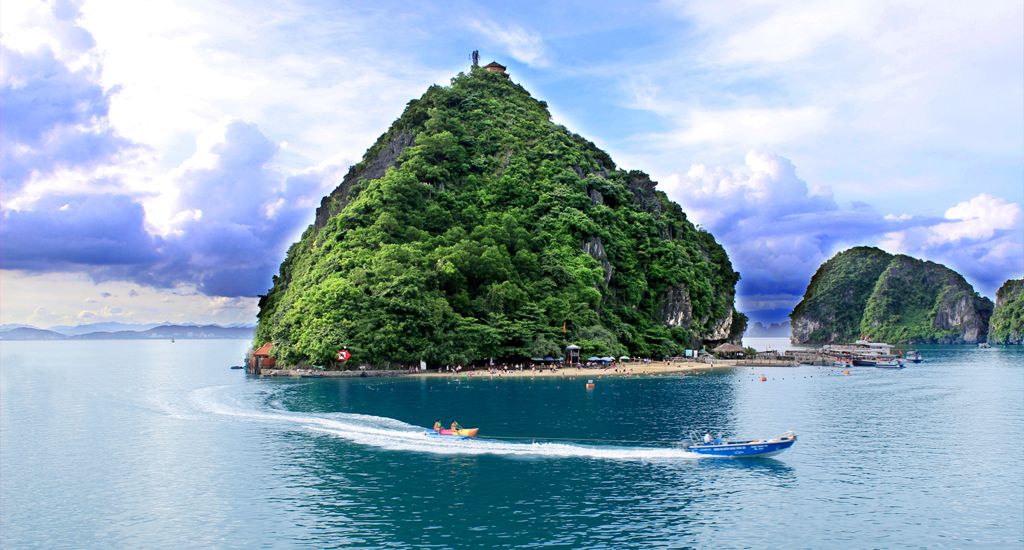 Unlike its famous twin, LAN HA BAY reserves a more pristine look with more intense concentration of over 400 limestone mountains and less than 139 beaches, suitable for ones who prefer a more tranquil hideaway from robust city life.
Dark & Bright cave
Peaches Beach
Cat Ba Island
Tra Bau area