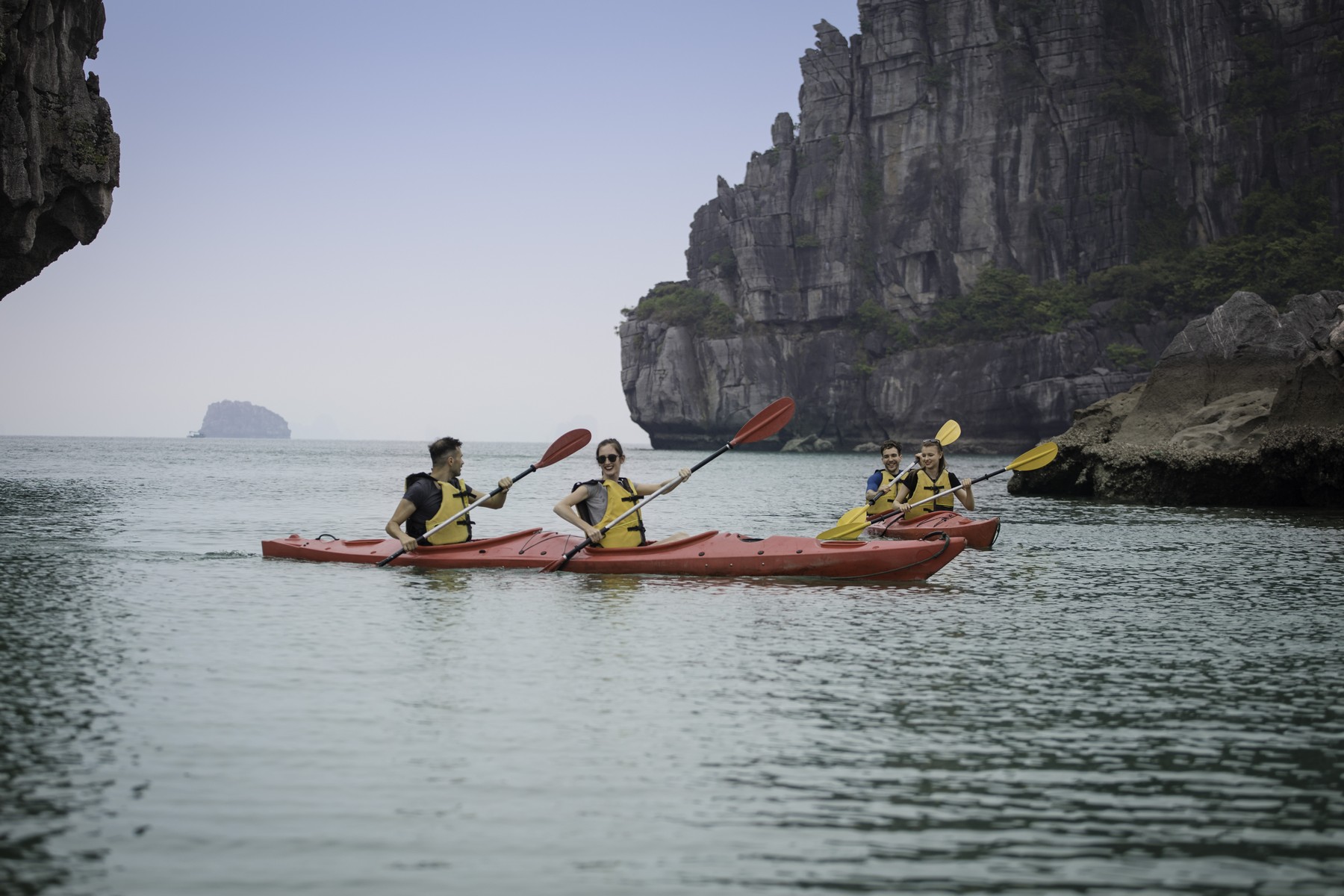 Kayaking in Halong Bay 
Picture yourself gliding through calm waters, surrounded by towering limestone cliffs and thousands of picturesque islands. The emerald green waters of Halong Bay stretch out before you, inviting you to embark on an unforgettable adventure.
Kayaking in Halong Bay is not only a popular activity for tourists visiting this natural wonder, but it is also the best way to explore the breathtaking beauty of Halong Bay. Paddle through islets; visit hidden caves, lagoons, unspoiled beaches and floating fishing villages…
Kayaks go where other big boats cannot. Depending on trip length, visitors have different kayak routes and time frames. Cruising with Indochina Junk, paddling around the islands, getting closer to limestone karst, and enjoying the breathtaking nature in a less-visited corner of Bai Tu Long Bay must be a great experience for life.
When kayaking, you must follow the tour guide; it is risky to do it by yourself without warning or instruction. The tour guide will help you use the paddle and guide you to the safe area.
A life jacket is a must for this activity when cruising Halong Bay. You can need to prepare suitable clothes: a T-shirt and shorts, swimming suit in summer; warm clothes in the winter; wet shoes, hat, sunglasses… bring water, sun cream, a dry bag storing camera, insect repellent…
Thanks to the bay's thousands of islands the conditions for sea kayaking are ideal – the water is calm, the current is fine and the wind is not too strong.
Kayaking is provided and included in all itineraries and cruises offered by Indochina Junk.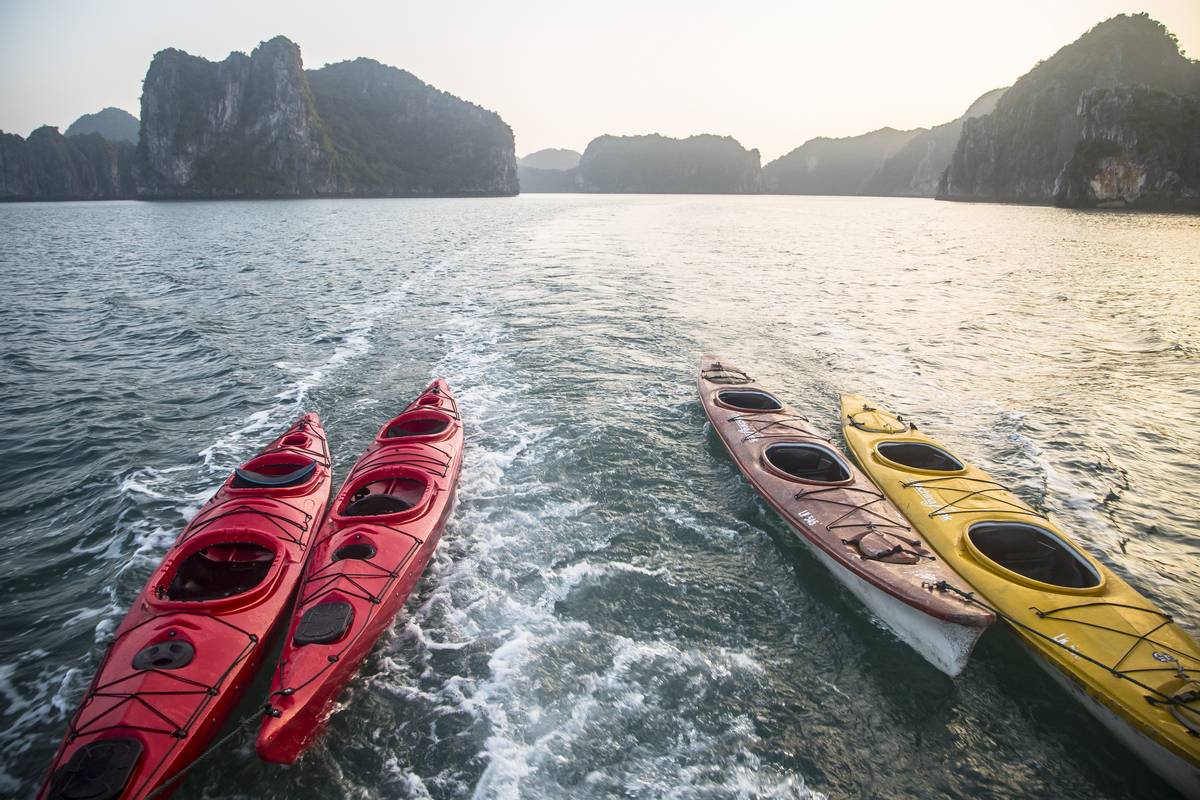 How much for kayaking in Halong Bay 
Normally, the kayaking is included in the Halong Bay cruise tour, even you opt in for one day cruise or overnight cruise. You just need to check with the tour operators for inclusion of this activtiies. 
In case, the kayaking is not included in the tour price, you can book it on the trip with extra fee 
*The price might vary depending on cruise operators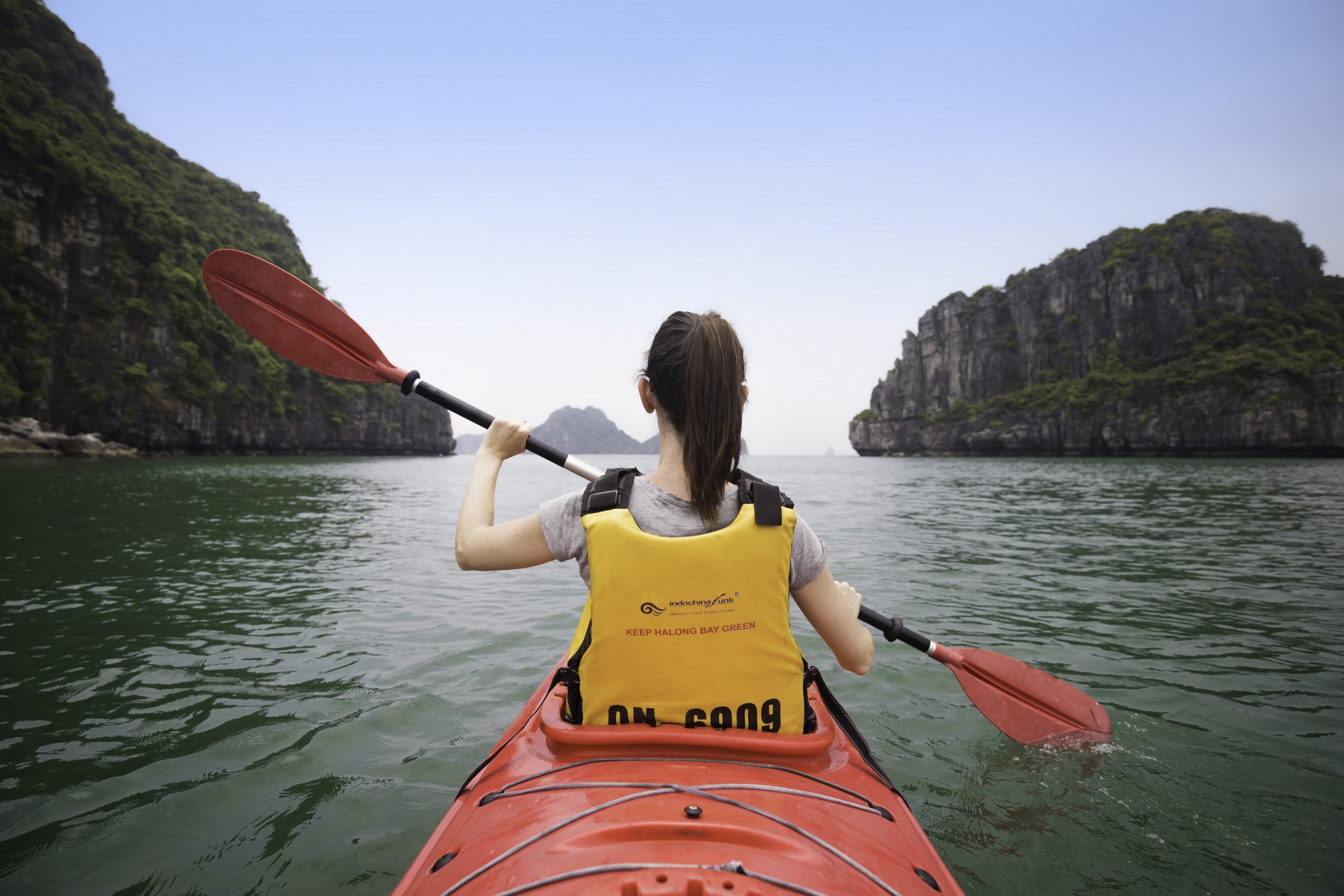 Where to go kayaking in Bai Tu Long Bay? 
Bai Tu Long Bay remains relatively untouched by mass tourism. This makes it the perfect destination for those seeking a more serene and authentic kayaking experience.
The bay is characterized by its emerald green waters, towering limestone karsts, and numerous hidden caves and islands waiting to be explored.
Kayaking in Bai Tu Long Bay allows visitors to get up close and personal with the stunning natural beauty of the area, gliding through calm waters and discovering secluded spots that can only be accessed by kayak.
So why not escape the crowds and experience the untouched beauty of Bai Tu Long Bay on a kayaking adventure?
Cong Dam Area 
Cong Dam area includes many small island in a lagoon in Bai Tu Long Bay, is an attractive destination for kayaking. Rent a kayak and explore the island, immersing yourself in its untouched natural beauty.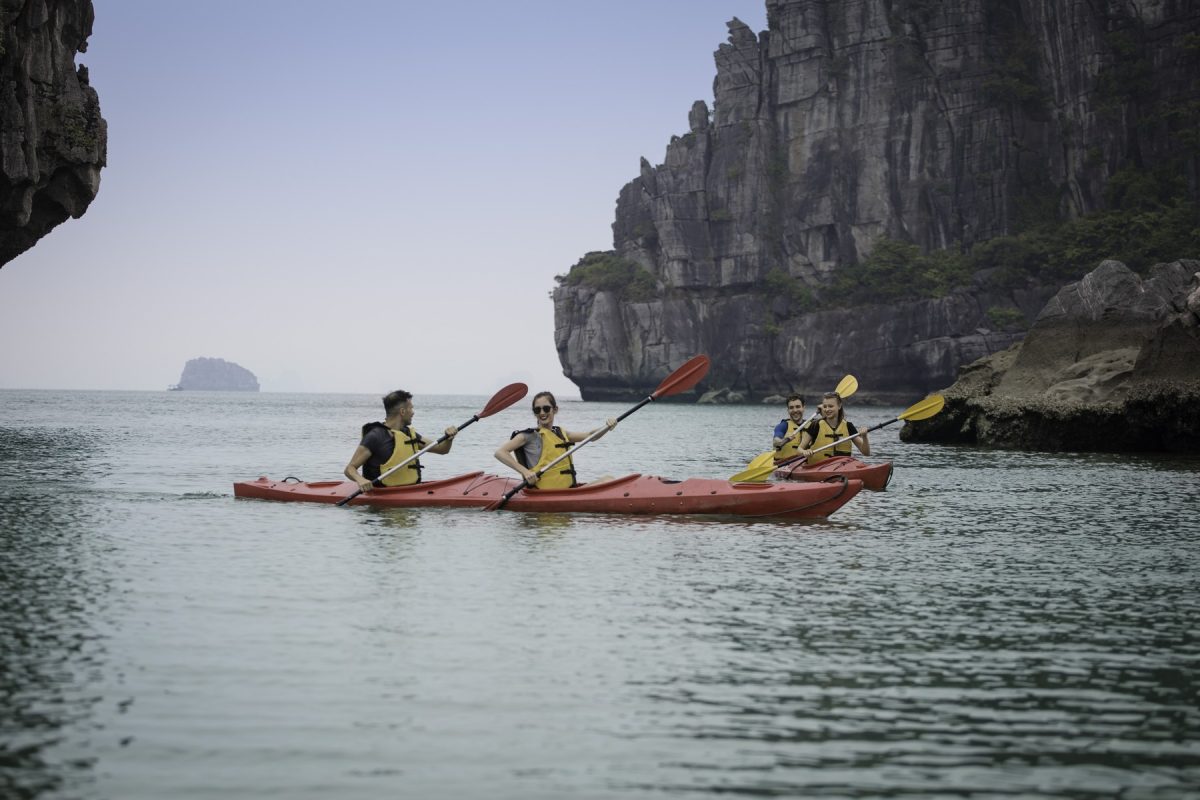 Cong Do & Hon Co Island
Hon Co Island, , is situated in the Cong Do area of Bai Tu Long Bay. This pristine island is renowned for its lush grass and untouched natural beauty. It is also home to Thien Canh Son Cave, one of the largest dry caves in Halong Bay. After visiting Cong Do Island, take the opportunity to kayak to Hon Co Island and explore Thien Son Canh Cave.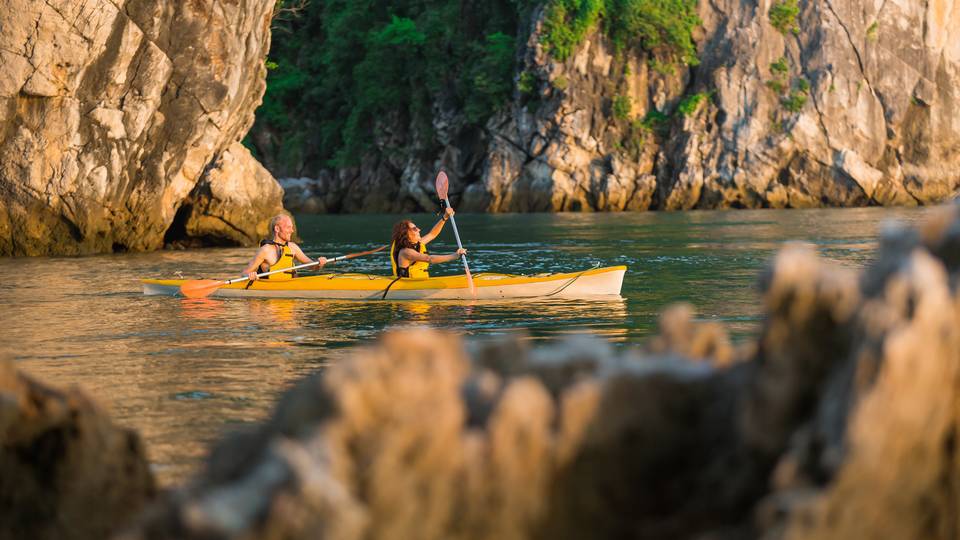 Vung Vieng Fishing Village
Vung Vieng Fishing Village, located in Bai Tu Long Bay, is one of the oldest fishing villages in Quang Ninh province.
Famous for its pearl farming, it is also a highly recommended area for kayaking. Rowing a kayak allows you to explore the village, interact with the locals, and gain insight into their traditional way of life. 
Best Time for Kayaking in Halong Bay 
March to May
September to October 
Summer time (May – August) 
Halong Bay experiences two ideal periods for kayaking. The first is from March to May, and the second is from September to October. These months offer pleasant weather and calm sea conditions, providing the perfect environment for kayaking. 
During summer time, kayaking is a interesting outdoor activities but you have to protect yourself from the sun and check weather conditions with tour guide. 
Types of Kayak in Halong Bay 
There are 3 types of kayaks on Halong Bay cruise 
Sit-on-top Kayak
One popular option is the sit-on-top kayak, which provides a comfortable and stable platform for navigating the bay's serene waters.
These kayaks are perfect for beginners or those who prefer a more relaxed and casual experience. With a sit-on-top kayak, you can easily hop on and off the kayak whenever you want to take a swim or explore a hidden cove.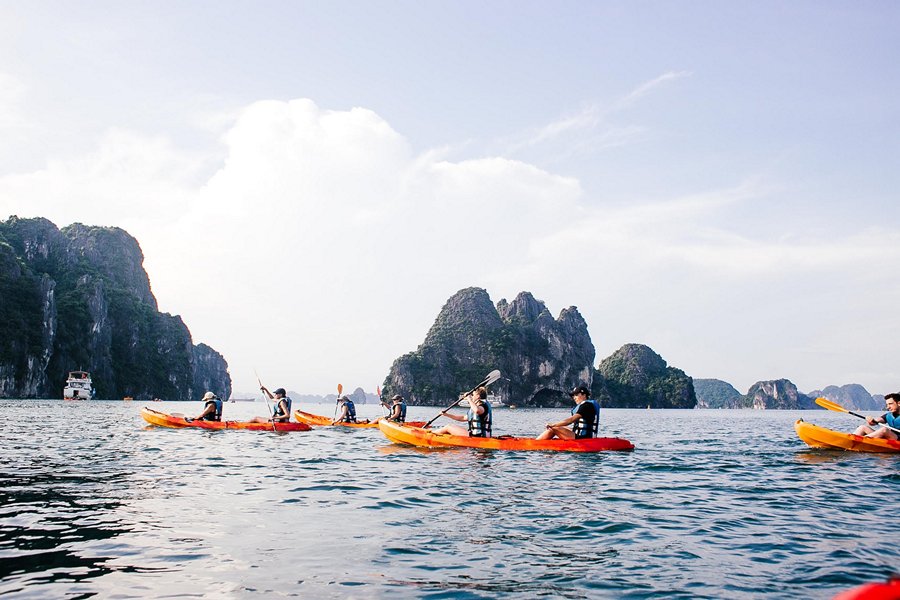 Seat-inside Kayak
Another type of kayak commonly found in Halong Bay is the seat-inside kayak. This style of kayak offers a more traditional and enclosed seating arrangement, providing a greater sense of stability and control.
The seat-inside kayak is ideal for those who are looking for a more adventurous and immersive experience. It allows you to get up close and personal with the magnificent limestone formations and stunning caves that dot the bay.
Whether you are a seasoned kayaker or a beginner, the seat-inside kayak offers a thrilling and memorable way to explore the natural wonders of Halong Bay.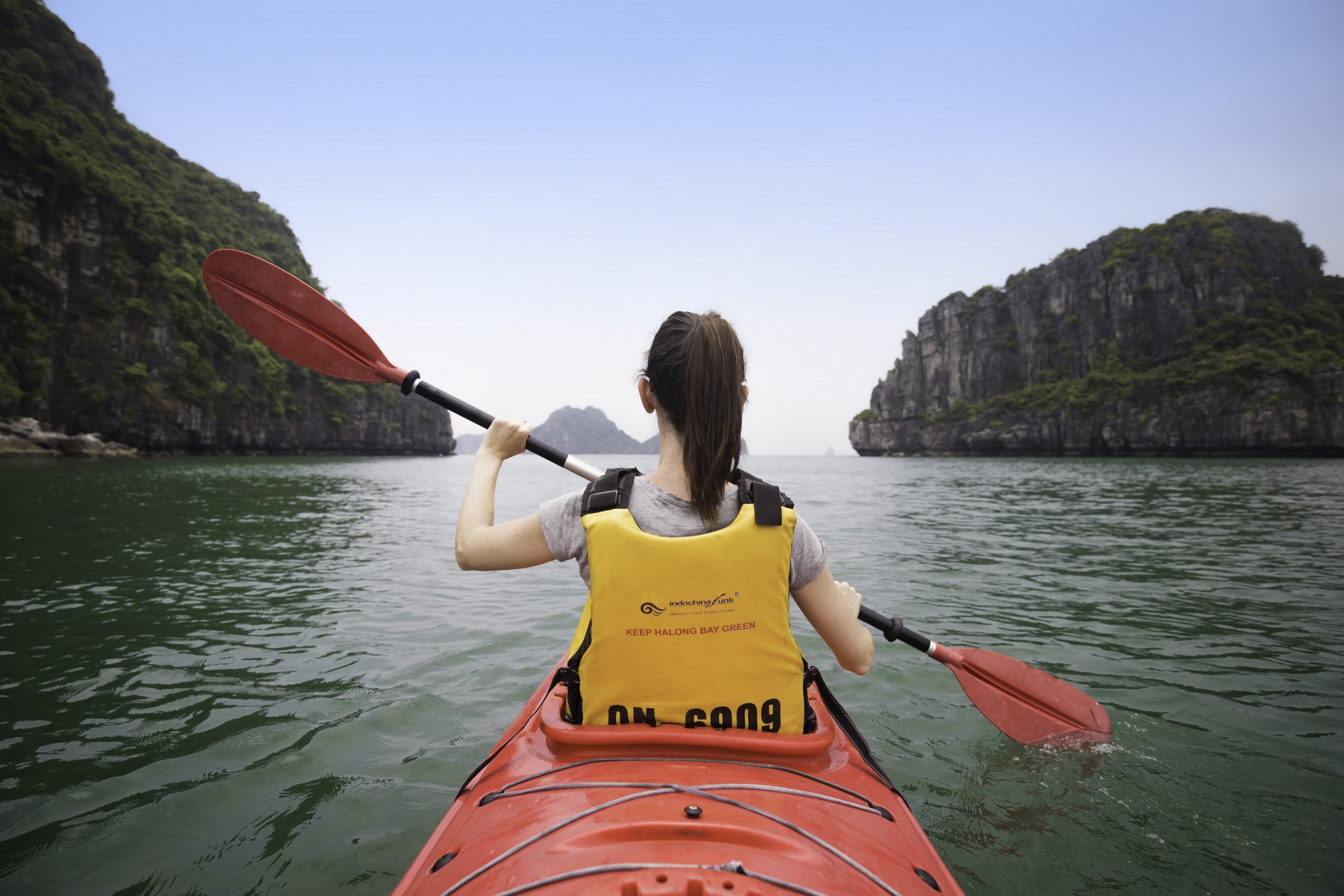 Standup Paddle 
For those seeking a unique and exhilarating experience, standup paddle kayaking is also available in Halong Bay. This type of kayak combines the thrill of standup paddleboarding with the convenience of kayaking.
With a standup paddle kayak, you can glide effortlessly across the calm waters, enjoying panoramic views of the surrounding scenery. This activity requires some balance and core strength, but it is a rewarding way to explore Halong Bay from a different perspective.
Safety Tips for Kayaking in Halong Bay
Safety should always be a top priority when engaging in any water activity. Here are some essential tips to ensure a safe and enjoyable kayaking experience in Halong Bay:
Wear a Life Vest: Always wear a properly fitted life vest when kayaking to ensure your safety in case of any accidents.

Protect Yourself from the Sun: Apply sunscreen with a high SPF to protect your skin from the sun's harmful rays. Wear a hat, sunglasses, and lightweight, breathable clothing to stay cool and comfortable.

Listen to Your Guide: Pay close attention to the instructions and guidance provided by your tour guide. They will inform you about the route, timings, and safety rules to follow.

Warm Up Before Kayaking: Perform some warm-up exercises to prepare your body for kayaking. This will help prevent muscle cramps and injuries during your adventure.

Be Aware of Weather Conditions: Check the weather forecast before embarking on your kayaking trip. Avoid kayaking during rough weather, strong currents, or storms. If the weather conditions worsen during your trip, follow the guide from crew and return to safety immediately.

Maintain a Safe Distance: Keep a reasonable distance from other kayakers to avoid collisions and ensure everyone's safety. Stay away from cliffs and areas with sharp edges that may pose a risk.

Avoid Intoxication: Do not consume alcohol or any substances that may impair your judgment or coordination before or during kayaking. It is essential to maintain a clear mind and remain alert at all times.