Responsible Travel
JOIN US TO BECOME A RESPONSIBLE TRAVELER FOR A GREEN HALONG BAY!
Since its establishment, Indochina Junk, has identified and developed a sustainable business associated with environmental protection and local community development.
We believe in sharing with local community and environment by practicing sustainable travel business with responsibility, high respect to culture, locals and destination.
We understand our role and influence in the sustainability development of tourism in. Therefore, we are committed to promoting sustainability. We aim to follow, implement and promote good sustainability practices to maximize positive impacts and minimize negative impacts on tourism of our operations and to influence our clients and partners to do the same.
We ensure clear and constant communication and high protection to our customers
We commit to sustainability management & legal compliance
We commit to social policy and human rights
We commit to practice environmental protection and enhance community relations
We try to ensure that vehicles used on tours do not cause more than average pollution. We believe that transport is an important aspect of sustainable tourism, and we do our best to decrease the average pollution level
We aim at involving as many locals as possible by employing them in the tourism business. We stand for a fair and safe working environment that supports and respects local communities.
We aim to maximize positive impacts and minimize negative impacts at destination to ensure the sustainable development of the places that we operate in.
Our mission: "Actions for the most sustainable benefit toward the environment, the community, our customers, our partnership, then our employees".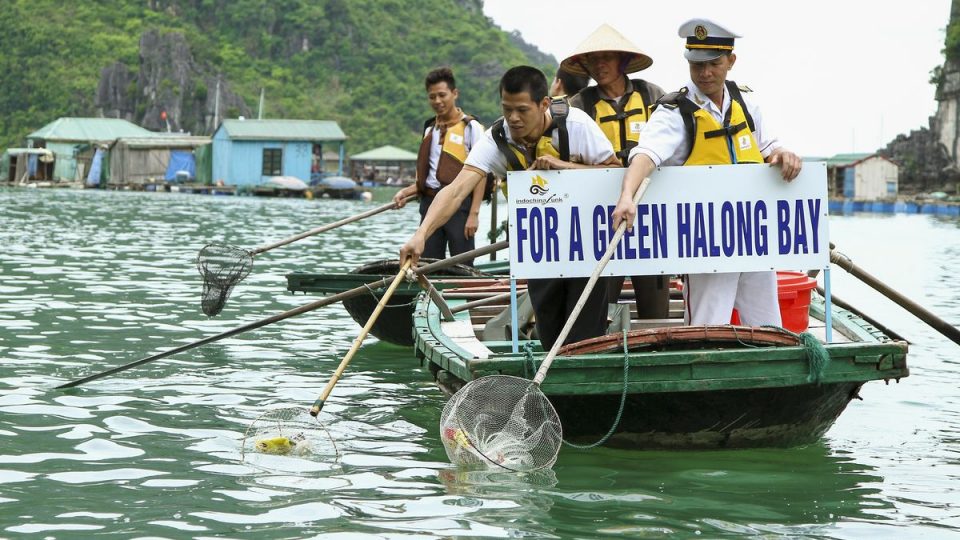 We are proudly Member and Partner of:
IUCN – Halong bay Cat Ba Alliance: A three-year initiative aims to improve environmental management and protect the natural integrity of the Ha Long Bay World Heritage Site including the Cat Ba Archipelago.
RTC – Responsible Travel Club of Vietnam: Association of different travel agencies, NGOs and individuals dedicated to building, practicing & developing sustainable tourism in Vietnam.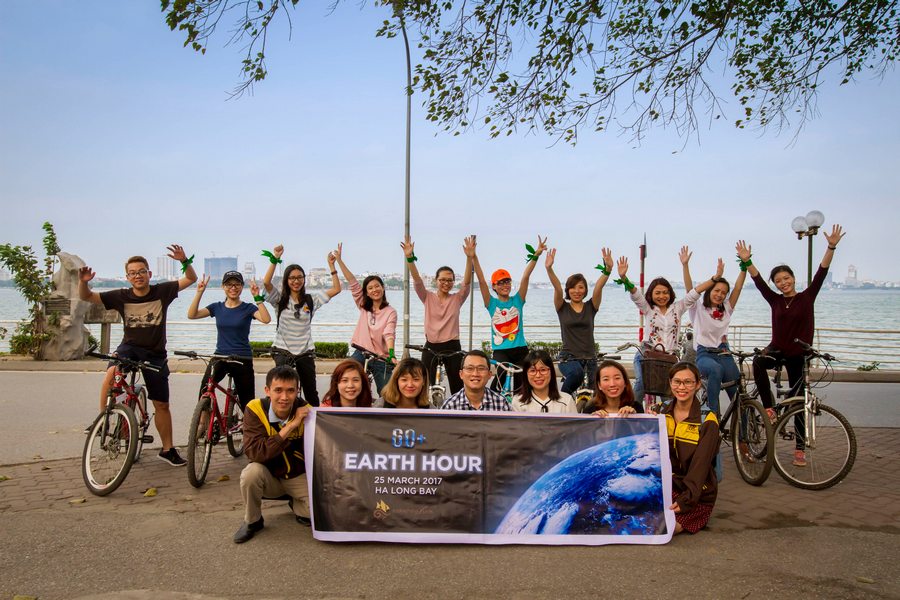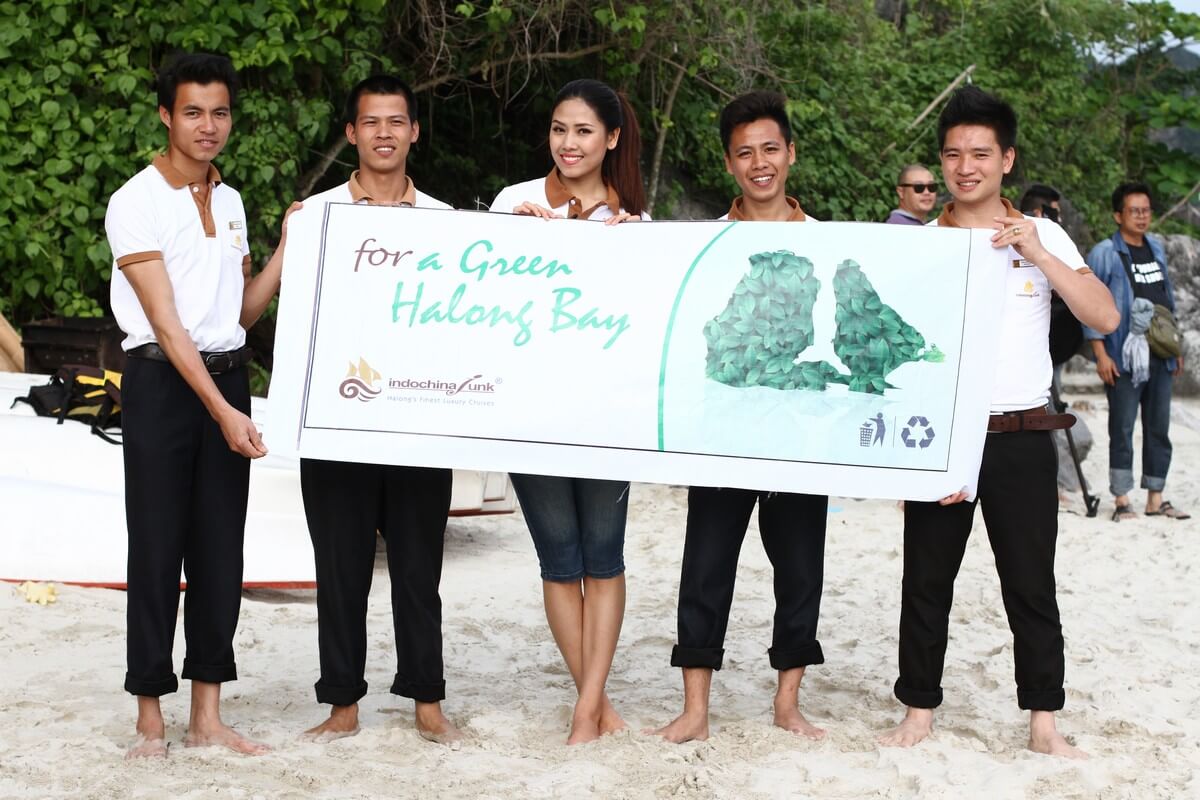 Responsible Travel Products
Yen Duc Village Tour
Community based tourism product developed in Yen Duc village by Indochina Junk in 2011, a local Vietnamese village has been profoundly changed because their cultural values are praised, financial support is given and most importantly travelers around the world come to admire the local traditions and share the community values.
The village is is Dong Trieu district, 100 km from Hanoi and 60km from Halong bay, becomes a well- known tourist destination in Quang Ninh province. There are 66 locals working on this community based tour and get average payment of more than 3 million VND/month, thousand visitors coming to village enjoy the beauty, cultural tradition of village every month.
The village offers:
Water puppet show and Vietnamese folk song performance
Day tour in village
Cultural tours for students
Vietnamese food
Overnight stay (Viet House and homestay)
Electric Car in Halong City
The tourism product includes 21 electric cars to offer tourism transfer service and city tour in Halong. An eco-friendly transfer mode has contributed to minimize the negative impacts on environment, for a greener living city. It is also a unique product for travelers and locals to admire beauty of Halong city.  Operated by 18 skillful driver – ambassadors of Halong city, electric car is a part of Halong city tourism now, a must try activity for visitors to admire the beauty of land on the shores of Halong bay.
Service offers:
Halong city tour by electric car
Ongoing Projects
Halong Bay & Yen Duc Village/ Mar-2016/ Traditional Music Preservation
Training from music expert Phan The Phung to local people and company staffs in Yen Duc village. The crew members on Indochina Junk's fleet also join this music training program.
25 staffs joined the program and influence other hundred people for the love with traditional music. There has been traditional music show performed to customers in Yen Duc village, Dragon Legend boats.
The project is in operation with other staffs of Indochina Junk boats and Yen Duc village community.
Halong Bay/ 2016/ Aquaculture Fishing Farm in Vung Vieng Fishing Village
Sustainable aquaculture combining responsible tourism, is a part of a large project called "Ha Long Bay – Cat Ba Alliance Initiative", co-organized by NGOs ( MCD, IUCN, USAID, Mr. Nature)
10 aquaculture cages were put on operation in Dec 2016
There would be more aquaculture cages will be invested after the testing of 7 first cages.
Yen Duc Village/ 2014/ English Class for Local Children
The annually English class for local children in Yen Duc village operates every summer. Teaches are not only our staffs but also customers with their native language experience.
Binh Lieu/ 2016/ Community Based Toursim Project
This project is in researching stage then start at very first step to build the 2 cultural houses of local ethnic minority in Song Mooc village for locals there.
In the coming period, Binh Lieu will be developed as an ecotourism destination based on local community with high respect to local culture.
Competed Projects
Binh Lieu / Mar – 2016/ Vocational Training for the Youth in Binh Lieu
The project took a 3 month training course for 8 young man in Binh Lieu and 6 graduates had been assigned for working on board with Indochina Junk and continue to practice skills during their work.
Binh Lieu/ Aug – 2016/ Library for Students
The projects to build a library and reading corners for secondary students of Dong Van high school. Hundreds of books and a lot of learning materials (books, notebooks, pencils, geographic globes…)
Halong City/ 2015 & 2016/ "Clean & Green Living City"
01 training program for students and citizens named – Together to build the green city of Ha Long – clean – beautiful – Where to go and worth living.
01 class for literacy and painting for students in summer 2016
3 Cleanup programs in Bai Tho Mountain
Annually operating of Earth Hour program.
Halong Bay/ 2007 – 2016/ "For a Green Halong Bay" Program
2009 – 2012: Mangrove plantation project in Cong Dam fishing village with total plated area 3,06 sq. ha
2009 – 2010: replace foam floats with plastic floats at Vong Vieng and Cong Dam fishing village. With support from other travel agency and individuals with 5820 plastic floats – worth about 2 billion VND.
Clean Fish Farming Project operated from Apr – 2010 till Oct – 2013, Indochina Junk sponsored 258.740.000 VND to invest in this farming experience and buy food for fish farms in floating village.
2007: Garbage collection project with supports from visitors and staff. – In 2014, more than 13,000 Kg rubbish was collected while more than 25,000 kg rubbish was collected in 2015. In 2016, the total collected garbage is 24638 kg
2014: Clean up natural beaches of Bai Tu Long bay
Halong Bay/2005 – 2014/ Tourism Service in Vong Vieng Fishing Village
Organize waste collection to clean the ecological environment of the fishing village
Invest in the infrastructure for rowing boat to take visitors to the fishing village
Provide training of "community tourism skills" to local fishermen
Organize services such as fishing with fishermen, promotion and marketing activities.
Vong Vieng fishing village becomes the most attractive sightseeing for travelers in Halong Bay, an interesting place to see how locals living on water.
Yen Duc Village/ Jul – 2016/ Cultural House for Locals
Support people renovating and upgrading cultural houses with a total of more than 150 million VND. This house will be the cultural center of village to organize many culture and sport activities.