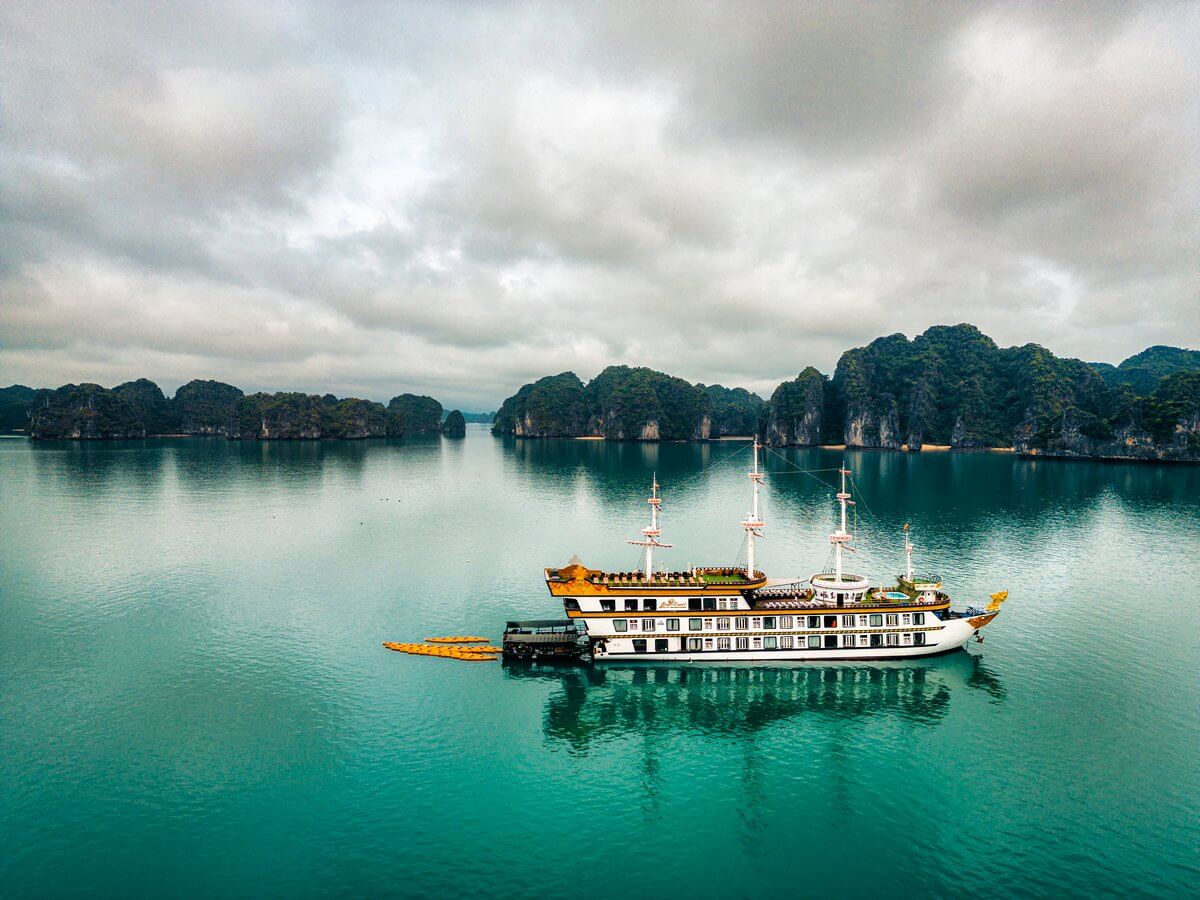 Dragon Legend Cruise



Luxury – Culture – Unique
The 2 Dragon Legend ships are the newest members of the Indochina Junk fleet, proudly marking the highest standards of construction. Each Dragon Legend boat features 24 luxury cabins, 4 decks with both inside and outside restaurants, a spa, bar, sundeck area and other entertainment options.
Each spacious cabin is a work of art with Vietnamese traditional hand crafted décor and modern facilities, a private bathroom includes a bathtub and big sea view windows. Dragon Legend cruise offers dramatic public spaces, impressive open air dining and a bar that definitely makes for a relaxing trip in the bay.
The mission of Indochina Junk Company and the Dragon Legend cruise is to offer trips to Bai Tu Long Bay in the less touristed area so the itinerary has been well researched to lead you far off the beaten track.
All the design features, itinerary and activities on board are customer oriented. The goal of the Dragon Legend cruise is to bring you another truly exceptional cruise experience of the greater Halong Bay area.
Cabin & Facilities
24 Luxury Cabins
Crew: 35
Upper Luxury Dinning Areas: Indoors and Outdoors
Spacious Sundecks and Relaxation Areas
Spa
Staff Section
Kitchen
Customer Reviews about Dragon Legend Cruise 
Dragon Legend Cruise
Wow what an experiance. It was extremely well organised the room food and the activities were first class. I would highly reccomend this as a must do when you visit Vietnam. We did the 2 day 1 night and I whish we had done the 3 day 2 night.
Amazing! First class service.
From the pick up at the hotel by our friendly, competent (and safe) driver, to Smiley our lead guide on the boat and all the boats crew the service and friendly smiles were wonderful. We did the 3 night tour (2 nights on the Dragon Legend and 1 night added on in Ninh Binh) and every part of it was spectacular. The boat is beautiful, the food is incredible and the activities like kayaking are well organised and fun. We then went to Ninh Binh in our private transport and had a days private tour which was also fabulous. We are a family with 2 kids (13 & 10)and we all enjoyed it, I never felt unsafe or unhappy we were made to feel at ease and looked after so well the whole itme. This is my second time with Indochina junk and they did not dissapoint. They are the leaders of Ha Long bay boats and I would not go with anyone else. They are also taking environmental repsonsibility and are part of cleaning up Ha Long Bay, unfortunatley there is still much rubbish and work to be done across Vietnam but at least this is a company openly addressing some of it.
Scenic, dedicated and relaxing Bai Tu Long Ba trip on Dragon Legend 2
It's my 2nd time back to the Halong Bay region and decided to choose Indochina Junk as they offered their cruise along Bai Tu Long Bay – which is marketed to be quieter and more serene than Halong Bay and it was absolutely true.
The trip started off really well with Linh, booking consultant replying me very quickly and helpfully on the instructions on the payment. We were picked up in luxurious vans headed for Halong Bay and the driver and guide were friendly and welcoming.
On board the boat, I was amazed at the dedication and attentiveness of our tour guide/cruise manager, Mr JD and the entire crew on board our 2D1N trip. The food, rooms, cruising itinerary and the exclusivity of the bay (during kayaking and docking for rest time).
I'll definitely be back and the next time for a 3D2N trip. It's worth every bit of money for the experience. Thank you! 🙂
Dragon Legend 2 night
Absolutely fantastic! I cannot say enough about the Dragon Legend cruise. Do not be scared away if you have babies either!! My husband and I went with our 1 year old daughter and had a blast. The company provided a car seat for the drive, crib in our cabin, high chair at meals, and so much more! The chef prepared a special dinner early for her so she could get to bed on time and we could enjoy adult dinner with our baby monitor! Woo hoo!! The cabin was incredible with big bed, big windows, and a huge tub. The scenery in Ha Long Bay was BREATHTAKING! We loved the BBQ on the beach. We decided not to kayak and relax on the boat (at the end of a two week trip and were ready for some downtime). I would definitely suggest 2 nights!!! The food was delicious. The staff was great. Worth every penny!a
Read more reviews on TripAdvisor 
SEND YOUR ENQUIRY NOW