Halong Bay cruise on a small boat is one of the most vibrant activities in the UNESCO World Heritage Site. So, what exactly is it, and why should you opt for this experience? 
This article provides comprehensive insights into the best small boats for Halong Bay cruise, including valuable tips to ensure the best trip during your visit.
Let's dig in now!
What is a small boat on Halong Bay? 
A small boat, also known as a junk, on Halong Bay is a little wooden boat that takes people on a special journey to explore the beautiful bay. 
Junks have sails, but motors can also power them. It is smaller than big ships and can go to places larger boats cannot reach. This characteristic makes them perfect for exploring the many hidden and intact islands and caves in Halong Bay.
Besides, small boats have cozy seating areas to relax and enjoy the stunning views. They have friendly crew members who will care for you during the trip. 
But small boats won't stop you from indulging yourself in fun activities like kayaking or swimming. Here is some small boat that we will recommend for your trip to Halong Bay 
L'amour Junk: 1 cabin 
Prince Junk: 2 cabins 
Prince Junk: 4 cabins 
Dragon's Pearl Junk: 10 cabins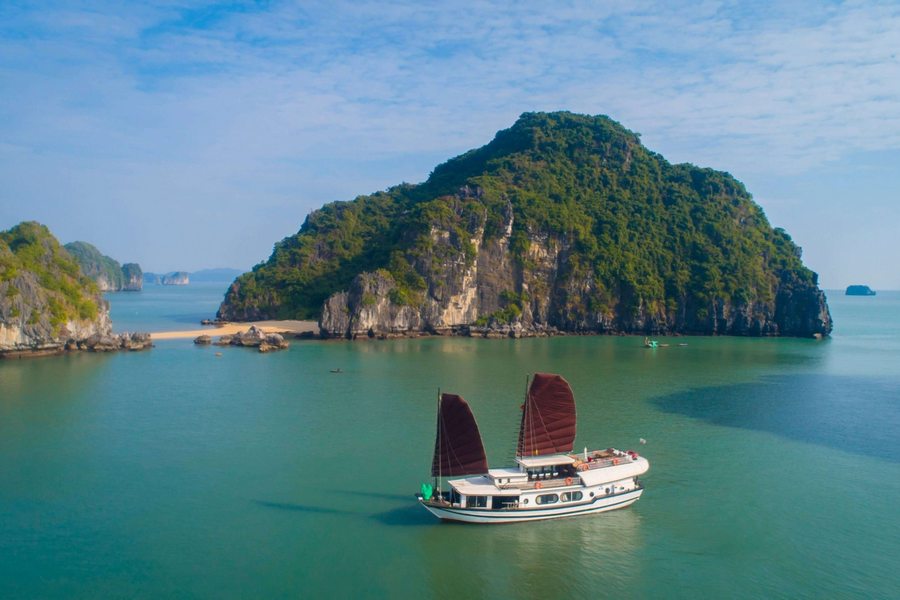 Why choose a small boat for Halong Bay cruise?
Intimate and Personalized Experience: A small boat offers an intimate & cozy setting, allowing you to feel closer to the breathtaking scenery. You will get to know the crew and fellow passengers better and have more time to explore the bay.
Flexibility and freedom: You can choose where you want to go and what you want to do. You can visit lesser-known areas and hidden gems that bigger ships cannot access.
Close interaction: Looking for a secluded place for a getaway with your family? Or do you long for a home away from home where you and others can bond over a shared love of traveling? A small junk is everything you could ask for. A small, cozy place is likely to spark a conversation and fuel your bond more, right?
Authentic and local experience: You will get to see the bay from a different perspective and have the opportunity to interact with local people (like fishermen), experience their way of life, for example, go fishing, eat in fisherman style, and learn about their customs and traditions. From that, you can savor the taste of traditional cuisine prepared by skilled local chefs. From fresh seafood delicacies to regional specialties, you'll have the chance to indulge in the flavors of Halong Bay.
Serene and peaceful atmosphere: You can blend in the tranquility of the bay, away from the bustle & hustle of larger crowds on a larger boat. It's a time to refresh your soul when connecting with nature.

Environmental Sustainability

: Small boats take measures to minimize their impact on the bay's ecosystem. They have a smaller carbon footprint ensuring a greener and more sustainable travel experience.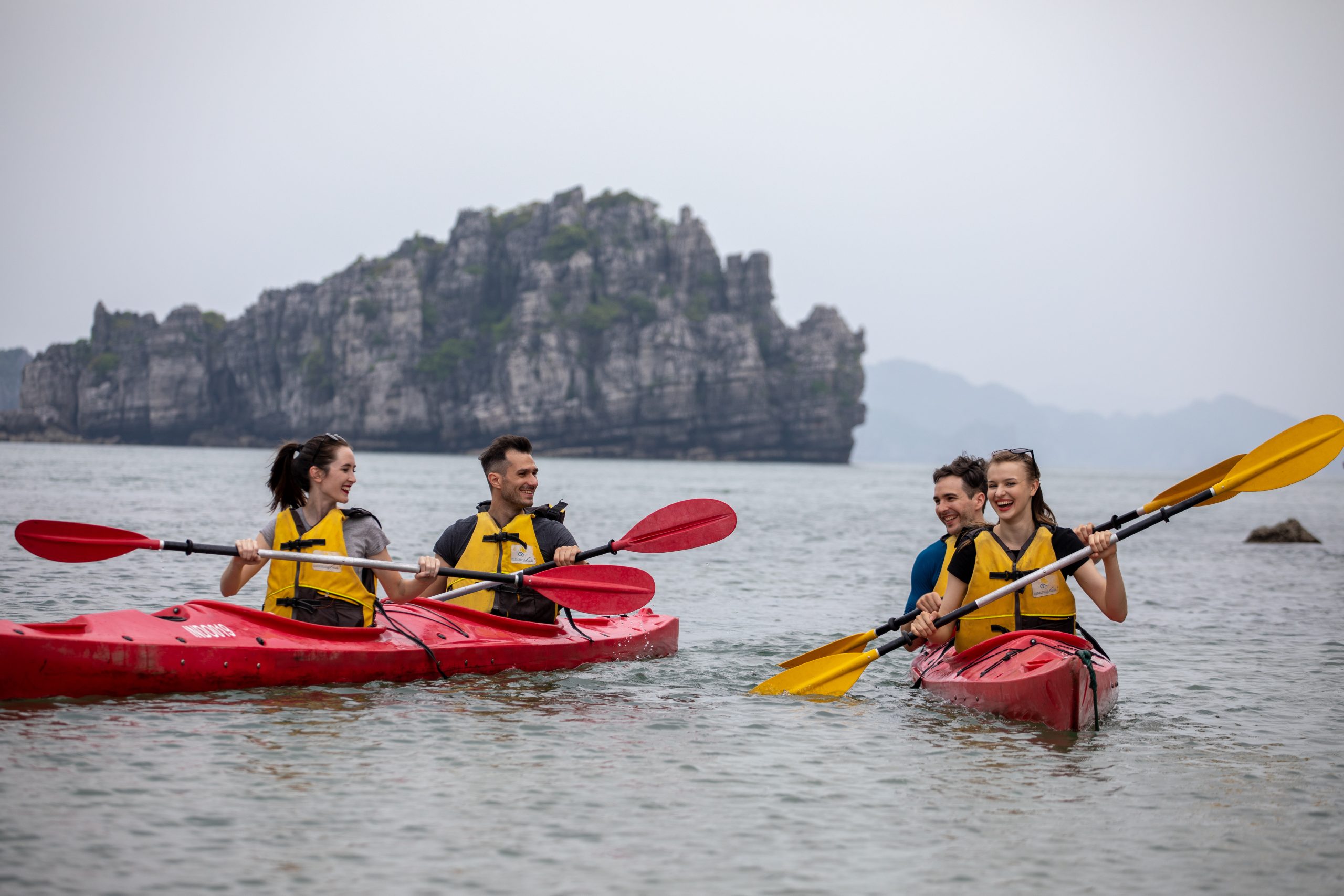 What to expect on a small boat cruise, things to do?  
Spectacular Scenery: The breathtaking beauty of the emerald waters, over 1,000 years old towering limestone karsts, hidden beaches & lush green islands create a magical and awe-inspiring backdrop for your journey.
Kayaking and Exploring Caves: In Halong Bay cruises small boat

, you have a chance to level up your adventure. There are many different caves to choose from; some of them, for example, Thien Cung Cave and Sung Sot Cave, are lit up at night.

Besides, amazing kayaking awaits you to glide through, have fun with your team, and discover hidden lagoons.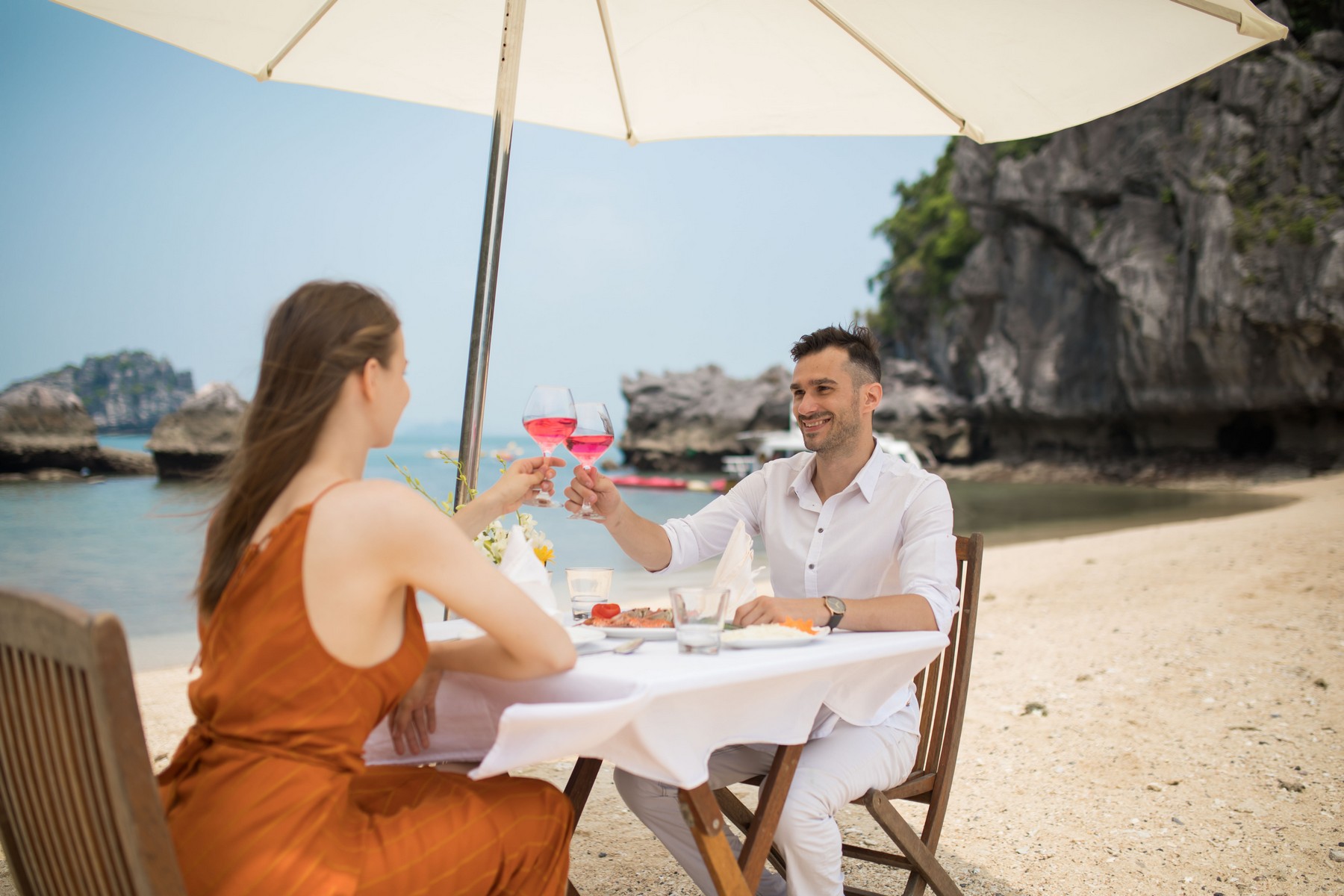 Swimming and Sunbathing: If you want to relax, you can dive into the refreshing waters or bask in the warm sunshine on one of the many beaches in Halong Bay. The water is clear and clean, and the sand is soft and white. It will create joyful memories of fun-filled water activities.
Fishing Village Excursions: You can also visit a fishing village to learn about local culture and see how people live in the bay. You can even go fishing and witness the daily life of the fishermen.
Cooking Classes and Local Cuisine: Another activity you can expect is taking part in a cooking class. You will learn how to make traditional dishes using fresh local ingredients.
Sunrise and Sunset Moments: Get ready to behold the magical moments when the sun rises and sets over the bay. The colors of the sky are amazing, and you will see the karsts in a whole new light.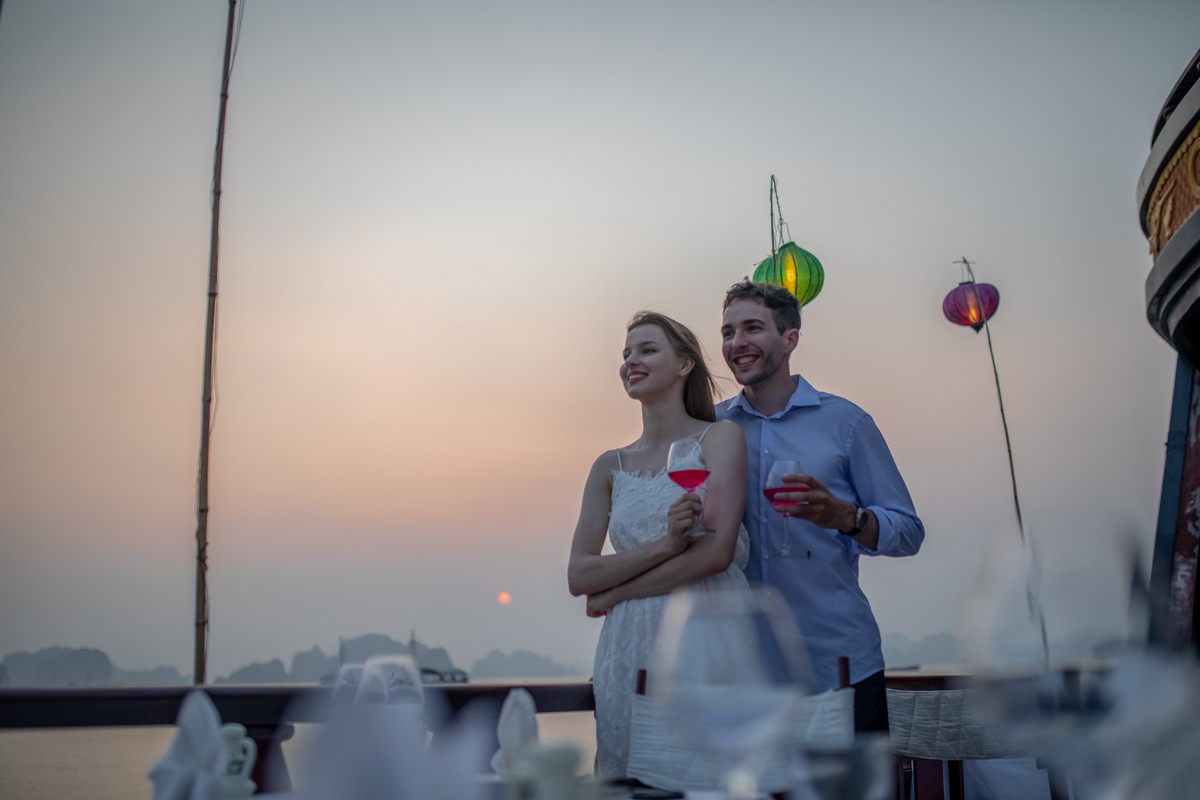 Best small boat for Halong Bay Cruise 
Each Halong Bay small cruise offers unique features and services to enhance your experience. From comfortable cabins and delicious meals to knowledgeable guides and magnificent views, you can expect a memorable and enjoyable cruise no matter which option you choose.
L'amour Junk (1 cabin) – Perfect for a couple 
L'amour Junk is one of the best luxury small-boat cruises. It is a charming small boat with one cabin, perfect for couples or solo travelers seeking privacy and tranquility. 
The boat is also very stylish, with a modern design that blends in with the traditional beauty of Halong Bay. You can catch a sophisticated luxury in every angle you put your eyes on, from the furnishings made skillfully by hand from oak & teak to the ensuite room positioning that enriches your personal experience when taking a bath, relaxing, and enjoying the view window.
Mouthwatering foods are always ready for your presence and orders. You can enjoy excellent views, amazing meals, and professional service with your loved one at the most beautiful scene of Vietnam in a tranquil place.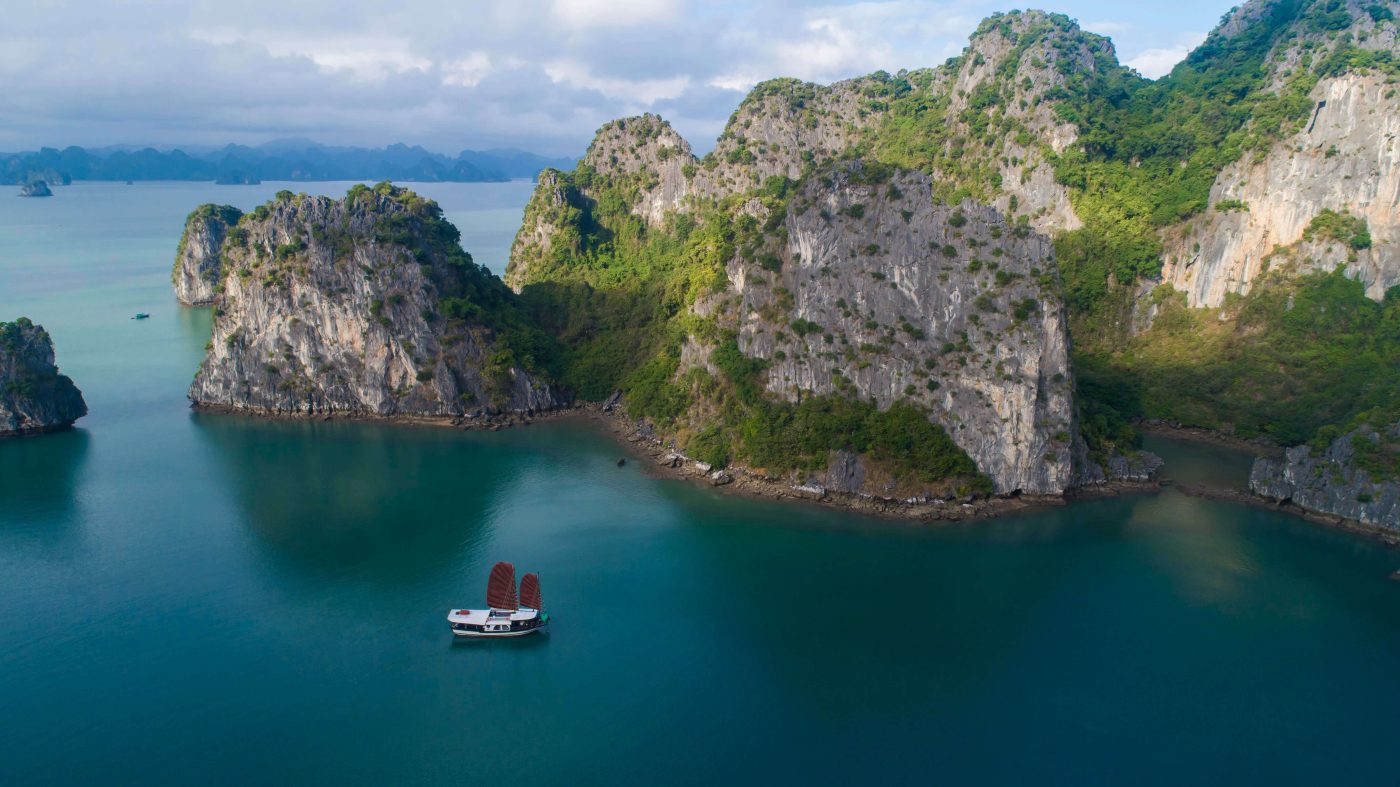 Prince Junk (2 cabins) – Family Adventure 
The design of the Prince Junk takes inspiration from traditional Vietnamese fishing vessels. It features two spacious decks with both indoor and outdoor dining areas. 
The cabins are beautifully decorated in a traditional style and offer picturesque sea views through the windows, allowing you to unwind and appreciate the awe-inspiring scenery.
If you're traveling with a small group, such as a work team or family of up to four members, the Prince Junk, with its two cabins, is an excellent choice. 
It provides a comfortable and roomy environment where you and your loved ones can relax and revel in the charming beauty of Halong Bay. The onboard amenities and services are designed to ensure a delightful and unforgettable cruise experience.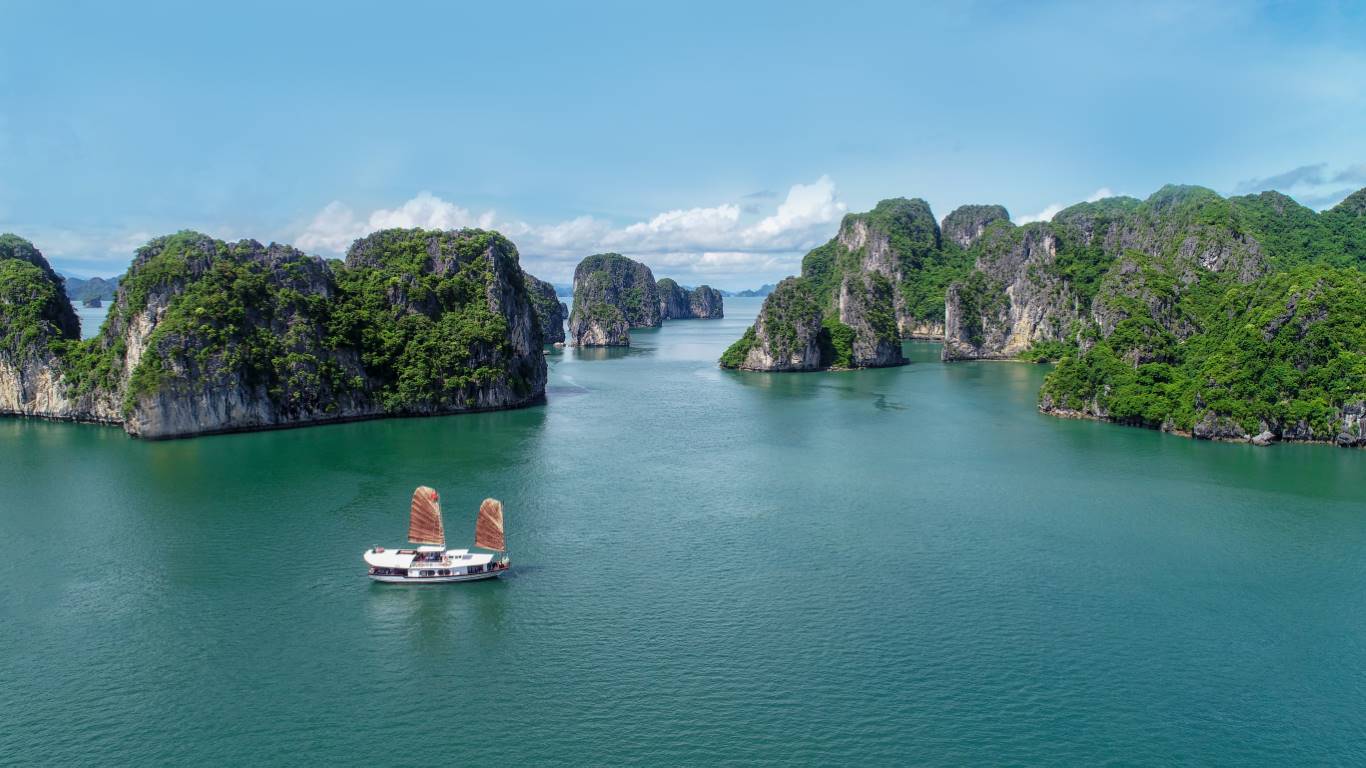 Prince Junk (4 cabins) – Family and Friends gather 
The Prince Junk, with its four cabins, offers a larger capacity, making it ideal for a group of friends or a bigger family (up to 8 members). 
It inherits the meticulous and sophisticated design elements from the two-cabin type, exceeding your imagination. You will experience a tropical paradise akin to the Caribbean, surrounded by the stunning beauty of Halong Bay.
On this small boat, you can share the joy of exploring Halong Bay together while still taking in the intimacy and coziness it provides. The friendly crew ensures a warm and welcoming atmosphere throughout your journey. 
Every meal is prepared with fresh, nutritious ingredients and is full of surprises, guaranteeing your group the best time of their lives.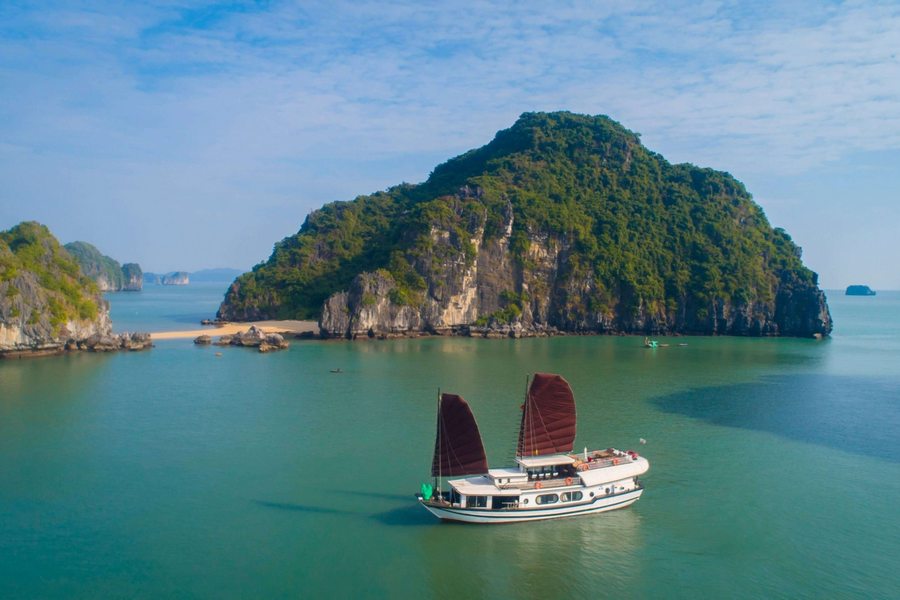 Dragon's Pearl Junk (10 cabins) – Fun & Inspiration for a small group 
Dragon's Pearl Junk is valued as the most luxurious small boat cruise with huge space because it has ten cabins. 
The boat stands out with 2 big sun decks (back and front), 2 dining areas, and a small wine bar. The sundeck provides a fantastic vantage point to witness the bay's mesmerizing sunset and create lasting memories with your companions.
This type of boat is ideal for those who prefer the bigger group setting. It strikes a great balance between intimacy and social interaction. You can make new friends, share exciting adventures, and create lasting memories while cruising through the captivating landscapes of Halong Bay.
With its traditional Chinese inspiration design and modern amenities, you are in for a good treat for the outside look and your soul.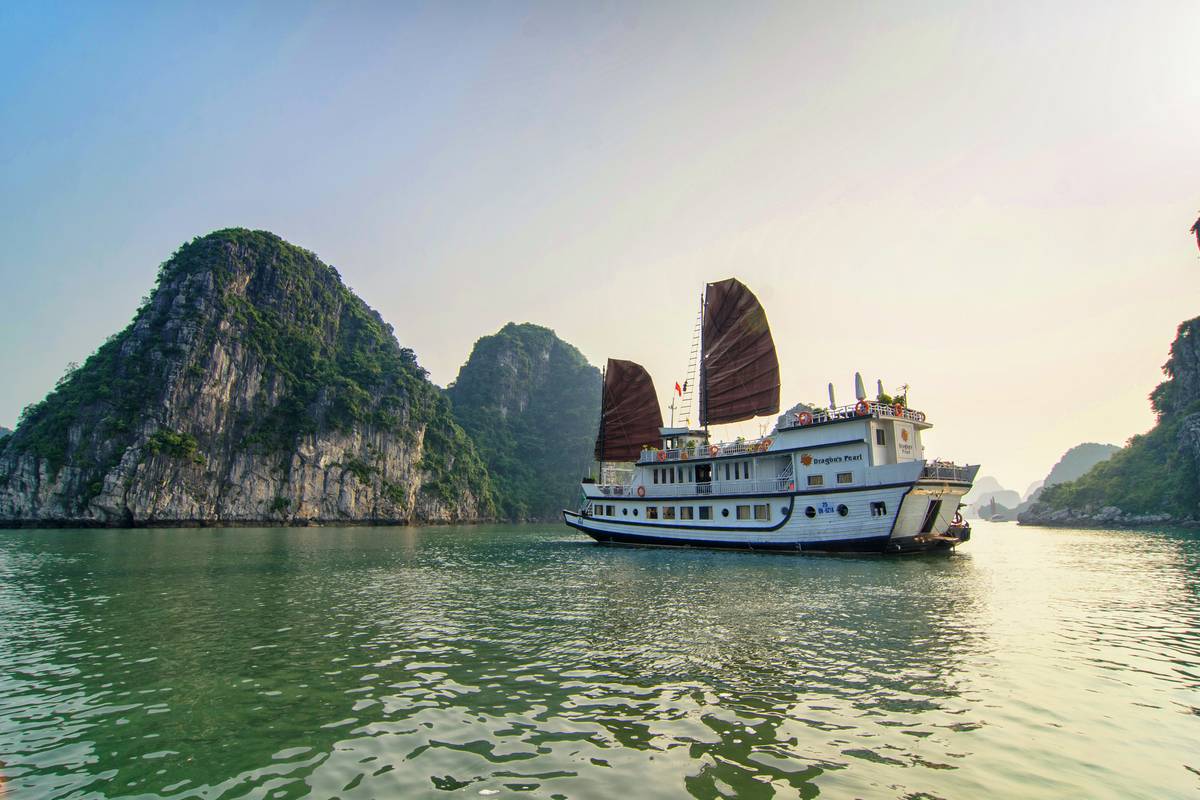 Bai Tu Long Bay cruise on a small boat trip 
The
Bai Tu Long Bay
cruise on a small boat offers a unique and unforgettable experience. As you set sail, you'll be mesmerized by the sheer beauty of your surroundings.
The limestone karsts rise majestically from the water, creating a marvelous landscape. The calm and peaceful atmosphere will instantly put you at ease, allowing you to truly relax and unwind.
One of the things that made this cruise so special was the small boat itself. Unlike the larger cruises in Halong Bay, the small boat allowed for a more personal and immersive experience. With only a handful of passengers on board, you were able to get to know each other and share in the excitement of exploring this hidden gem. T
he crew was incredibly friendly and attentive, making you feel like VIPs throughout the journey.
One of the highlights of the Bai Tu Long Bay cruise is visiting the
floating fishing villages
. These communities have been living on the water for generations, and you'll have the opportunity to witness their fascinating way of life up close.
You can interact with the locals, learn about their traditional fishing techniques, and even try your hand at catching some fish yourself. It's an eye-opening experience that will give you a deeper appreciation for the rich culture and heritage of this region.
Another highlight of the cruise is exploring the hidden caves and grottoes that dot the bay. These natural wonders are like hidden treasures waiting to be discovered. With a small boat, you can easily access these hidden gems and marvel at their beauty.
Whether it's the magnificent stalactites and stalagmites of
Thien Canh Son Cave
or the mystical atmosphere of Cong Do Cave, each cave has its own unique charm and will leave you in awe.
So, if you're looking for an extraordinary adventure and a chance to immerse yourself in the natural beauty and cultural richness of Halong Bay, don't miss the opportunity to cruise Bai Tu Long Bay on a small boat. It's an experience that will leave you with memories to last a lifetime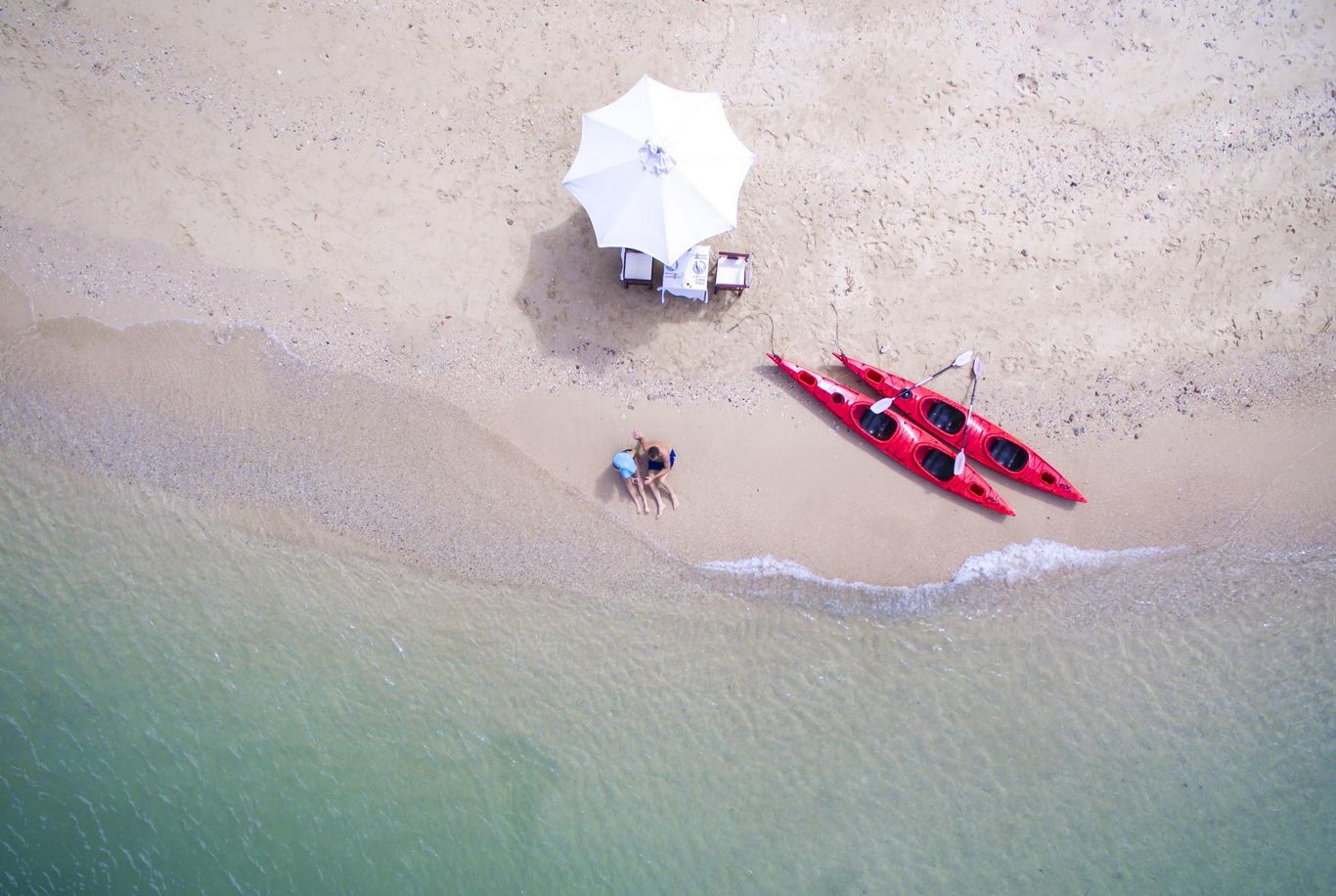 Tips for choosing a small boat trip in Halong Bay? 
Do thorough research

: Read reviews of different boat trips online, look for reputable cruise operators, and ask your friends and family for recommendations.

Check safety measures:

The small boat you choose should have proper safety equipment, including fire extinguishers, life jackets, first aid kits, and emergency protocols. 

Check the crew and service:

The crew should be knowledgeable, friendly, and more likely to give you a good trip experience. 

Food and dietary requirements:

Don't forget to double-check whether the boat brand you are about to book can accommodate your dietary requirements or food preferences.

Value for money:

Go for a trip that offers good value for money, with a balance between the services provided and the price charged.

Environmental responsibility:

Seek out service suppliers who adhere to sustainable practices, such as waste reduction and the use of low-emission engines.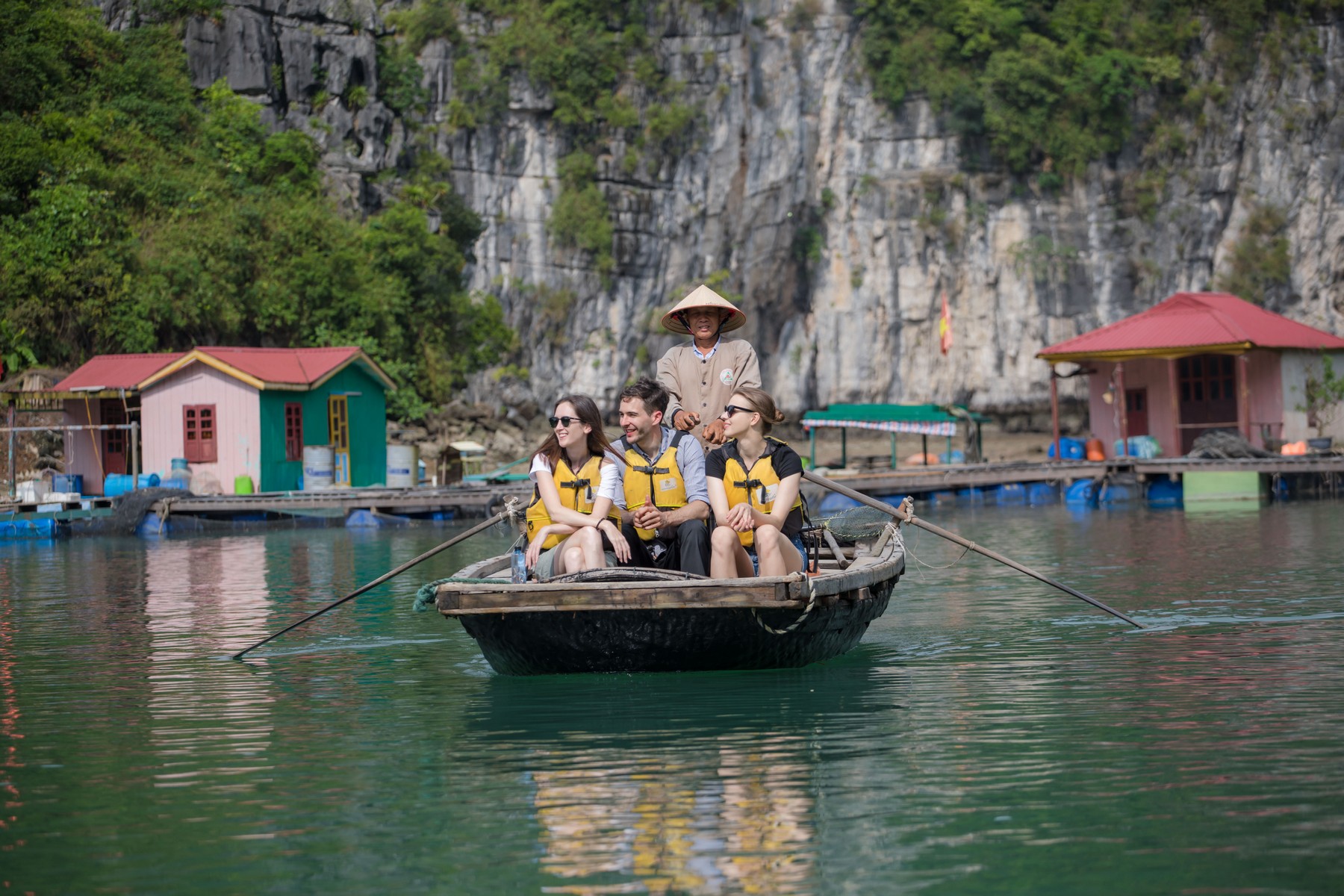 Indochina Junk stands out as one of the best choices for a Halong Bay cruise on a small boat. 
Not only does the crew possess extensive experience in providing professional customer service, but they are also experts in showcasing the beauty of Halong Bay at every tourist destination. 
Come and witness it for yourself!