Nestled in northern Vietnam, Ha Long Bay is famous for its breathtaking scenery and diverse cultural heritage. 
In this blog post, we invite you to join in a remarkable journey through the Halong Bay routes, where you'll be surprised by the beauty of limestone cliffs, explore magnificent caves, and immerse yourself in the local culture. Prepare to set sail on an adventure of a lifetime in Vietnam as we unveil the hidden gems along the fascinating site!
Cruise Routes in Halong Bay 
Engaging in different cruise routes will take you on various voyages of discovery, secluded beaches, and mystical caves. 
When it comes to choosing the best route in Halong Bay, there are several factors to consider.
It is important to decide how much time you have available and what you want to see and do during your time in Halong Bay. Another factor to consider is the specific attractions and activities that each route offers.
Some routes may focus more on kayaking and swimming, while others may offer more opportunities for hiking and exploring caves. While some areas of the bay is getting more tourists now, some itineraries are still less visited and get more wild beauty of nature.  It is also important to consider the level of comfort and luxury that each cruise route provides. Some routes offer more budget-friendly options, while others provide a more luxurious experience. Ultimately, the best route in Halong Bay will depend on your personal preferences and priorities. It is recommended to research and compare different cruise routes to find the one that best suits your needs and desires.
To find the best route in Halong Bay, look at some wonderful journeys below!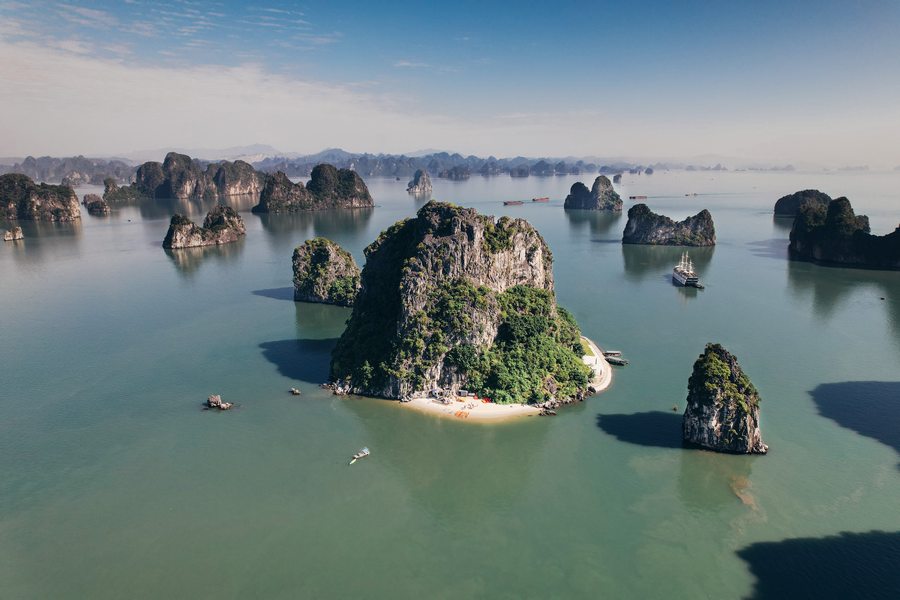 Bai Tu Long Bay – The Less Visited Area
Bai Tu Long Bay is the perfect destination if you seek peace and a genuine connection with nature. It offers a serene and untouched landscape, providing a much-needed escape from the bustling tourist areas. Start your adventure by sailing through crystal-clear waters, surrounded by majestic limestone karsts and emerald islets that rival the beauty of Bai Tu Long Bay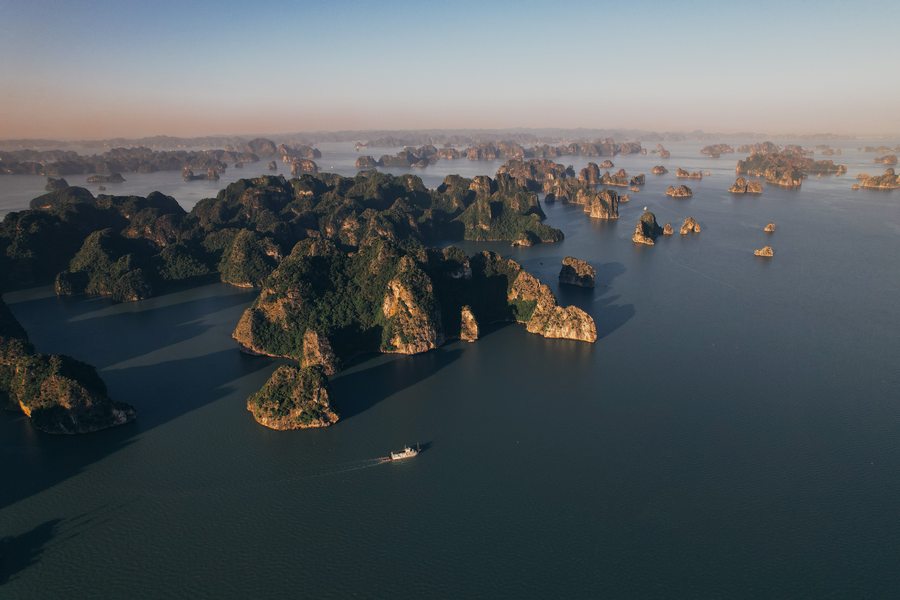 Thien Canh Son Cave: explore the mesmerizing Thien Canh Son Cave, where nature's artistry is fully displayed with its stunning stalactite and stalagmite formations.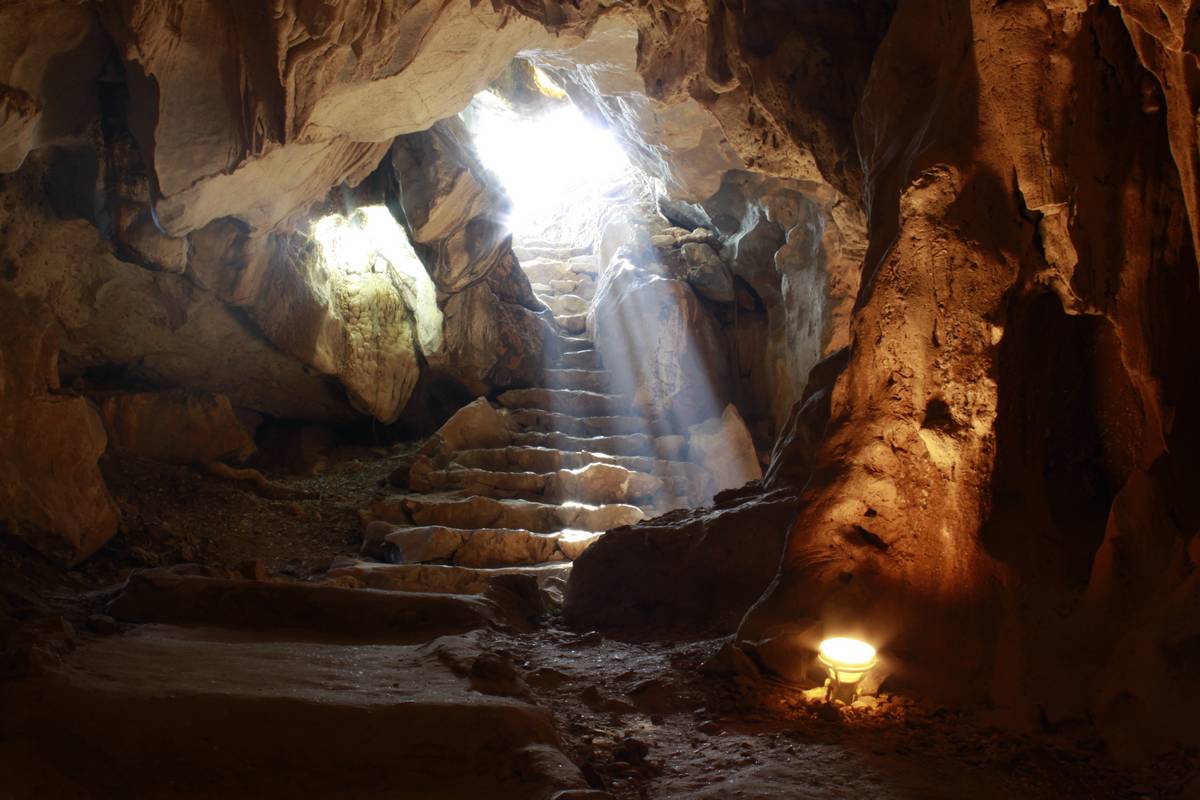 Vung Vieng floating village: Additionally, please spend some time on the local way of life at Vung Vieng Fishing Village, where friendly fishermen will introduce you to their unique bond with the sea.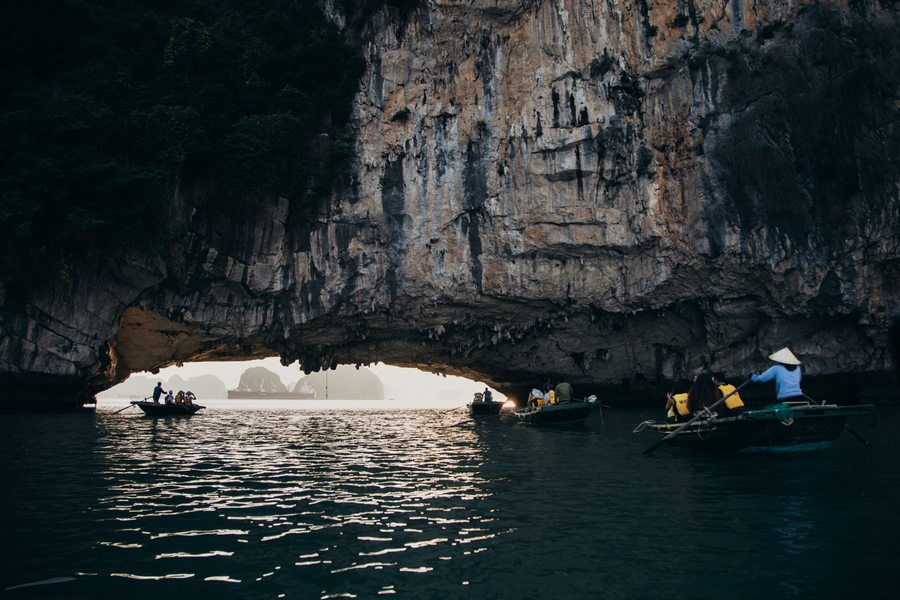 Pristine & wild beaches: Don't forget to relax on pristine beaches or take a peaceful cruise through tranquil bays, contemplating the untouched beauty surrounding you. 
And for the adventurers, hidden lagoons, caves, and coves are waiting to be discovered in off-the-beaten-path corners in different areas of Cong Dam, Cong Do…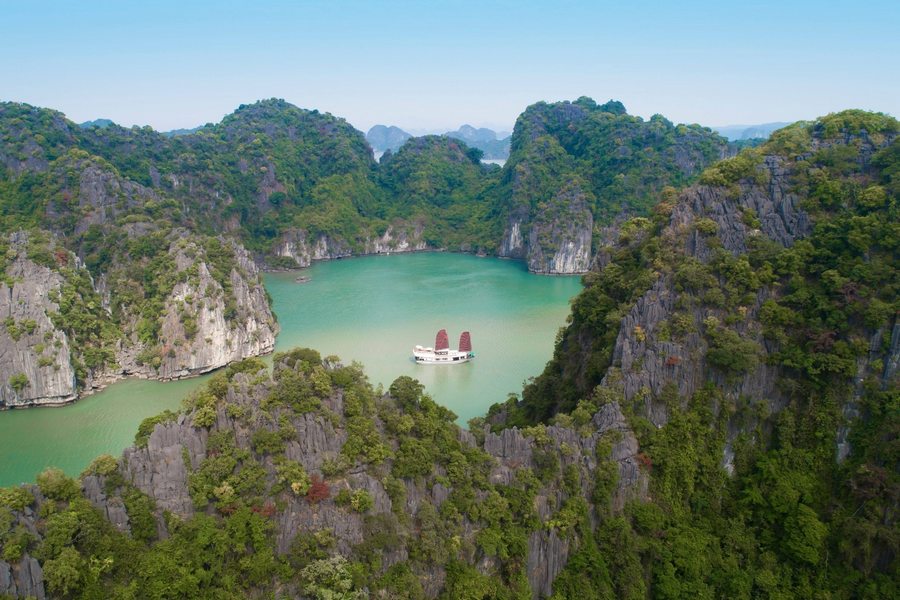 You are invited to experience the peace of Halong Bay routes to Bai Tu Long Bay, take in its cultural resources, and make lifelong memories!
Halong Bay – The Most Popular and Center Route
The center Halong Bay itinerary encompasses the most famous and iconic attractions, ensuring you glimpse the bay's natural wonders and cultural treasures. 
It offers a well-rounded experience for travelers looking to indulge themselves in the beauty and charm of this UNESCO World Heritage Site.
Limestone Karsts:

Embark on a captivating cruise through the mesmerizing waters of Halong Bay, where a myriad of limestone karsts and islets rise majestically.

These towering natural wonders paint an unparalleled landscape that has garnered worldwide acclaim.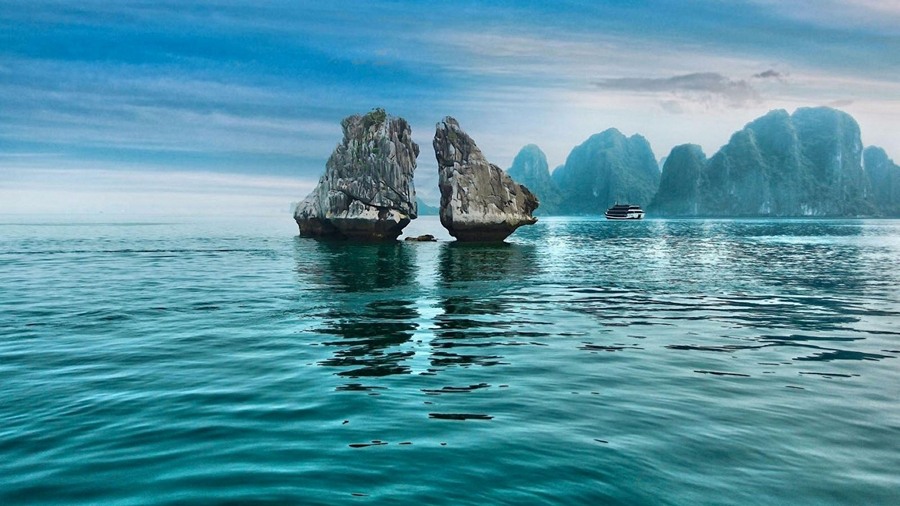 Sung Sot Cave (Surprise Cave):

You can look at the stunning

Sung Sot Cave

, one of the bay's largest and most impressive caves. 

As you venture deeper into its chambers, you'll be mesmerized by the intricate stalactite and stalagmite formations, creating a truly awe-inspiring experience.
Titov Island:

Visit Titov Island, named after a Russian astronaut, which spoils you with panoramic views of Halong Bay from its summit.

Let's climb the steps to the viewpoint, and you'll be rewarded with breathtaking vistas of the surrounding karst landscape and shimmering waters.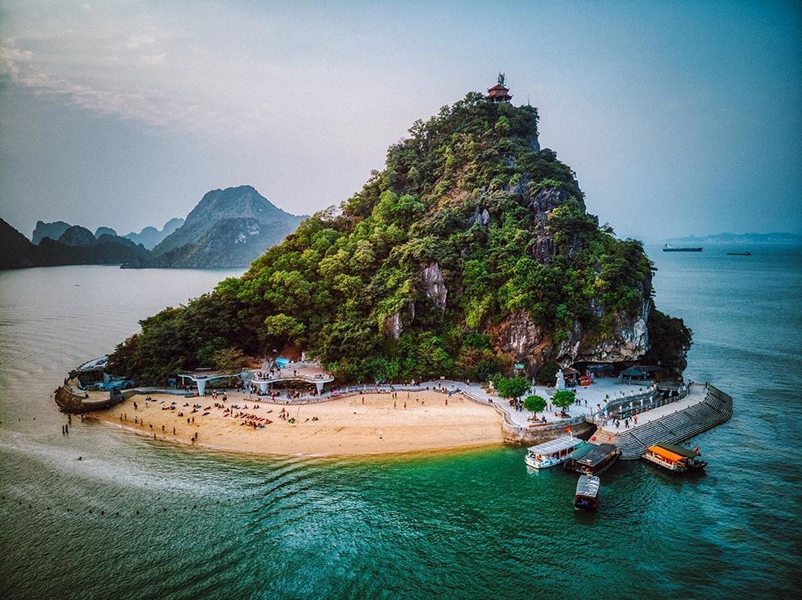 Kayaking, Swimming, and Beach Activities:

The center route provides ample opportunities for water activities.

Hop on a kayak and paddle through hidden lagoons, pristine beaches, and secluded corners of the bay. Or else, take a refreshing swim in the immaculate waters or relax on the sandy beaches, basking in the natural beauty around you.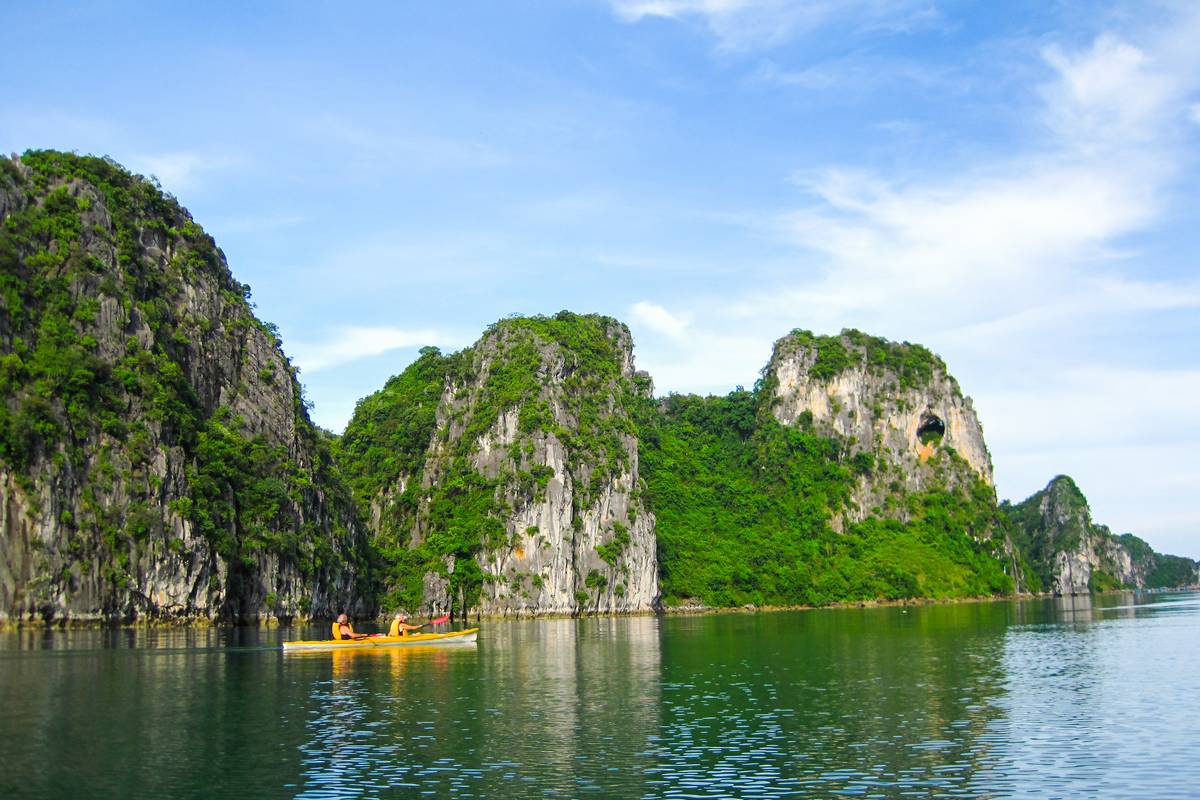 Scenic Cruising and Sunset Watching:

Enjoy leisurely cruising through the bay, taking in the panoramic views of the limestone formations and idyllic landscapes.

As the day draws to a close, witness the magical sunset over the tranquil waters, casting a golden glow on the karsts and creating a breathtaking spectacle.
Lan Ha Bay – The Southern Part of Halong Bay
Lan Ha Bay is in the south of Halong Bay and belongs to Hai Phong province. 
Serene Seascapes: Surrender to the gentle sway of the calm waters of Lan Ha Bay, where splendid unspoiled natural scenery awaits you. Let the symphony of limestone mountains and small verdant islands transport you to a realm straight out of a fairy tale, where peace reigns supreme and serenity becomes your friend!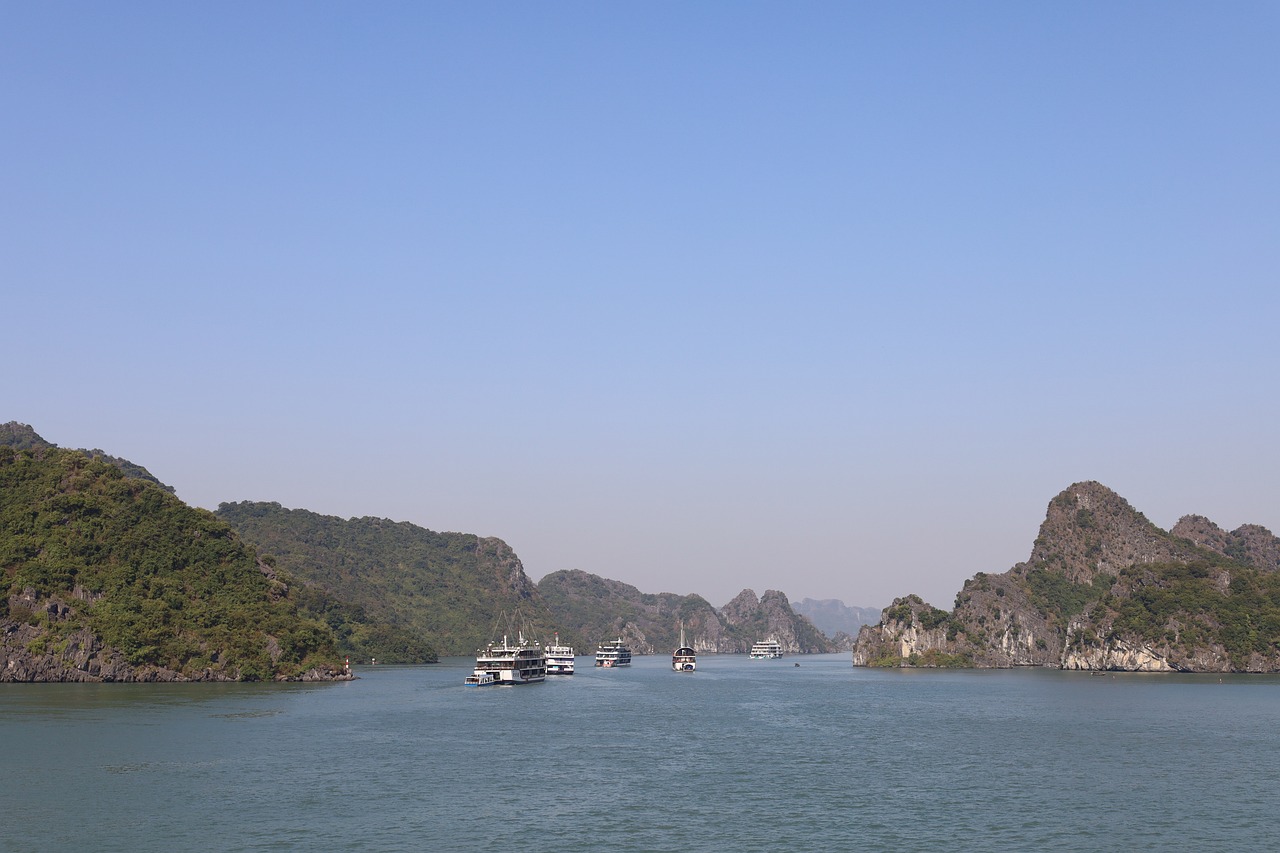 Pristine Beaches and Enigmatic Coves: Escape to the unspoiled paradises of secluded beaches and hidden coves of Lan Ha Bay, where time stands still and tranquility takes hold. Here, you can chill on intact shores, bask in crystal clear waters, and revel in blissful solitude around these carefully guarded secrets, far from the hustle and bustle of the world. 
Kayaking Adventures and Enchanted Lagoons: Start your journey as you explore the mysterious lagoons and caves of Lan Ha Bay by kayak. Glide through the narrow passageways, marvel at the stunning rock formations, and immerse yourself in the hidden wonders of this ethereal paradise.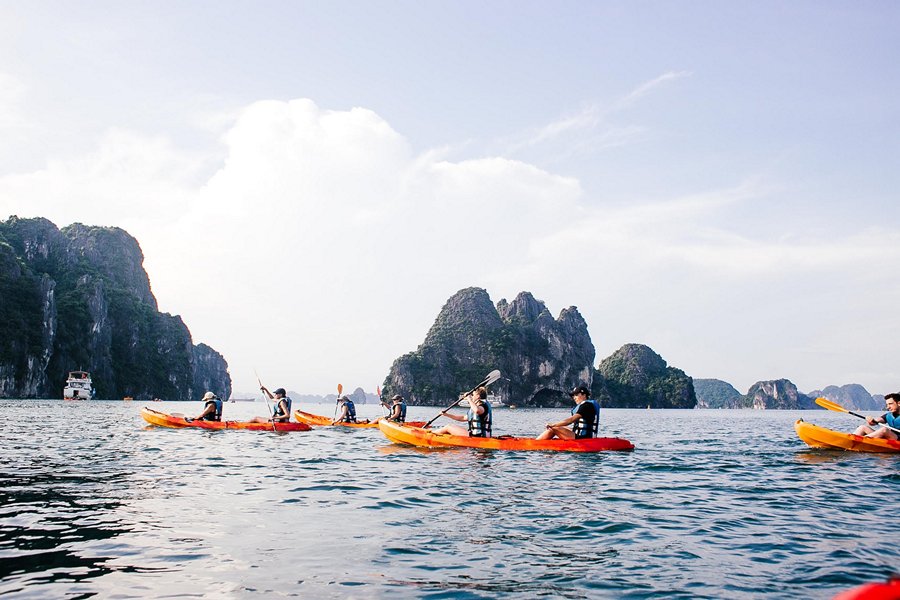 Floating Fishing Villages: Discover fascinating stories about the floating fishing village on Lan Ha Bay, where the rhythm of life is intertwined with the up and down currents of the sea. Additionally, witness the vibrant livelihoods of local fishermen, gain insight into their traditions, and capture the essence of a long-standing way of life closely linked to the water.
Rowing bamboo boat to the cave: it is a nice relaxing rowing boat to Bright Cave, explore the cave of 80 meter in length then be amazed by a nice lagoon covered by limestone karsts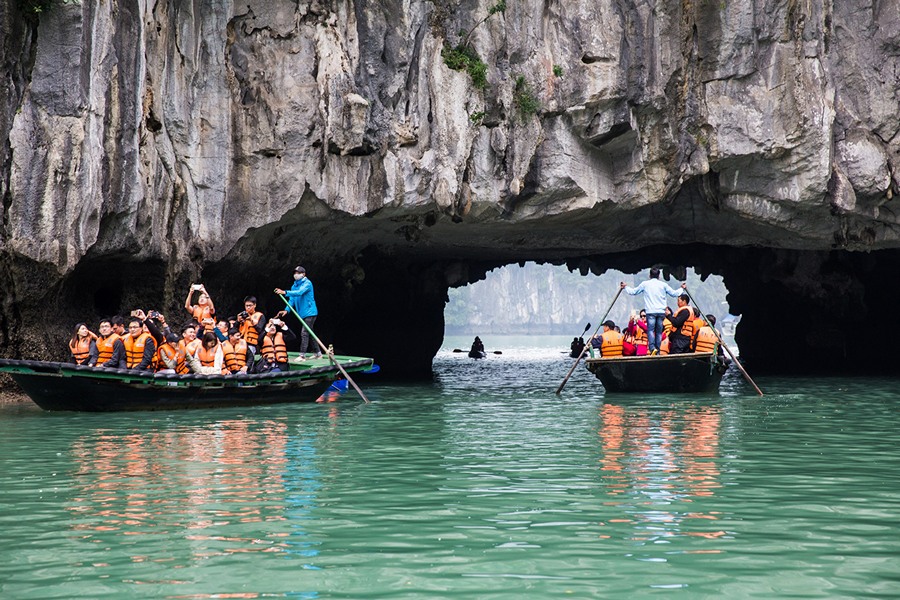 Route Comparison – Which Route Is The Best? 
When it comes to choosing the best route for your Halong Bay cruise, it ultimately depends on your preferences and what you seek to experience. Each route offers its unique charm and highlights. Let's compare the routes to help you make an informed decision:
Halong Bay – The Most Popular and Iconic Route: This route showcases the iconic limestone marvels of Halong Bay, including the Sung Sot Cave, Titov Island, and various water activities. It offers a well-rounded experience for travelers looking to indulge in the beauty and charm of this UNESCO World Heritage Site.
Bai Tu Long Bay – The Serene and Untouched Area: This route provides a more secluded experience, with serene waters, hidden gems, and a glimpse into the local way of life. It is perfect for those seeking peace and tranquility in a pristine natural environment.
Lan Ha Bay – Tranquil Seascapes and Enigmatic Coves: This route treats you to tranquil seascapes, secret coves, and kayaking opportunities. It offers a serene and untouched beauty that allows you to escape the hustle and bustle of the world. Key attractions involve surrendering to the gentle sway of its calm waters and enjoying the untouched beauty.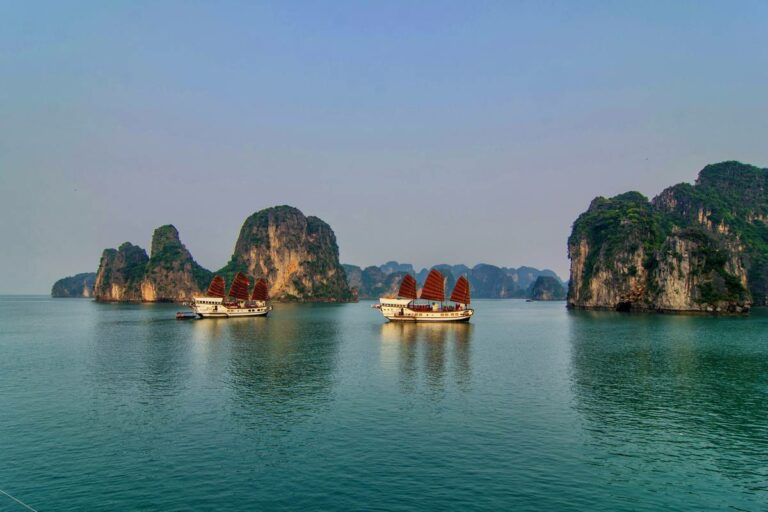 Cruise Recommendation 
Here are a few popular cruise options for your Halong Bay trip
Indochina Junk's boutique wooden boats: Choose from their different cruise options, including traditional wooden junks and luxury vessels, and enjoy exploring the scenic beauty of the bay while supporting sustainable tourism practices. Immerse yourself in the local culture and enjoy the personalized service provided by the friendly crew.
Dragon Legend: Sail through Halong Bay in style on the Dragon Legend Cruise. Indulge in gourmet dining, participate in cultural activities such as cooking classes and Tai Chi sessions, and soak in the beauty of the bay from the comfort of your well-appointed cabin. This cruise offers a truly luxurious and unforgettable experience.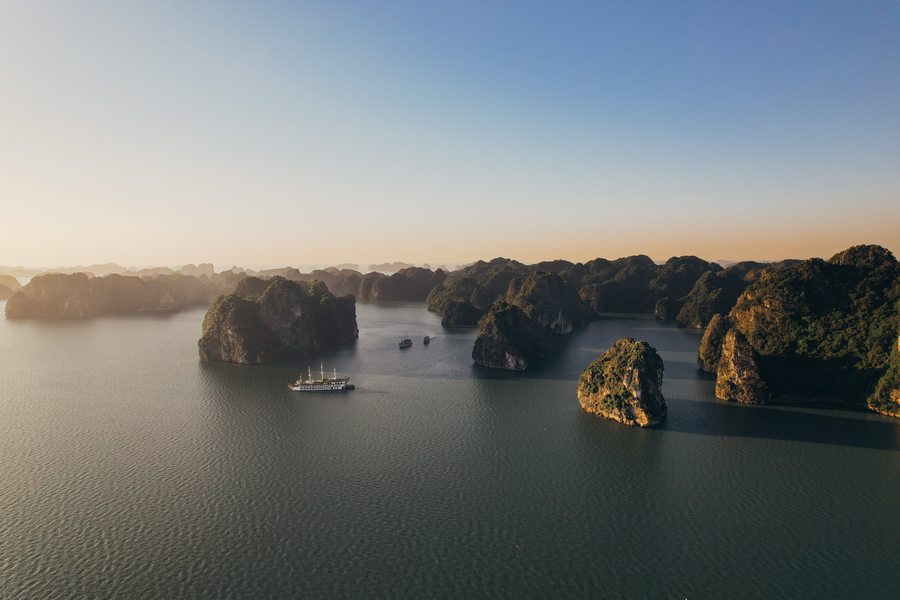 All in all, as your journey through the Halong Bay route ends, you will carry with you memories that will last a lifetime. 
The awe-inspiring landscapes, the emerald waters' serenity, and the local culture's warmth will leave an indelible mark on your heart!