Halong Bay, with its majestic limestone karsts, enchanting caves, and picturesque islets, is a must-visit destination for travelers seeking a unique and unforgettable experience. As you plan your cruise to explore the wonders of Halong Bay, it's essential to understand the various cruise ports and terminals available. In this comprehensive guide, we'll provide you with all the information you need to arrange a seamless transfer to your cruise, ensuring a hassle-free and extraordinary journey.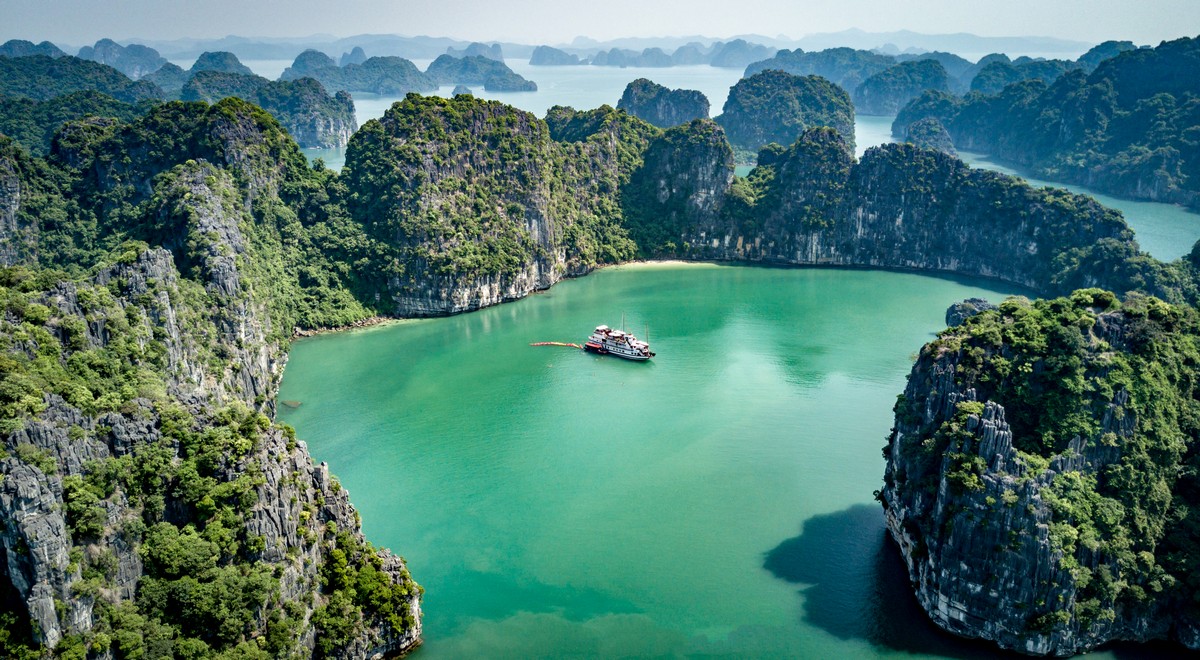 Halong Bay and its Regions
Halong Bay is comprised of three main regions that offer distinct landscapes, cultural experiences, and natural beauty. These regions are:
Halong Bay
Located in the heart of the bay, Halong Bay is the central area and the most popular region for cruising. It is known for its iconic limestone karsts, which create a breathtaking backdrop for your cruise adventure. Halong Bay is home to numerous caves, including the famous Thien Cung and Sung Sot caves, where visitors can marvel at stunning stalagmites and stalactites.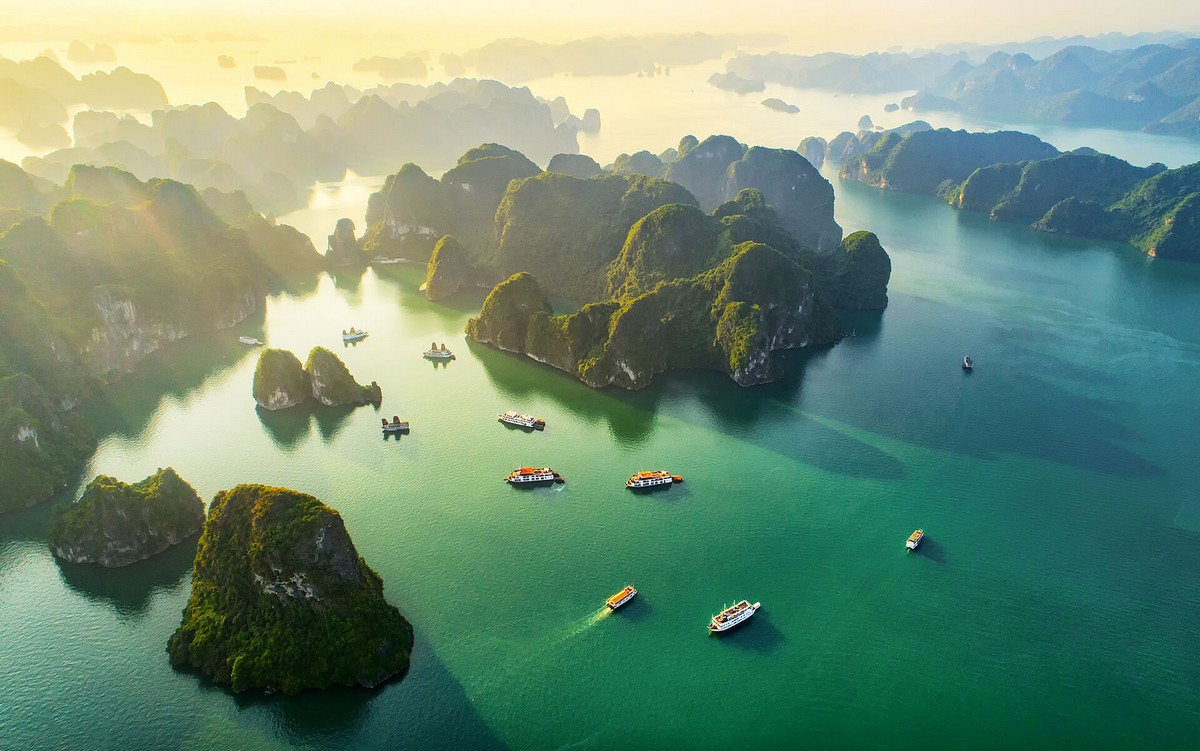 Bai Tu Long Bay
To the northeast of Halong Bay lies Bai Tu Long Bay, a less touristy and more tranquil region. Bai Tu Long Bay offers a serene escape with its pristine beaches, emerald waters, and untouched islands. The region is perfect for those seeking a peaceful and off-the-beaten-path cruise experience.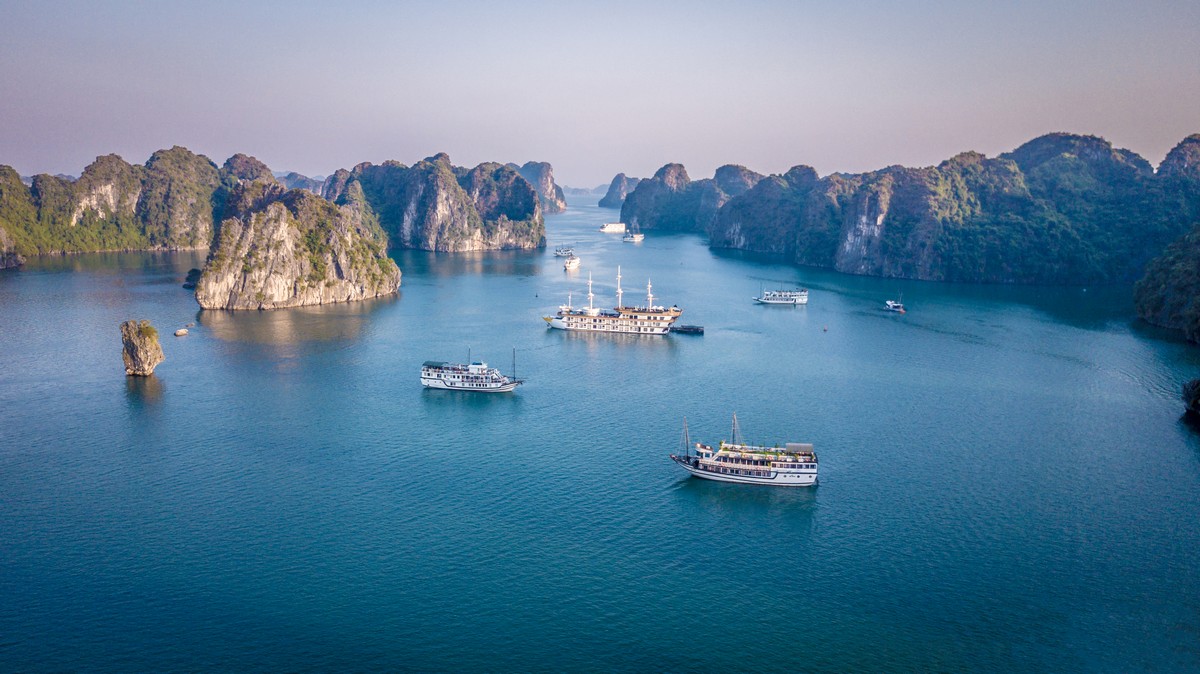 Indochina Junk is the first cruise operators that take visitors to visit this less visited area of Halong Bay. The cruise starts from Halong Internationa Port for one day cruise, 1 night or 2 nights cruise. You will experience kayaking, visiting cave, islands and floating villages of Halong Bay.
Check out the cruise package here: https://www.indochina-junk.com/cruise-packages/
Lan Ha Bay – Cat Ba Island
Situated to the south of Halong Bay, Lan Ha Bay and Cat Ba Island are known for their stunning limestone cliffs, crystal-clear waters, and vibrant marine life. Lan Ha Bay is often considered a hidden gem, offering opportunities for kayaking, swimming, and exploring secluded beaches. Cat Ba Island, the largest island in Halong Bay, is home to a national park and diverse ecosystems, making it a paradise for nature lovers.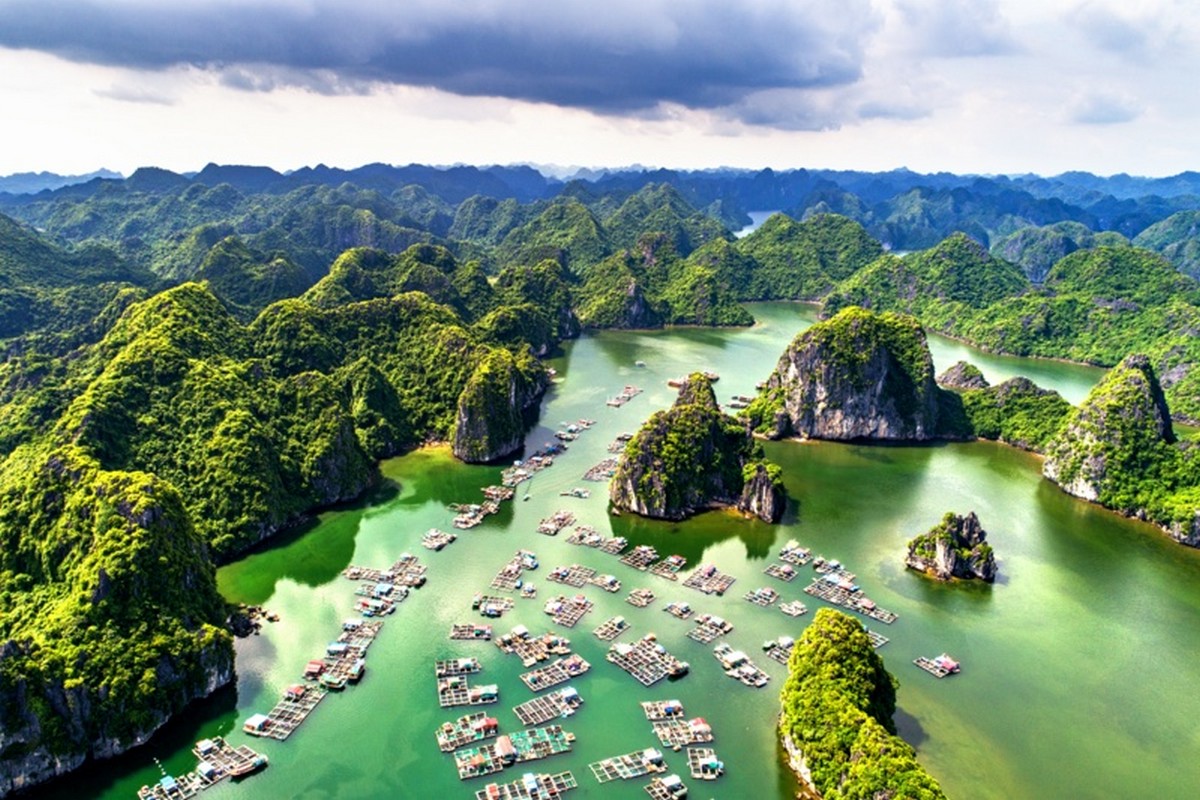 Cruise Ports in Halong Bay
Halong Bay has several cruise ports that serve as gateways to these captivating regions. Let's explore the main cruise ports and terminals in Halong Bay:
Halong International Cruise Port
Location: Bai Chay Ward, Halong City  (Map)
The Halong International Cruise Port is a state-of-the-art terminal located in the heart of Bai Chay tourist hub, alongside Halong Bay. This port is designed to accommodate the world's largest and most luxurious yachts and cruise ships. It consists of six wharfs, with four dedicated to yachts and cruise ships, and one pier specifically designed for heavyweight international cruises.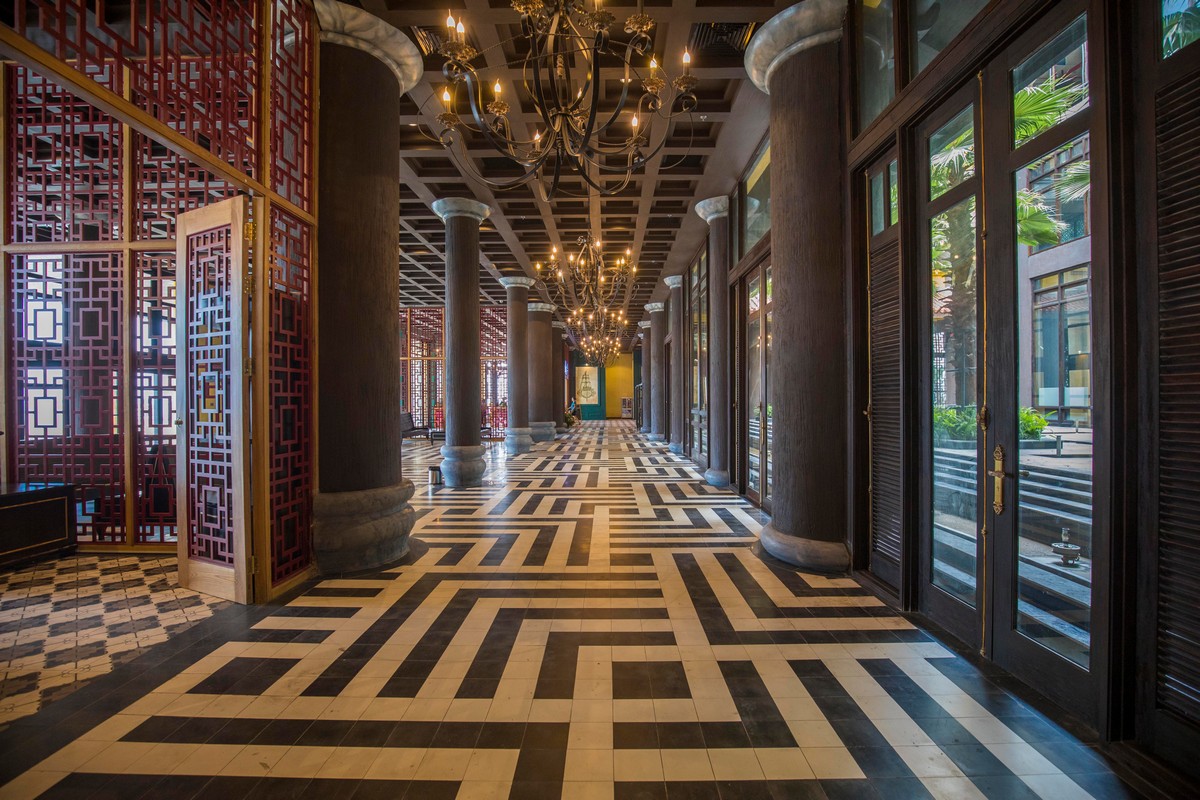 The terminal building of the Halong International Cruise Port is inspired by the tranquil and poetic coastal villages, offering visitors a captivating sightseeing experience. The terminal spans three storeys, covering a total area of 7,600 square meters. The cruise quay area stretches 1,350 meters, with an additional 470-meter long international cruise quay. The port has a capacity to accommodate 100-120 cruise ships and yachts, including two large marine ships with a capacity of up to 225,000 gross tonnage (GT).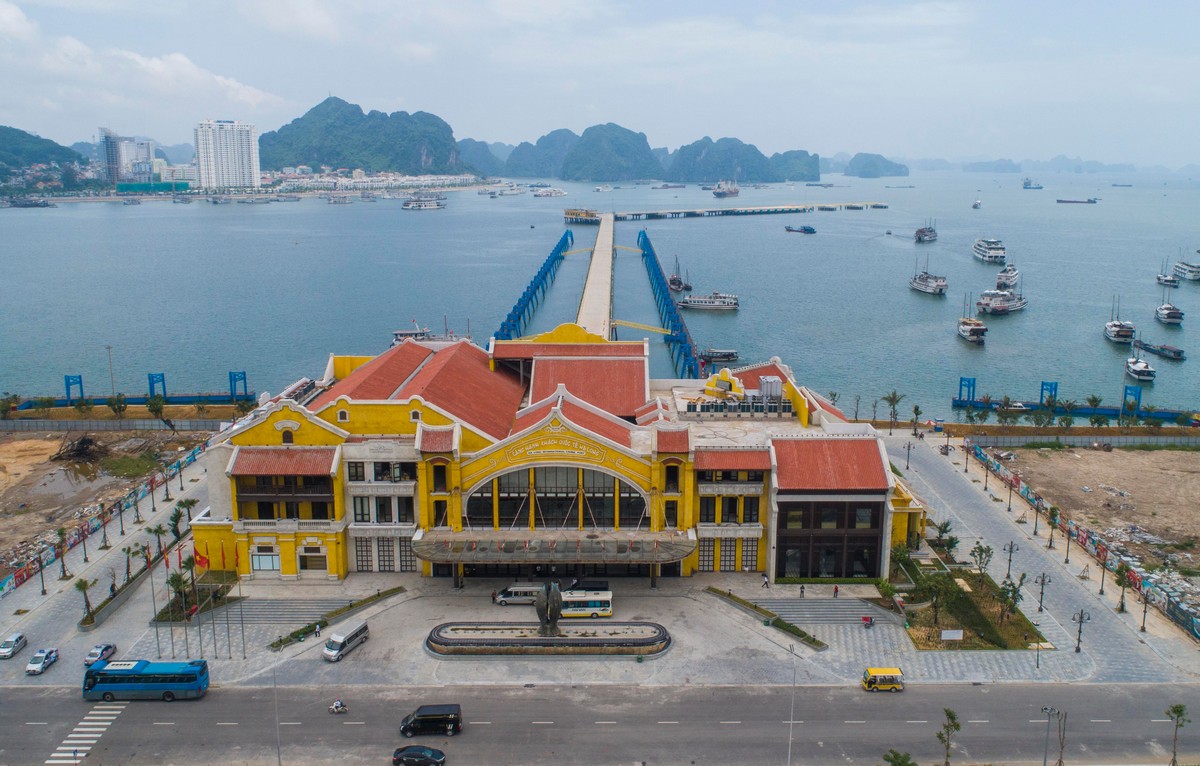 Tuan Chau International Marina
Location: Tuan Chau Island, Ha Long City (Map)
Situated on Tuan Chau Island, the Tuan Chau International Marina is the largest artificial cruise port in Halong Bay. This marina offers a convenient departure point for both domestic and international cruises. It is located approximately 12.5 kilometers southwest of Halong City and is easily accessible via a bridge connecting the island to the mainland.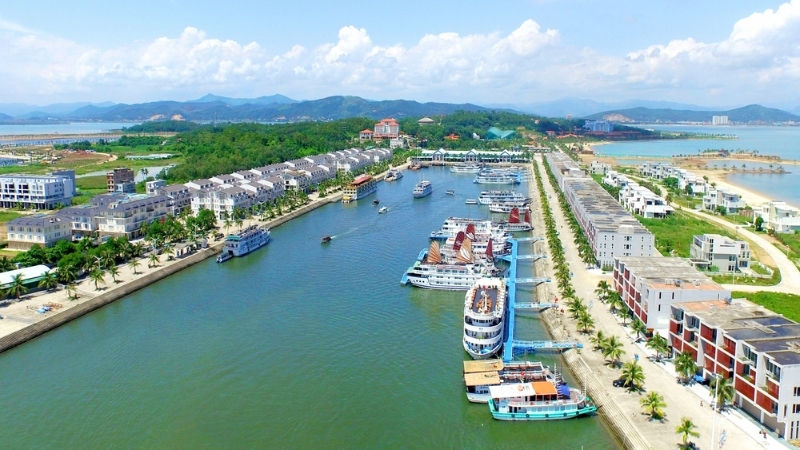 The Tuan Chau International Marina features modern facilities and a European-style design. It consists of two ports: Tuan Chau Port 1, which serves day cruises, and Tuan Chau International Passenger Port (Port 2), which caters to overnight cruises. Port 1 spans 2,000 meters and can accommodate over 1,000 passengers in its waiting area. Port 2 stretches 7 kilometers and has the capacity to handle up to 2,000 moored ships simultaneously.
International vs. Domestic Cruise Ports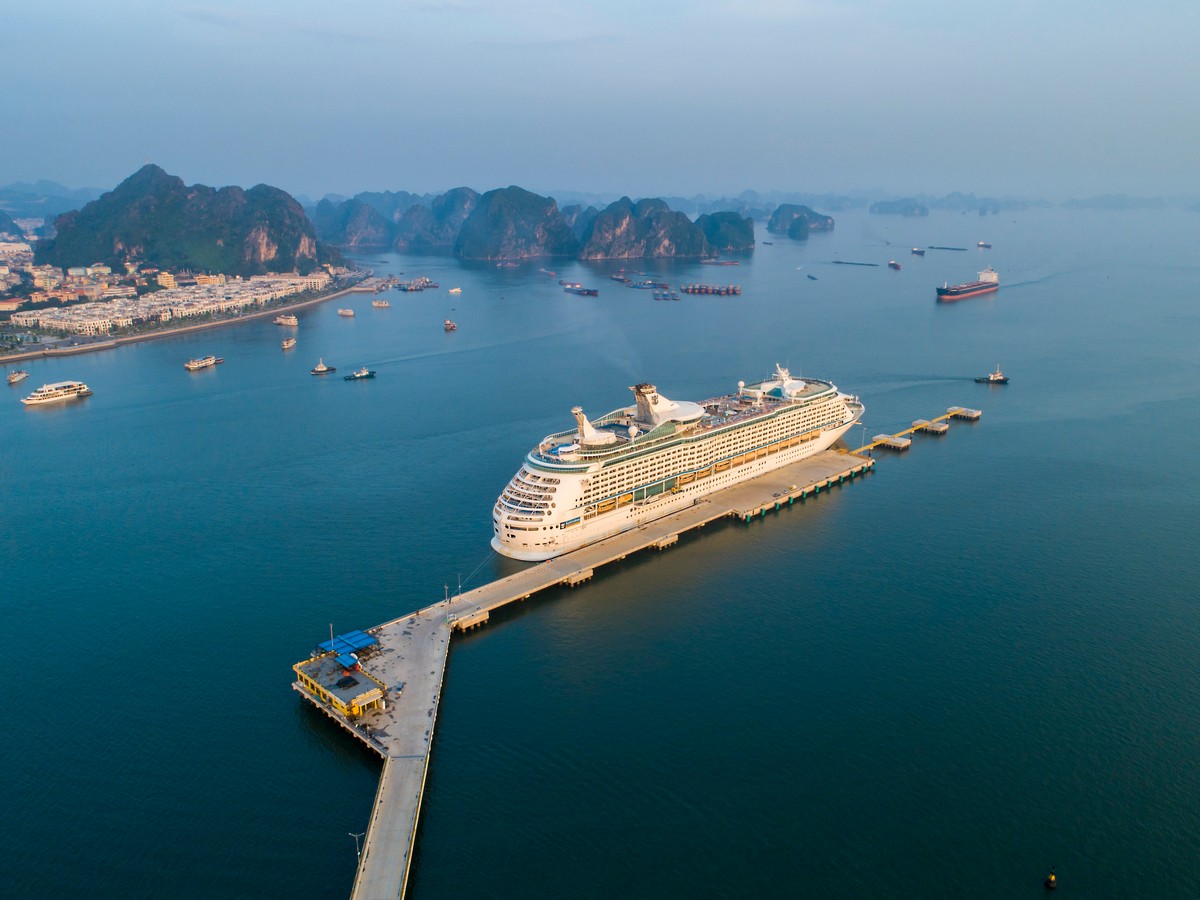 It's important to note the distinction between international and domestic cruise ports in Halong Bay. The international ports, such as Halong International Cruise Port and Cai Lan Port, are capable of receiving large international cruise ships and heavyweight international cruises. Some of the internationa cruise ship that includes Halong Port in their itinerary
Diamond Princess Cruise
Azamara Cruise
Celebrity Cruise
Holland America Line
Seabourn Cruises
Crystal Cruises
On the other hand, domestic ports like Tuan Chau International Marina, Hon Gai Pier, and Got Pier primarily serve domestic cruises and smaller international passenger ships.
Exploring Halong Bay from the Cruise Ports
Each cruise port in Halong Bay offers unique advantages and attractions for visitors. Let's take a closer look at what you can expect when exploring Halong Bay from these cruise ports:
Halong International Cruise Port
The Halong International Cruise Port is not only a starting point for your Halong Bay adventure but also an attraction in itself. The port's impressive architecture, designed by renowned architect Bill Bensley, seamlessly blends Vietnamese and European influences. The terminal's yellow color is inspired by the ancient town of Hoi An, while its ocean cruiser shape and elegant interior decorations create a luxurious and sophisticated ambiance.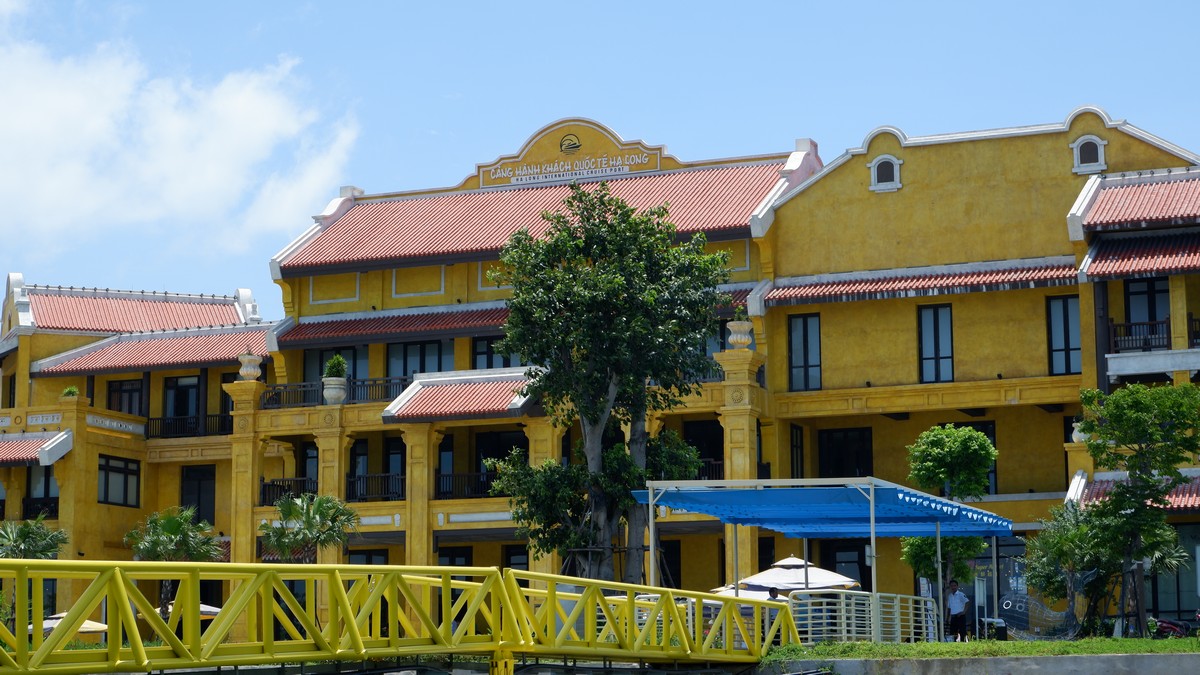 Within the port, visitors can enjoy a range of amenities, including tax-free shops, restaurants, fast food stores, and souvenir shops. The waiting area spans 13,500 square meters and can accommodate up to 2,000 people. From the Halong International Cruise Port, you can embark on a variety of cruises to explore Halong Bay, Bai Tu Long Bay, and Lan Ha Bay.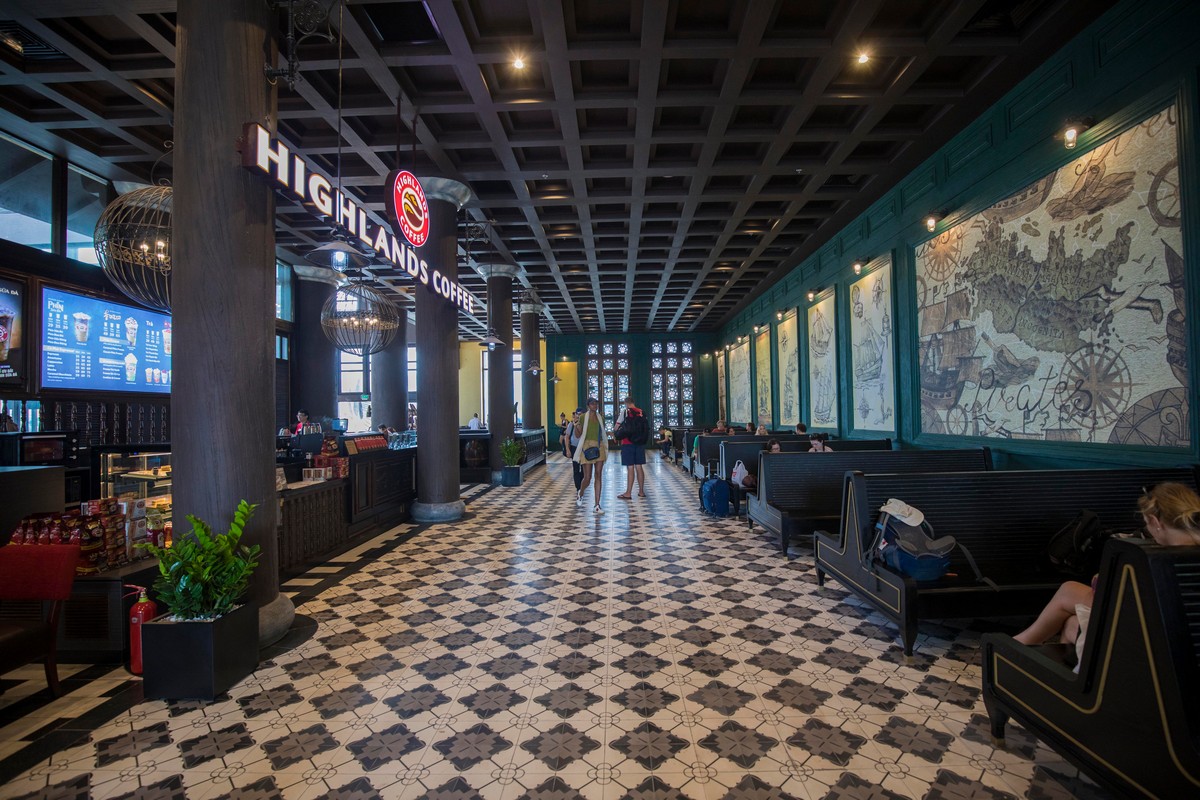 Tuan Chau International Marina
Tuan Chau International Marina offers a vibrant and bustling atmosphere, with a wide selection of cruise options departing from its ports. The marina's modern facilities and picturesque surroundings make it an ideal starting point for your Halong Bay journey. While waiting for your cruise departure, you can explore the nearby Tuan Chau Resort, King Kong Park, and other entertainment facilities.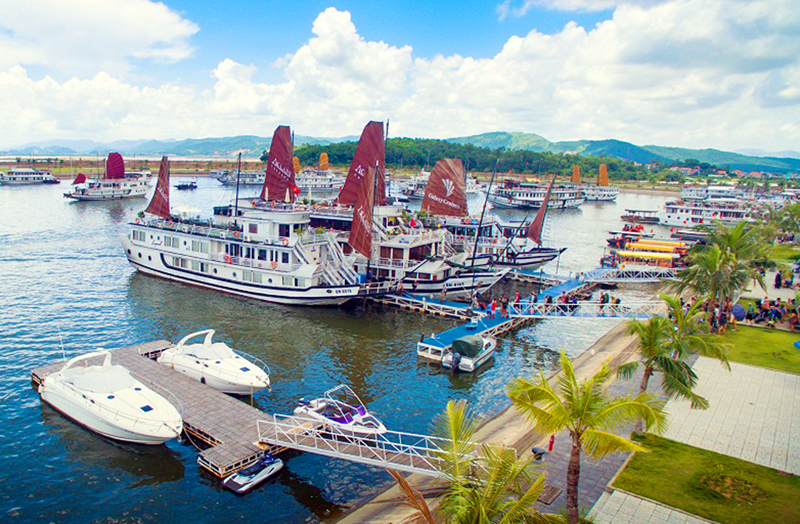 From Tuan Chau International Marina, you can embark on day cruises or overnight cruises to explore Halong Bay, Lan Ha Bay or Cat Ba island. The marina is well-equipped to cater to a range of activities, including kayaking, swimming, and exploring the stunning landscapes of Halong Bay.
Cai Lan Port
Cai Lan Port, known for its deep waters, is an international container terminal that has become an attractive destination for international cruises. While the operation of Halong International Cruise Port has shifted the focus of international cruises, Cai Lan Port receives containers ship for goods transfer.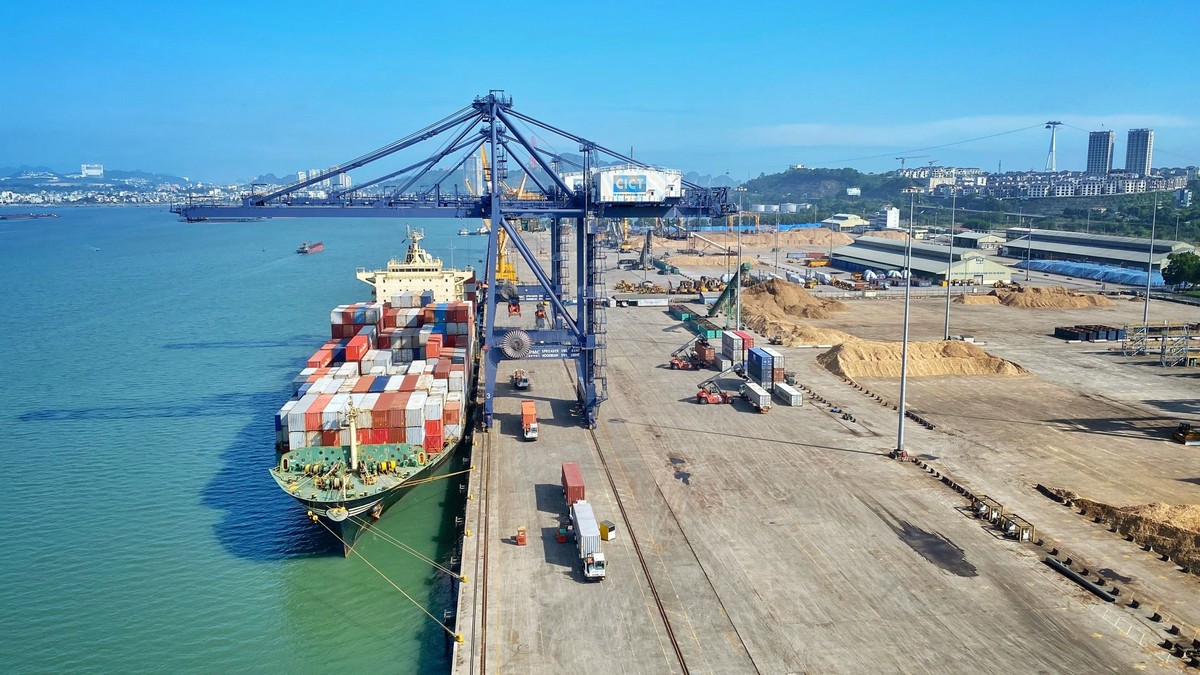 Hon Gai Pier
Hon Gai Pier, also known as Vinashin Pier, serves as a departure point for cruises to Bai Tu Long Bay. While smaller in size compared to other ports, Hon Gai Pier plays a crucial role in the marine economic development of Quang Ninh province in a long time.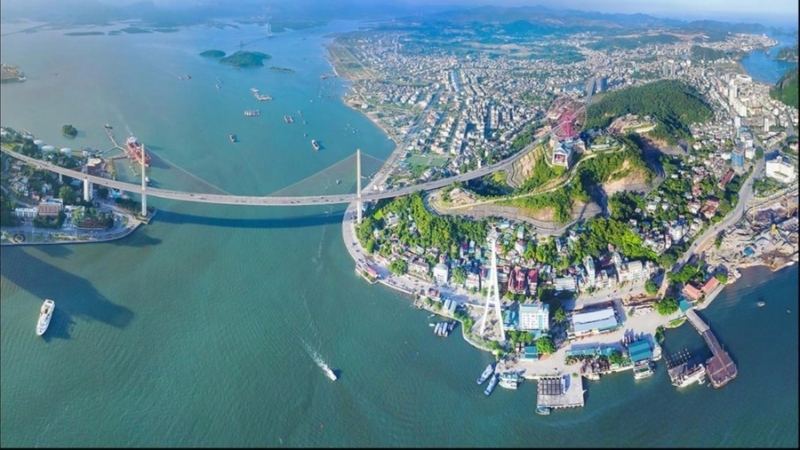 From Hon Gai Pier, you can embark on cruises that explore the lesser-known areas of Halong Bay, including Bai Tu Long Bay, Quan Lan island, Ngoc Vung island and beautiful beaches.
Choosing the Halong Bay Cruise Ports
With a variety of cruise options available from the different ports in Halong Bay, it's important to choose the perfect cruise that suits your preferences. Whether you're looking for a day cruise or an overnight adventure, there are numerous options to consider. Here are some of the top cruises departing from the various ports:
Halong International Cruise Port
These cruises belongs to Indochina Junk fleet that takes you to visit a less touristic area in Bai Tu Long Bay, visit cave, explore island and floating villages…
Tuan Chau International Marina Cruises
Elite of the Sea cruise
Capella cruise
Stellar of the Sea cruise
Heritage cruise
Halong Bay's cruise ports and terminals serve as gateways to an awe-inspiring adventure through one of Vietnam's most captivating destinations. Whether you choose to embark from the Halong International Cruise Port, Tuan Chau International Marina, you'll be greeted with exceptional facilities, stunning architecture, and a wide range of cruise options.
As you plan your Halong Bay cruise, consider the unique features and attractions offered by each port. From the iconic limestone karsts of Halong Bay to the serene beauty and untouched area of Bai Tu Long Bay and the vibrant marine life of Lan Ha Bay – Cat Ba Island, Halong Bay has something for every traveler.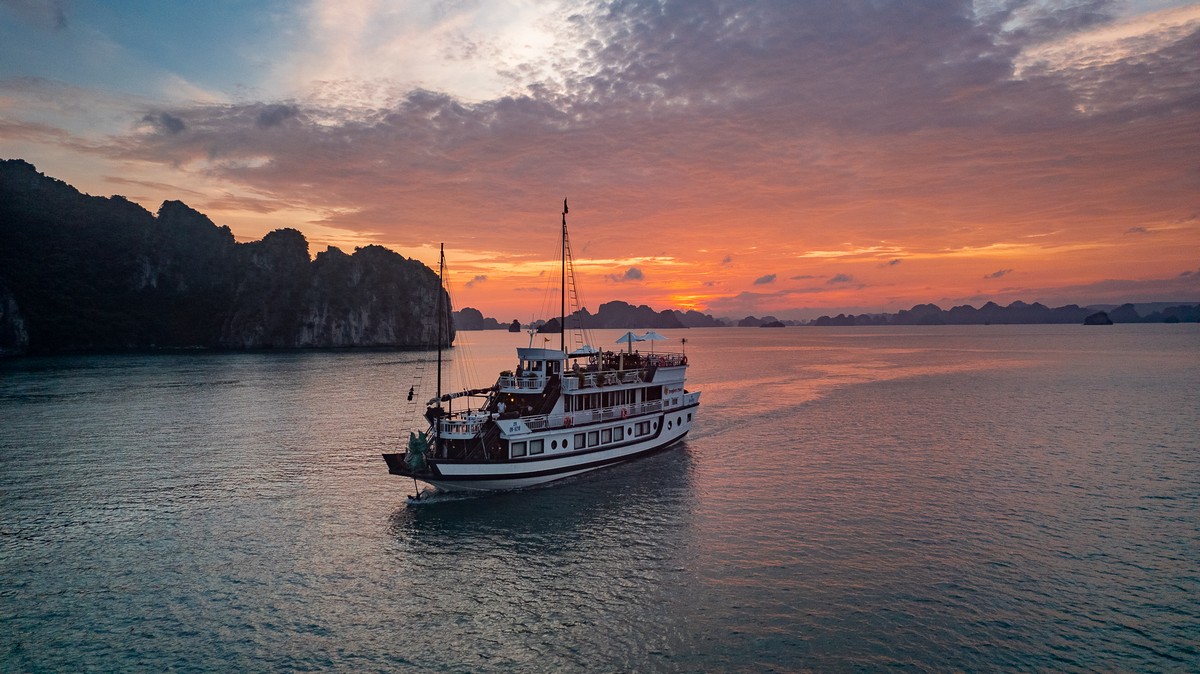 Choose your perfect cruise, immerse yourself in the natural wonders of Halong Bay, and create unforgettable memories that will last a lifetime.