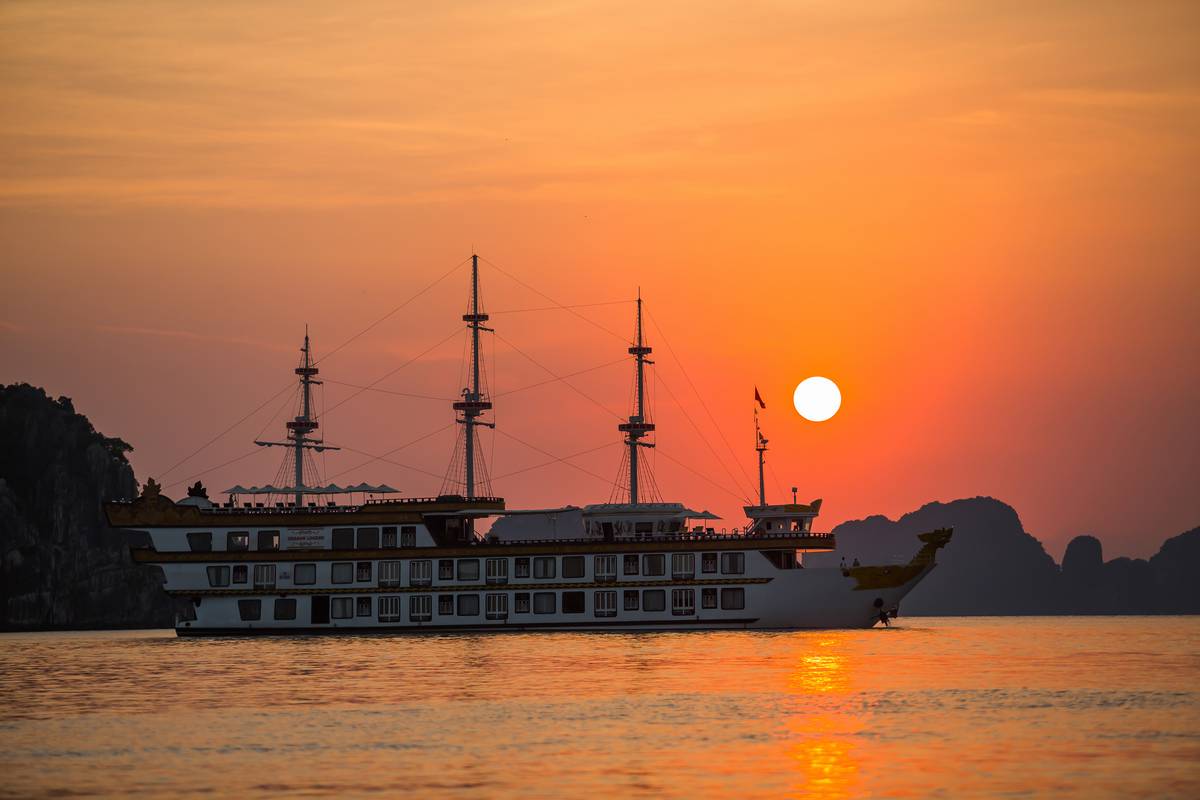 Safety Notice
1. Particular individuals
We at Indochina Junk take our responsibilities seriously and safety is our first concern. People with severe disabilities or chronic health problems who need medicines that require low temperature storage cannot be accommodated on our boats. The very elderly or heavy/so overweight passengers will also not be able to cruise with us as we do not have the qualified staff or facilities to serve them.
2. Poisonous plants and animals
During the summer, especially May, June, July, before going to swim, guests should ask the guide or captain for advice because it is when the poisonous jellyfish are most active. In case of being stung by jellyfish, you must immediately:
Get out of the water as calmly as possible to avoid more stings.
Apply a compress. Jellyfish stings itch and cause swelling. A mixture of rice vinegar, lime and ice is applied to the stings for about 30 minutes and then washed carefully with clean water.
 Passengers should bring sun protection to wear outdoors, especially in summer months.
Insect repellant can be provided upon request.
3. Emergency
Storms: when storms come during the tour guests should stay calm and follow the instructions of the captain and guide. Guests need to move to the highest open areas of the boats or a clear space or the dining areas so they are not trapped in the cabin.
When engines are heard operating at night when the boat is anchored guests need to evacuate their cabins because a storm is possibly coming and the running motor keeps the boat stable. Although rare, the sound of a motor may mean a potential boat collision.
If emergency assistance is needed while you are in your cabin, please dial 123. In case of a severe emergency situation requiring immediate attention you may also activate the fire alarm in your cabin.
4. Safety Facilities
Life vest in each cabin and, in all public areas, life buoys; and life rafts large enough to hold all the guests and crew on board. In addition, we also have special life jackets for children. If you are traveling with children we will put additional children's life jackets in your cabin.
Flashlights and hammers to break the alarm glass are in each cabin. Fire alarms and fire extinguishers are at different areas on board, following the standard guidelines and ready to use.
The cabins are smoke-free; please do not smoke in your cabins.
Diagram in each room to exit in case of emergency.
Marine equipment: VHF radio, GPS plotting, walkie-talkie, water leaking alarm system, water pump system, fire alarm system and fire extinguishers.
On the Dragon Legend boat: The bathroom in your cabin has windows that can be opened. Whenever you are not in your cabin please keep the windows closed and locked. Especially on the lower deck, to prevent water damage to the cabins and your belongings in case of sudden storms.
5. Onboard safety
Brief introduction about the trip with itinerary, crews, activities and safety, weather information.
Activity warning: our guide will give a short introduction and safety instructions to our visitors, depending on weather conditions and seasonal features, we recommend you listen carefully to this information.
The speed boat to transfer a guest immediately to harbor if there is a health emergency.
Medical aid kit available on board.
Indochina Junk Marine Search and Rescue team with essential skills, training and equipment to deal with emergencies.
Water Supply: Boat tap water is not suitable for drinking, but can be used for brushing teeth.
Electricity: All outlets provide 220 volts please do not plug in appliances that use lower voltages.
How to open the personal safety box on Dragon Legend boat:
To open: Enter 3 to 6 digits of your choice and press the # button.
To close: Enter your preselected code and press #.
To change the new code: ( Make sure the door of safe box is opened): Enter from 3 to 6 digits of your choice and press * button.
Note: The default code is 123456#
For assistance. Please dial "0" for instructions.
Safety boxes are included in your cabin. We strongly advise that jewelry, cash, passports and other small valuables be secured in the safety box.
Dragon Legend Cruise will not be held responsible for any items not secured in the personal safety box.
6. Tender Safety
While onboard tender vessels, remain seated with life vest fastened at ALL TIMES.
7. Outdoor activities safety
Kayaking safety
Passengers who go kayaking must wear a lifejacket and keep secured at all times.
Passengers must follow guide and kayak only where indicated.
Passengers must stay with the group and not stray off.
Passengers must not enter ANY caves unless guide has instructed them to do so.
Please use a paddle to push away from rocks, as they are sharp and can be dangerous.
Passengers must follow any verbal or physical instructions from the guide.
Although it would be rare, kayaks may flip, therefore as stated previously your life jacket must be kept secured at all times. If your kayak does flip, do not attempt to upright. Quickly, but calmly remove your legs from the well and float to the surface. Hang on to the kayak and await assistance from the crew.
Our guides are happy to provide clarity on any safety topic.
Swimming Safety
At beaches passengers must stay within the netted area designated for swimming.
Passengers must be aware of the occasional presence of jellyfish in Halong Bay. Passengers are responsible for their own safety while swimming and should avoid jellyfish at all times.
Any passenger stung by jellyfish should alert a member of staff immediately for prompt treatment.
Passengers may only swim from the boat with permission of the boat management and must stay close to the boat and within eyesight of the staff assigned to watch them.
Passengers must come back onboard when asked to do so by staff.
Do not consume alcohol before swimming or kayaking.
Cave Safety
Passengers are encouraged to wear strapped-on full coverage shoes when exploring caves.
Cave surfaces are very uneven and can be very slippery.
Passengers should be very aware of what is above them and be careful to avoid banging their heads on low hanging cave surfaces at all times.
Passengers should be careful about touching cave walls; they can be rough and sharp.
Please do not collect personal souvenirs from the caves.
8. Passenger Personal Safety
Boat deck and stairway surfaces can be slippery when wet, please walk carefully.
Rear stairway to the sundeck has low clearance; taller passengers should watch their heads.
Parents should watch their small children whenever on the open decks or balconies, very small children could fit between the spaces in the railings. Parents are encouraged to have small children wear life jackets whenever out of the cabins as extra precaution.