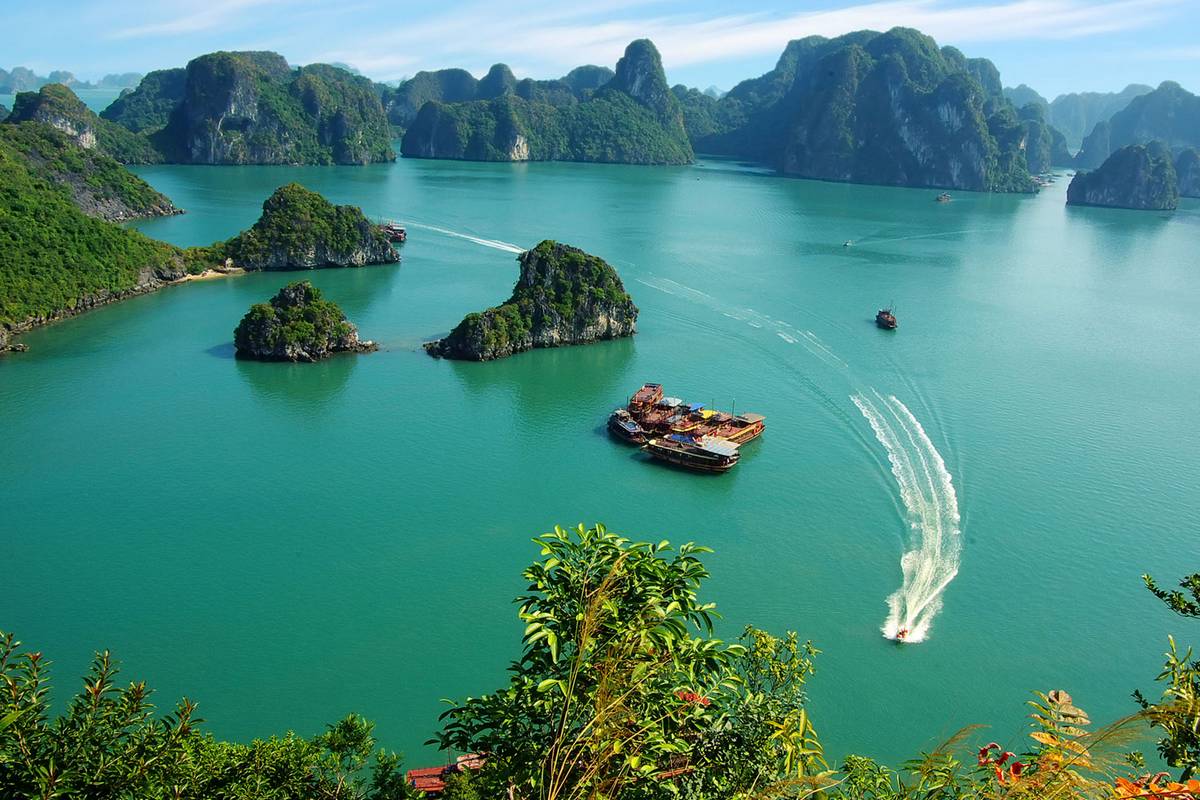 Hanoi to Halong Bay Cruise Tour – A Comprehensive Guide
General information about Hanoi and Halong
Hanoi is the capital of Vietnam and is the only place hosting International flight in the Northern area of Vietnam.  That is why the majority of Halong Bay tours start from Hanoi; and the Hanoi – Halong Bay tour packages are common among international tourists.
Halong is famous for its karst seascape, and while the limestone landscape is not hard to find in Asian countries, what makes Halong Bay unique is the overnight cruise, which takes you deep inside the limestone maze. The Bay is divided into three different areas (Halong Bay center, Bai Tu Long Bay, and Lan Ha Bay), depending on the operator companies, you will be taken to different parts of Halong Bay. A high number of tourist cruises operate in Halong Bay center, leaving Bai Tu Long Bay and Lan Ha Bay rarely explored. Take a note that Halong Bay Center is the most tourist area, and is closer to the mainland thus makes it a good choice for a day trip.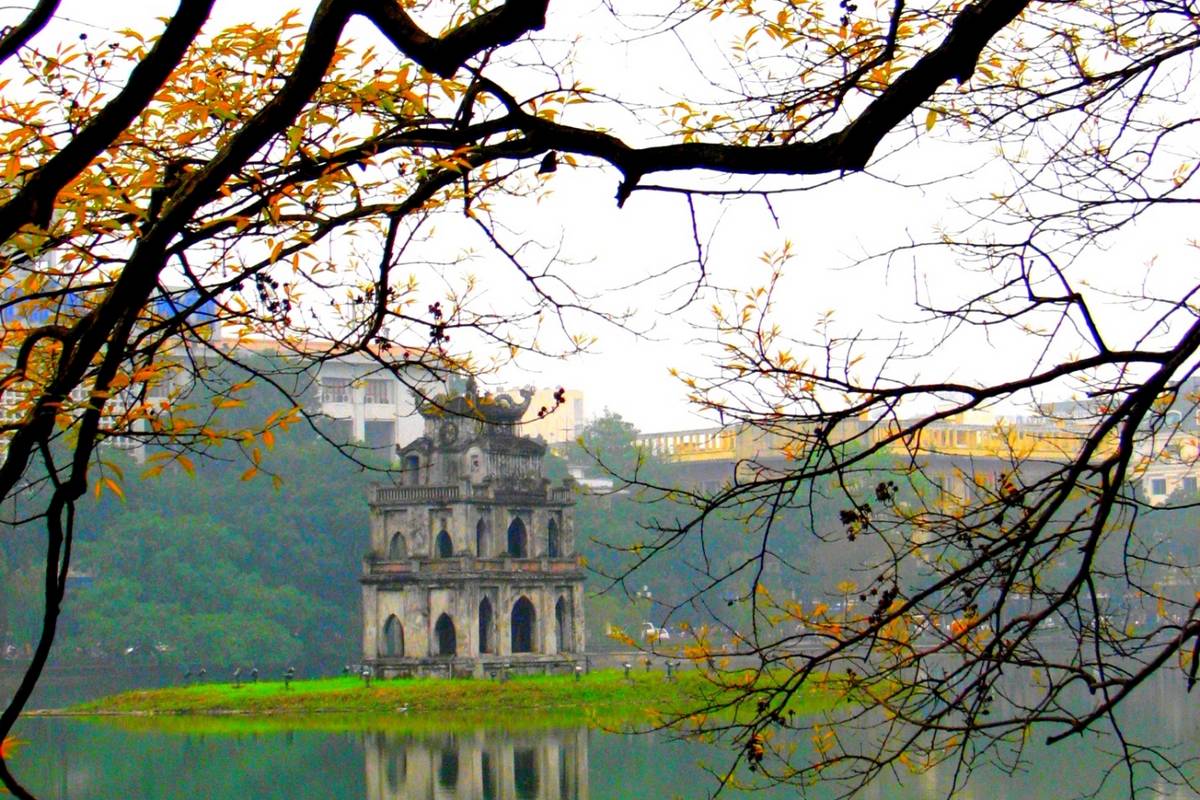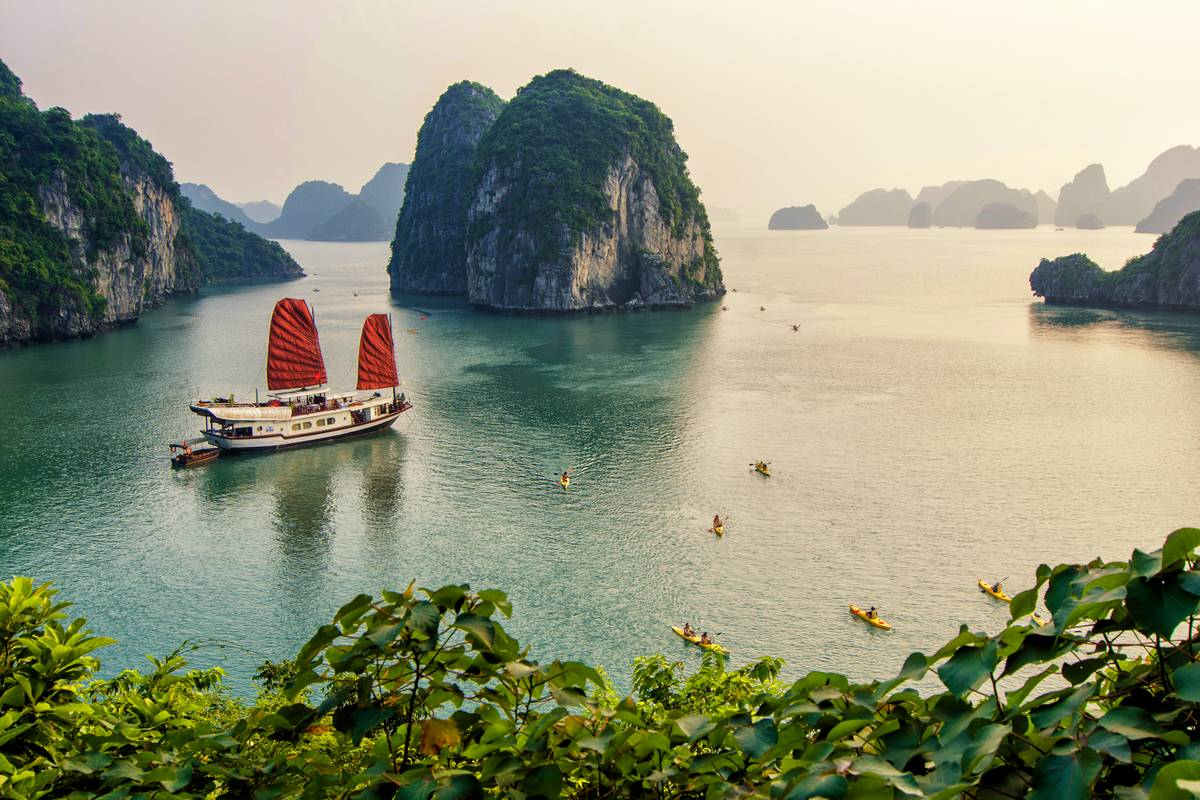 The distance between Halong and Hanoi is approximately 170 km. Due to the going-to-be-better road condition in Vietnam, it takes up to 4 hours driving from Hanoi to Halong Bay.
How to get to Halong Bay from Hanoi 
Taking local bus
As mentioned above, the common buses take about 4 hours to get to Halong from Hanoi; then you catch a cab to get to a pier where your cruise anchored.
In Hanoi, the local bus departs from My Dinh bus station, about 8km from Hanoi Old Quarter (View on map) to Bai Chay bus station (Quang Ninh province) then you catch a cab to the pier or hotel in Halong city. The local bus service is not recommended for international service, for two reasons: the bus attendants don't speak English, and there are many scams that even Vietnamese people are victims of these scams. Although it doesn't happen every day or to all international visitors, who choose to use the local bus, you should take note and take care of your belongings. The bright side is that, it is fun to travel like a local, and sometimes, you may, by chance meet someone who is good at English, and have some chitchatting on the road. 
Some recommended bus operators: Phuc Xuyen, Kumho Viet Thanh, and Hoang Long…
The price is between 100.000 – 150.000 VND/ person
The website vexere.com has an English version, thus booking is easy. If you need to call bus operators (Phuc Xuyen limousine, Ha Vy limousine, Van Don Xanh, etc.), you should ask your hotel to assist you since most of the operators speak only Vietnamese. (You will be lucky if they can speak English). The price is at 200.000 – 250.000 VND/ person.
A new bus service called the limousine is exclusive for visitors who travel to Halong Bay. It still takes 4 hours, but the car is more convenient with water, wifi, etc. The car will pick you up at some fixed places in Hanoi; some operators can pick up you at Hanoi Old Quarter (you should call in advance to know more about the pick-up points).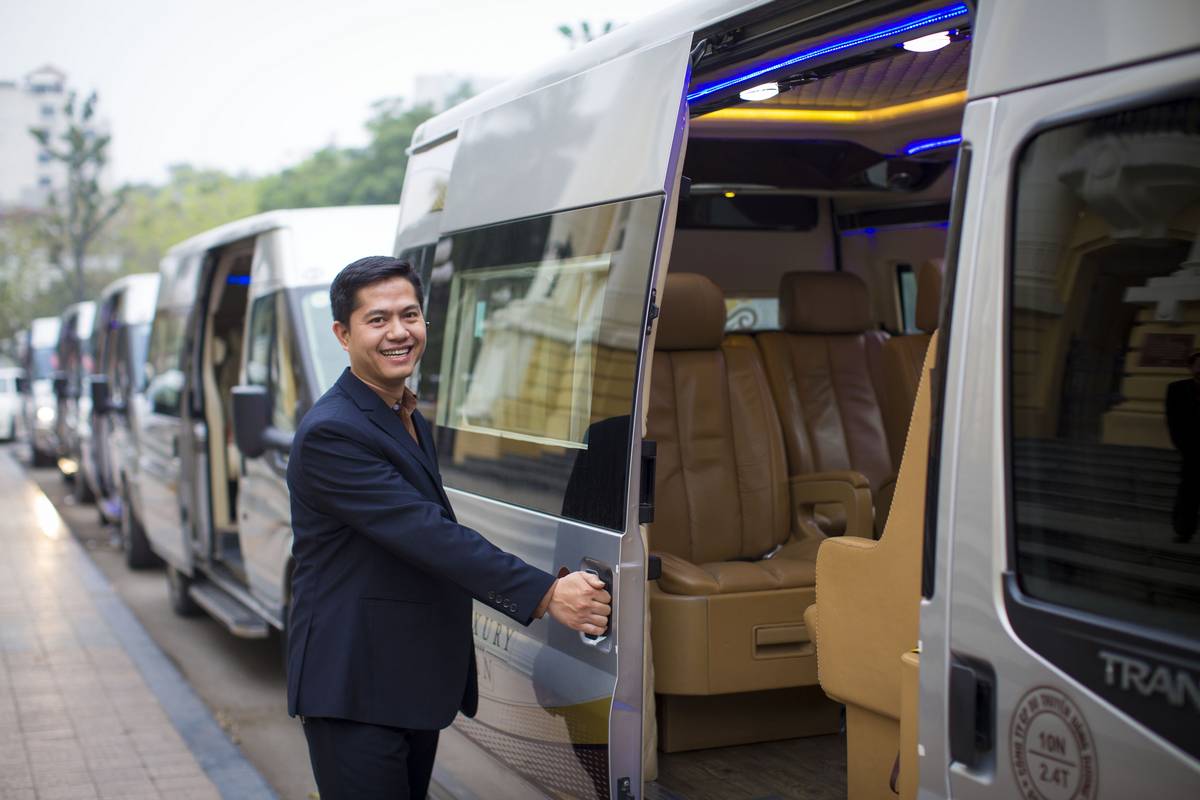 Shuttle tourist bus
Shuttle bus is an inclusive service in Hanoi – Halong Bay tour package. The operators arrange a shuttle bus to pick you up from a hotel in Hanoi Old Quarter and bring you back following the schedule. There might be an English speaking tour guide or a tourist driver to escort you. The main advantage of using shuttle bus is that you don't have to worry about where to go; it is a part of cruise trip to bring you directly to the harbor where operators waiting for you to check in and start cruising
The quality of the bus has improved much in recent years; now you can enjoy the limousine van which has more space and very comfortable seats with wifi and music player.
The driver has more experience to take care of visitors; they know basic English language to communicate.
Pick up and drop off at your hotel in Hanoi Old Quarter
Private car transfer
If you want to enjoy more privacy and less time on driving, the private car is the choice, book it with cruise operators or a transport supplier. However, you can't drive the car by yourself because of legal driving license and traffics in Vietnam.
Getting directly from Hanoi (Noi Bai) Airport to Halong Bay is possible by private car during 4-hour transfer. 
Train
The train is the least common choice. ( I even didn't know this train still operate, I thought it was closed years ago) The train runs from Yen Vien Station (13 km from Hanoi center) to Halong Railway Station, only available for a hard seat. From the station, you can catch a cab to go to Hon Gai Pier or Tuan Chau Pier according to your cruise company. The problem with going by train from Hanoi is that you have to get on and off taxi or bus or train because of the uncentered location of the stations. Also, there is only one train from Hanoi to Halong and one from Halong to Hanoi every day. Book the ticket at https://dsvn.vn
Hanoi – Halong Train Schedule
Halong – Hanoi
| | |
| --- | --- |
| Train No. | 51502 |
| Halong | 14:10 PM |
| Hanoi | 20:43 PM |
| Total time | 7h33' |
Hanoi – Halong
| | |
| --- | --- |
| Train No. | 51501 |
| Hanoi | 04:55 AM |
| Halong | 11:34 AM |
| Total time | 7h21' |
Helicopter/Seaplane
A luxury choice that allows you to see Halong Bay in a different angle is helicopter or seaplane.
The helicopter is available and supplied by Vietnam Northern Service Flight Company. This service is only available for charter and is at a higher budget range. They have MIA-17 (24 seats) and MIA -8 (12 seat), produced by Russia. For more information about price, flight schedule and booking, visit its website: http://www.vnh.com.vn/
The seaplane takes off from Noi Bai international airport and lands off at Tuan Chau Marina with only 45 minutes. You also have 15 minutes of sightseeing over Halong Bay. Hai Au Aviation is the unique seaplane service in Vietnam until now. Website: https://www.seaplanes.vn/en/
Seaplane Schedule Flight
Winter flight (1 October 2017 – 1 May 2018)
| | | | | | |
| --- | --- | --- | --- | --- | --- |
| Code | Flight  | Departure  | Arrival  | Fare per way | Note |
| HAN HLG | HAI601 | 10:00 | 11:00 | VND 8,662,500 (US$ 385) | With 15 minutes scenic flight |
| HAN HLG | HAI603* | 14:00 | 14:45 | VND 3,937,500 (US$ 175) |    |
Summer flight (2 May 2018 – 30 September 2018)
| | | | | | |
| --- | --- | --- | --- | --- | --- |
| Code  | Flight  | Departure | Arrival | Fare per way | Note |
| HAN HLG | HAI601 | 09:00 | 10:00 | VND 8,662,500 (US$ 385 VND 7,516,800 (US$ 324) | With 15 minutes scenic flight |
| HAN HLG | HAI603* | 14:00 | 14:45 | VND 4,060,000 (US$ 175) |   |
Winter flight (1 October 2018 – 1 May 2019)
| | | | | | |
| --- | --- | --- | --- | --- | --- |
| Code | Flight | Departure | Arrival | Fare per way | Note |
| HAN HLG | HAI601 | 10:00 | 11:00 | VND 9,396,000 (US$ 405) | With 15 minutes scenic flight |
| HAN HLG | HAI603* | 14:00 | 14:45 | VND 4,060,000 (US$ 175) |    |
* Subject to seating availability
Tours and Things to do in Halong Bay
The most famous and most recommended tour to do in Halong Bay is overnight cruising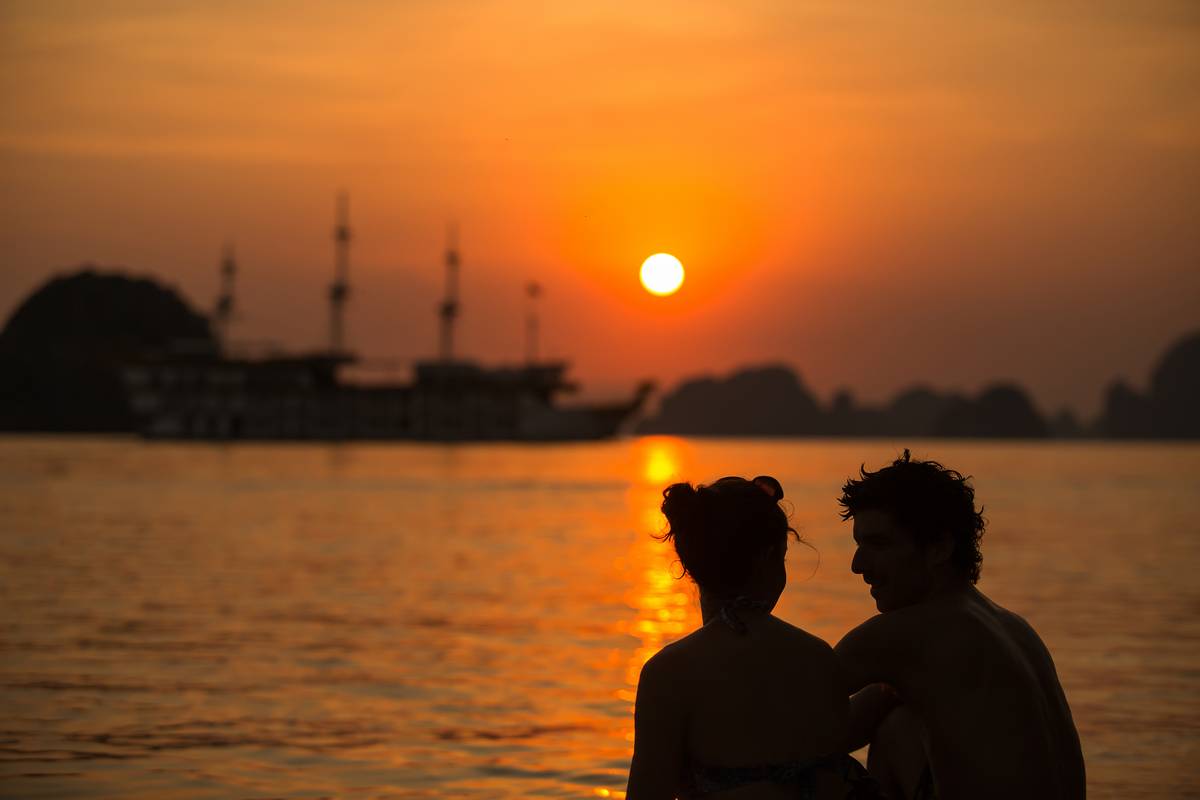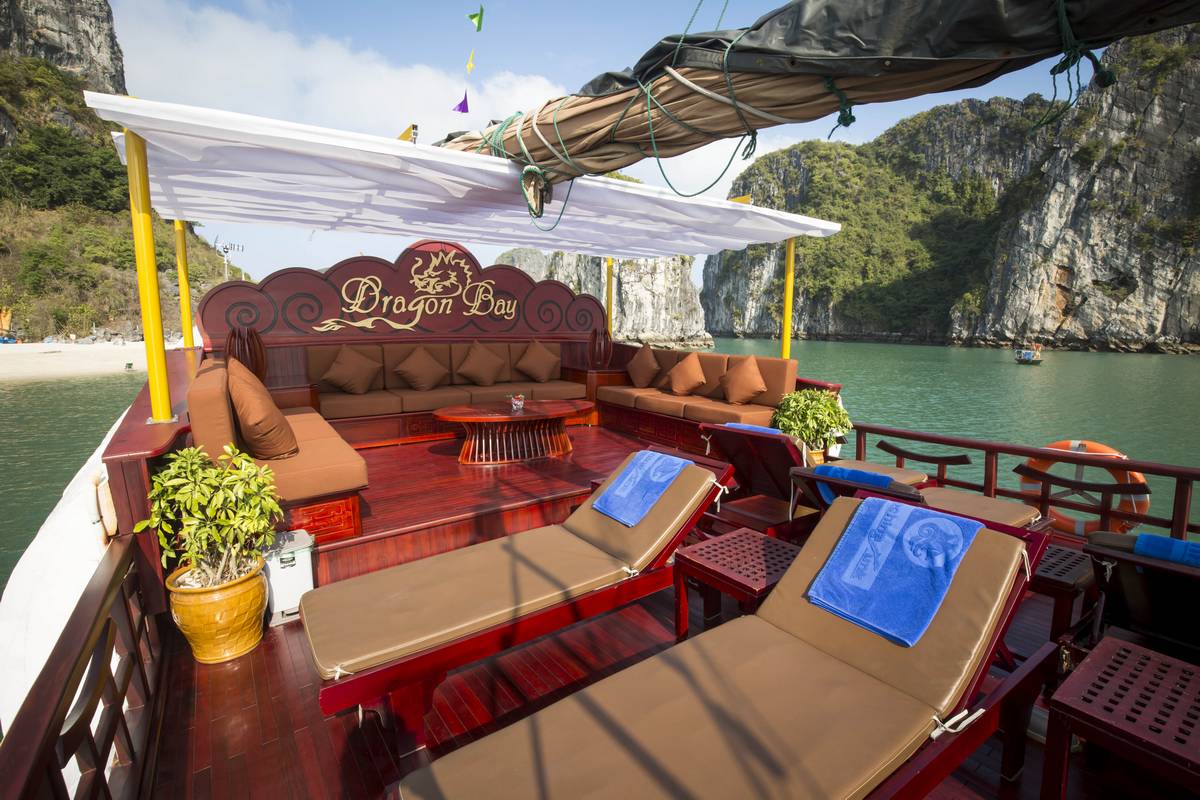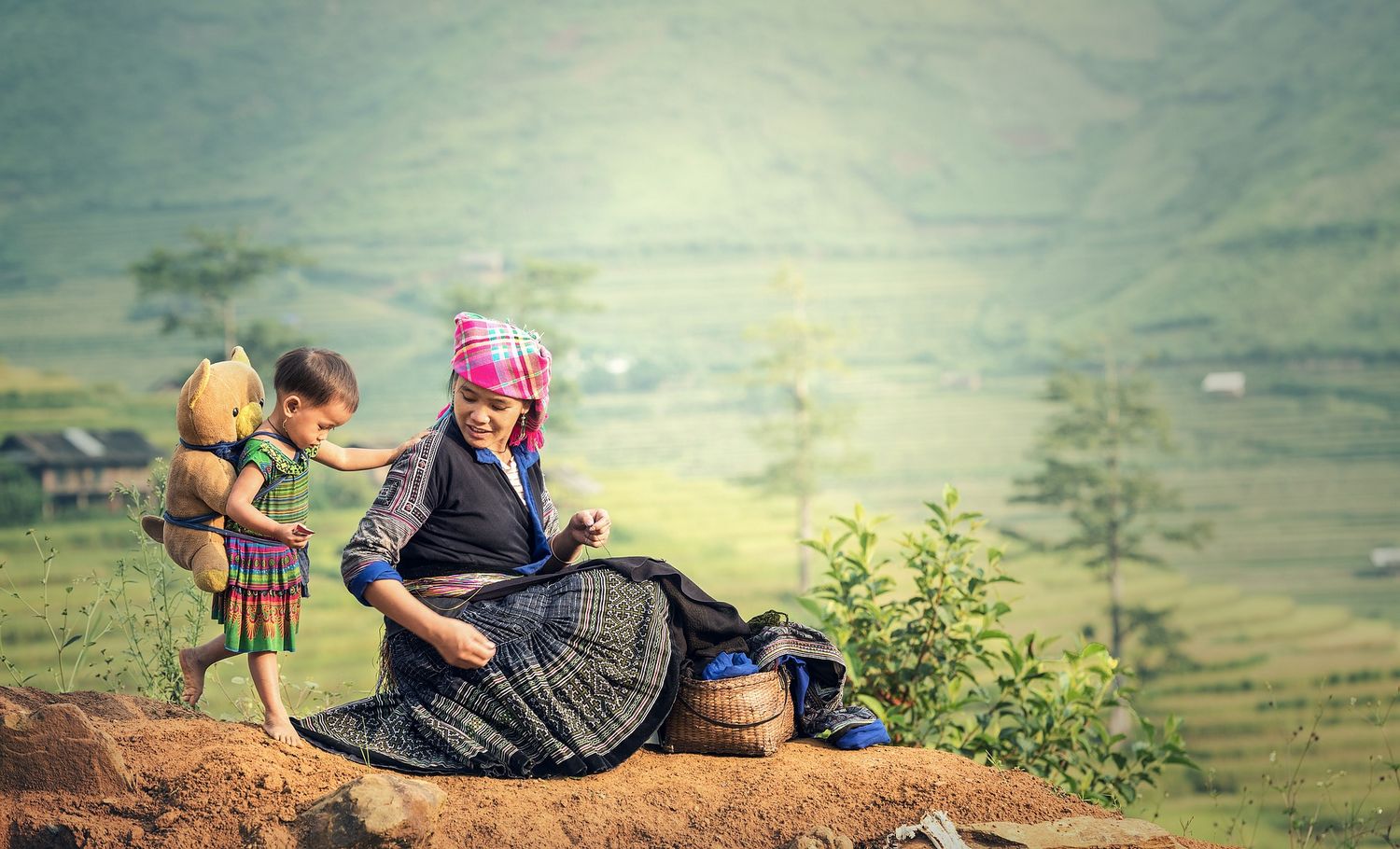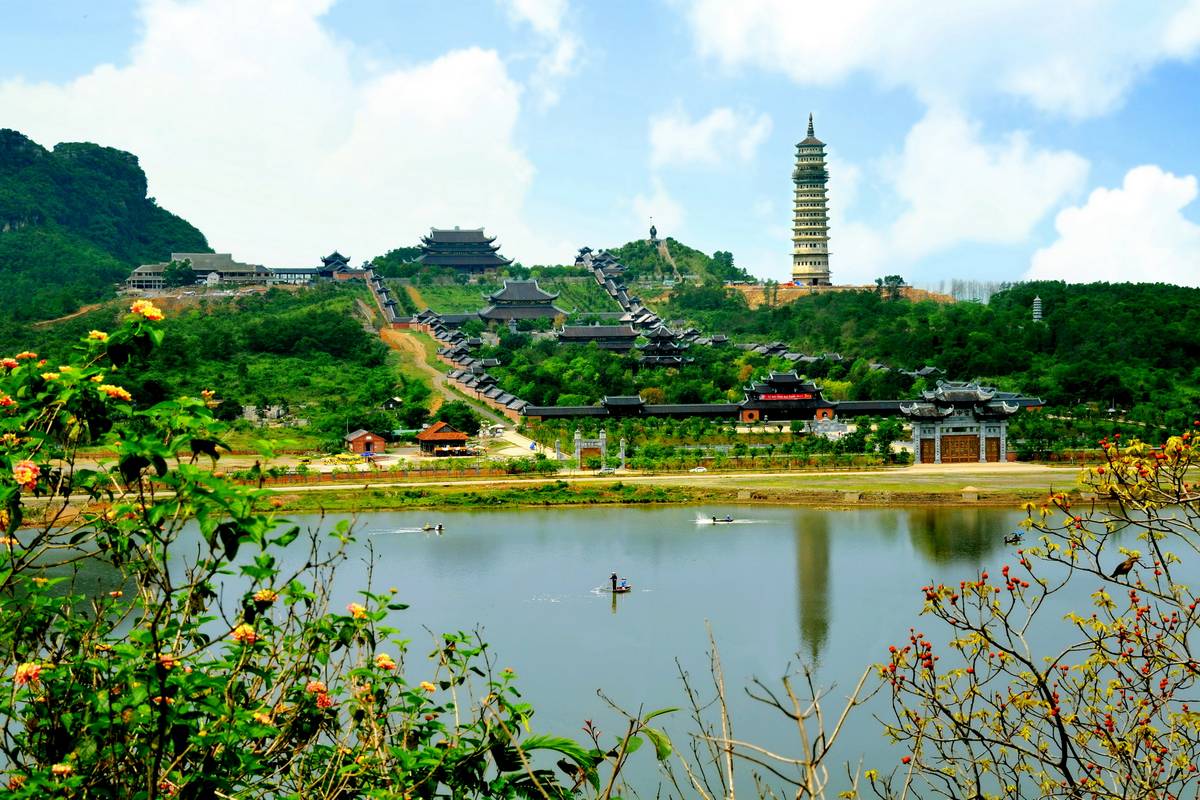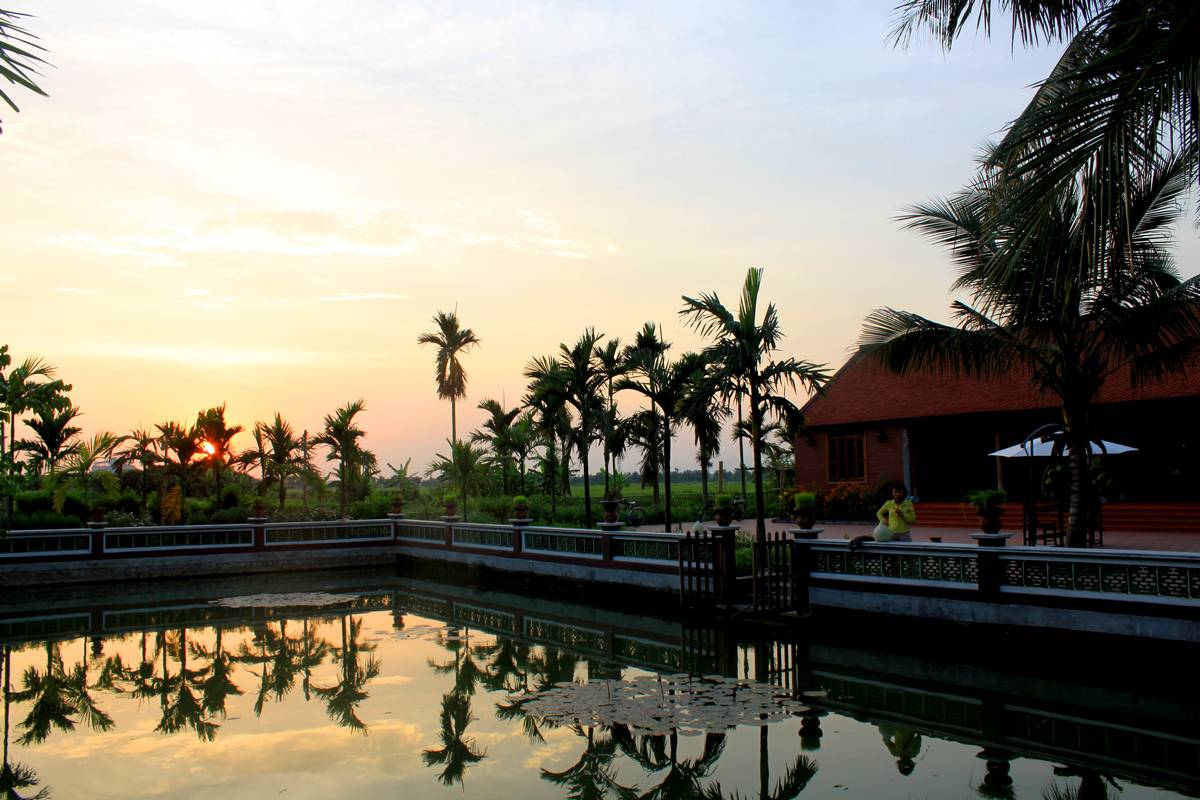 Should you book a package tour or traveling on your own?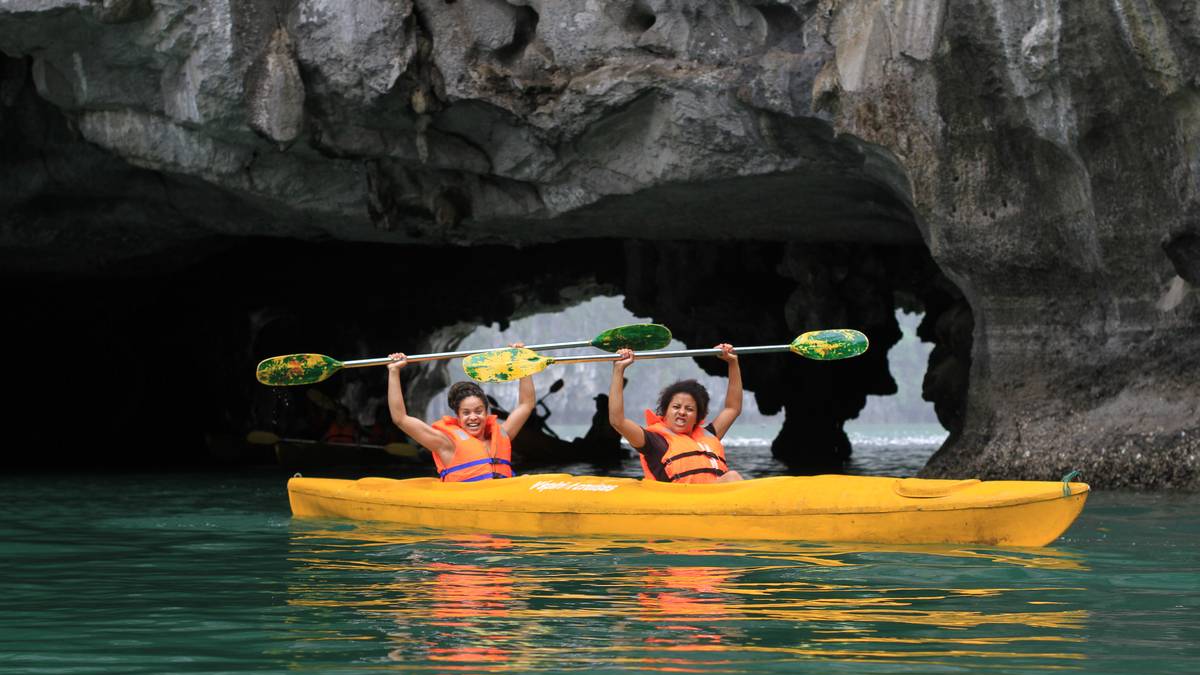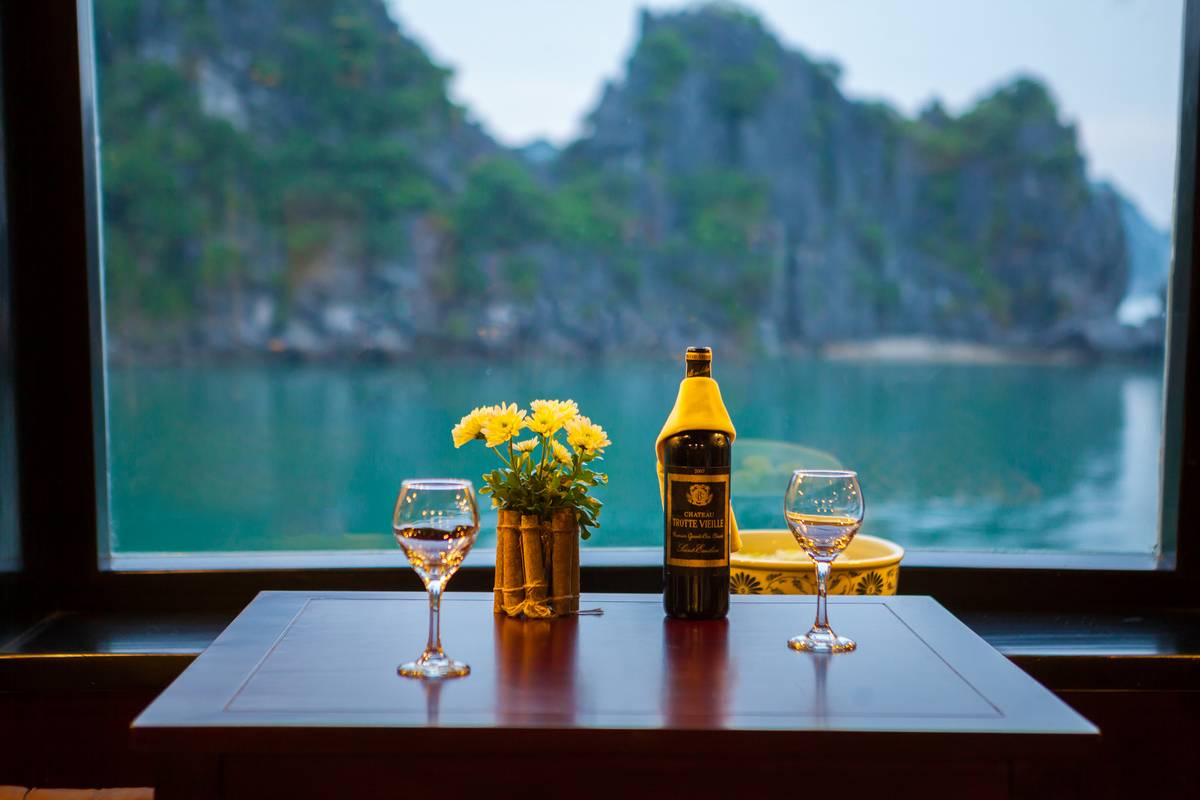 If you are a solo traveler, don't forget to pay attention to single supplement fee. Most of cruises operator on Halong bay don't provide single cabin/room for solo travelers. But some did (such as Dragon Legend Cruise). Of course, if you're happy to pay a supplement for single occupancy of a double cabin, you can enjoy your trip in a larger cabin. Normally, the supplement can range anywhere from 20 to 100 percent of the trip cost.
We highly recommend you to book a taxi or motortaxi in Hanoi via Uber or Grab.
You should pay attention to safety while traveling with children: always keep an eye on them while kayaking, swimming and even when they play around on the sun deck.
Be aware of the poisonous jellyfish:  During summer, especially May, June, July, before going to swim, you should ask the guide or captain for advice because it is when the poisonous jellyfish are most active. Jelly Fish mostly doesn't cause too much trouble but popular symptoms such as hives, and rashes…
What to bring for an overnight trip?

Your original passport
Sunscreen and sunglasses
Beach hat/Umbrella, Swimsuits, Bikini (a sarong is recommendable for women if you want to go up to the sundeck and sunbathe)
Flip flops, sandals, comfy cotton t-shirt, shorts, skirts, maxi dresses, etc. are all you need for an awesome summer. If you visit Ha Long Bay in the winter, do not forget to bring warm clothes, scarves, and shoes to keep warm.
Other necessary things (such as camera, Insect repellent sprays, and lotions, etc.)
Need more information about Halong Bay? Download the FREE e-book: https://www.indochina-junk.com/download/Ebook-Halongbay-cruises.pdf